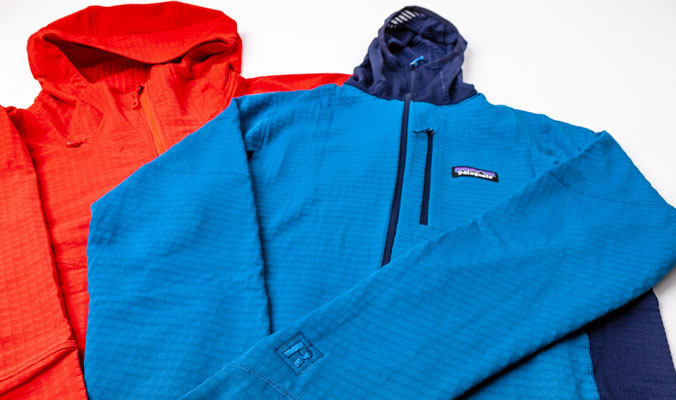 Patagonia R1 Fleece Pullover Hoody and Tech Hoody
$159 and $169 | patagonia.com
It's the mid '90s, and PolarFleece is everywhere. The soft, high-pile knit made from recycled polyester and invented in 1981 by Polartec has become as ubiquitous in outdoor clothing as zippers. My father would buy it by the bolt from Malden Mills, Polartec's factory in Andover, Mass., and sew jackets, hats and neckwarmers for our family. But the designers at Patagonia noticed something about fleece that wasn't quite right, and their innovation would create one of the most iconic items in the world of outdoor apparel.
In 1998, Patagonia's designers and testers gathered at their warehouse in Bozeman, Mont. and faced a challenge. Fleece was wildly popular, but in spite of being soft, stretchy and warm even when wet, the fabric had its failings in certain applications, mainly being bulky and heavy. So they set about devising a way to make the fabric better suited to higher output activities and landed on a solution that involved decreasing fleece's pile. Polartec, with whom Patagonia had been partnered since 1981, executed on the vision, developing a material with a bi-component-knit, non-fuzzy face and a fleecy interior that was gridded with channels to reduce weight and promote airflow.
The year after the Bozeman gathering, Patagonia released its Regulator line, which included a pullover, a vest, a zip T and pants. Those initial layers were well received—though they became rather scratchy after multiple washes—and a legendary line known for uniquely balancing warmth and breathability was born. In 2001, the pullover received a hood and, bizarrely enough, a removable elastic crotch strap to keep the layer from riding up. While the R1 Hooded Pullover was highly regarded among core climbers and skiers, Patagonia discontinued the layer after just two years due to its niche applicability.
In 2006, when the hoody was relaunched with a stretchier recycled fabric, I picked one up and hardly ever took it off. The layer felt like a second skin, fitting snuggly and body-mapped with thinner fleece at the hem and the cuffs to prevent bunching. The long hem stayed tucked among layers; the deep chest zipper allowed for superior ventilation. I hardly wore the hood, yet it appreciated the protection it offered when needed, and when zipped tall around my neck it sat like a cozy neckwarmer. I run hot while skinning or hiking, so the midweight fleece felt too warm at times, yet it dried with remarkable efficiency. No matter the season, I'd pack my R1 either to wear in the field or as a warm post-activity layer. Sleeping in it reminded me of the comfort of childhood footy pajamas.
Patagonia and Polartec have continued to refine the R1, updating the fabric in 2010 and 2015 to be lighter and more breathable, durable and compressible. (The 2015 edition, with its asymmetrical zipper, replaced my original R1 and remains a go-to when warmth or comfort are priorities.) In 2012 they introduced women's-specific cuts; in 2015 they released the R1 TechFace, which pairs the signature, gridded-fleece interior with a robust weather- and abrasion-resistant double-weave face; and today the material is available in nearly 40 products across their line (including wetsuits), alongside other weights of their gridded fleece. All of that proves that Patagonia didn't just make a better version of fleece 20 years ago—they created a legacy layer built to last.