In the late 1880s, Al Johnson strapped 11-foot-long skis to his leather boots and climbed over mountain passes Crystal, Colo. to Crested Butte to deliver the mail. He was a badass to say the least.
Ninety years later, in 1974 to be exact, amid a telemark renaissance, the Crested Butte freeheel community started the Al Johnson memorial Uphill/Downhill telemark ski race to honor Johnson's effort. It's part athleticism, part anarchy and all circus sideshow.
The race is fairly straightforward: skin up 600 vertical feet, tear the hides and give 'er down the North Face of Crested Butte Mountain Resort. Conditions are a mixed bag from year to year and, remarkably, the racecourse has only once been altered due to lack of snow and never cancelled.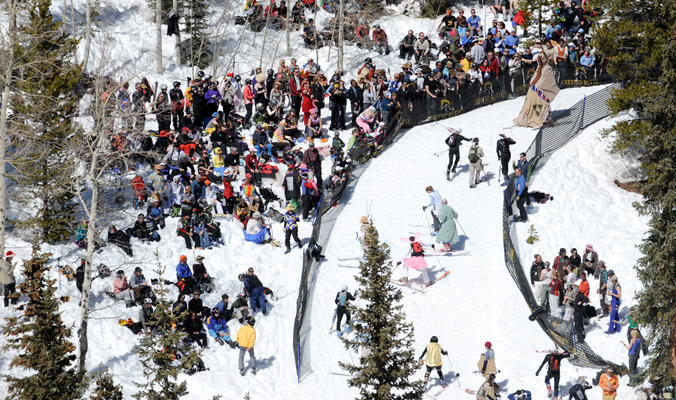 While telemark gear has changed throughout the past decade to better handle high speeds down steep faces, it wasn't always that way. But even back in the day, racers pointed it down the North Face in leather boots latched onto Karhu XCD comps by three pin bindings.
Pat O'Neill raced his first AJ in 1987 and has racked up 26 races and five titles since. He recalls the breakneck speed racers hit on the old wambly gear. "People pointed it hard in the '80s," O'Neill says. "When in doubt, straighten 'em out: 9-0 or don't go."
And while the downhill is intense, the uphill is where races are won and lost. "You gotta be willing to taste blood and see spots on the uphill or you ain't winning," O'Neill adds.
About 20 years ago, the race transformed into more of a spectacle than a serious test of speed. One costume led to a handful and then eventually mushroomed into an all-out costume contest. While 10 or so racers still gun for the title, the remaining 160 participants are focus more on their outfits than going all out.
There have been five-man dragons, Tetris video game reenactments, and Crockett and Tubbs complete with a car, to name a few. Some individual standouts over the years include Al's Johnson, Jesus carrying a cross to the crucifixion, a real-size giraffe and Mayor McCheese worn by then-Crested Butte Mayor Alan Bernholtz.
 The average winning time hovers around 14 minutes and men's and women's champions are rewarded with new skis and trophies for their efforts.
The race is only matched by the after-party, where copious amounts of prizes and free Avery Brewing Company beer are handed out to nearly everyone, whether you came in first place or 151st. Chances are, you'll walk, or stumble, away with a prize.
This year, the Al Johnson celebrates 40 years on Sunday, March 23 and has joined forces with the Crested Butte Avalanche Center as a fundraiser. Organizers hope to blow the roof off for the 40th, and aim to get more than 400 skiers to partake. For more information on the 40th Anniversary Al Johnson Memorial Race, visit aljohnsonrace.net.
—
The Backcountry Basecamp, a nationwide, multi-resort tour brought to you by GORE-TEX, is heading to Crested Butte Mountain Resort, Colo. on March 15-16. Join the editors of Backcountry Magazine for a weekend of education, safety and the newest backcountry equipment and technical apparel. For more information and an event schedule visit backcountrymagazine.com/basecamp.