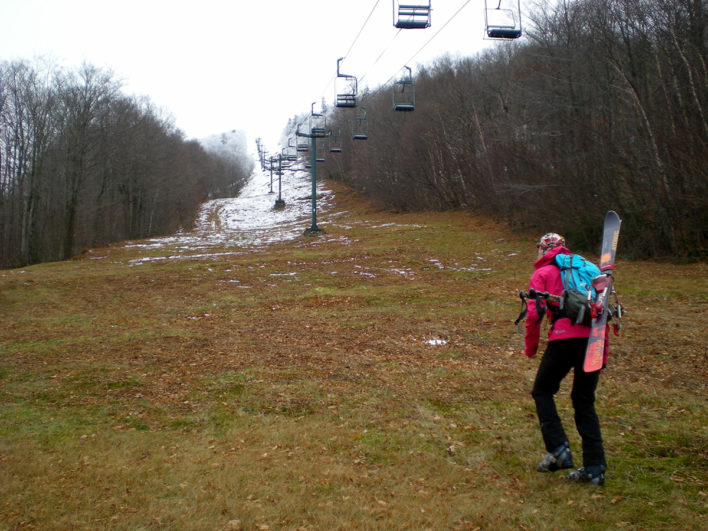 My favorite skis right now, the first pair I'll reach for this season and those that I'll keep going back to for much of the winter, didn't win a 2021 Editors' Choice Award. You won't find them in this year's Gear Guide or at your local shop or likely anywhere online. And even if you did find them, I doubt you'd consider spending the money. Because they're 10 years old; an original pair of rocket-red Voilé Chargers. They're my rock skis.
Voilé launched the Charger in 2010, and I'm pretty sure we called it a game changer in that year's Gear Guide. They measured a broad 112 mm underfoot, a middle-of-the-road width at the time in its 181 cm length. And while a skier of my compact stature would predictably struggle to thread a ski of that size between Vermont's snug hardwoods, I've found its heavily rockered tip and tail make it delightfully surfable.
They're my favorite for how they ski, for how the tips float through fresh snow or heavy snow or unfilled water bars or whatever brambles poke through October's thin snowpack. They make crummy conditions fun. With edges dulled by time and bases long void of wax, there's nothing sharp to catch or hang up; the ride is easygoing and smooth. Patient. Forgiving.
For how well they ski, they're an unsightly mess. Both tails are delaminating from being shoved into muddy trailhead snowbanks dozens of times too many. The bases are gouged and carved like an old farmhouse's wooden floors. And they've held at least four pairs of bindings, with the filled holes with mismatched plugs to show for it.
They're also my favorite for what they ski. Long dispossessed of flawless bases, they're eager to be raked across thinly covered rocks and through grass and leaves that will only add to their patina. It's a freeing feeling, to not be worried about coreshots or blown edges. And there's freedom in skiing before the season should really begin or well after its ended; before the snowpack is thick and after it's begun to melt, patchy and mixed with mud. Rock skis offer freedom to ski whatever, whenever, wherever.
Mostly, they're my favorite for what they have skied. Each time I click in, I'm reminded of the places I've been on these Chargers. Of following Glen Plake around the Eastern Sierra, dropping into a hallway of limestone on freeheel bindings. Of being so puckered in Chamonix with Andreas Fransson that my sweaty palms soaked through my gloves. Of November storms that plastered the not-yet-opened resorts with enough snow to make it seem like midwinter. When I skin on these skis later this month or early next month or whenever the first coating of snow falls across our mountains, memories of these skis' heyday and their long, beautiful retirement will rush back. Someday, when the tails delaminate too close to the bindings or I catastrophically blow an edge, I'll write an obituary for these Voilé Chargers. They won't have been taken from this world too soon, but they will be remembered for a long, healthy life. They'll be survived by many, many others in the quiver, maybe one of which will achieve the same loved-past-its-prime status. They'll be gone but never, ever forgotten.