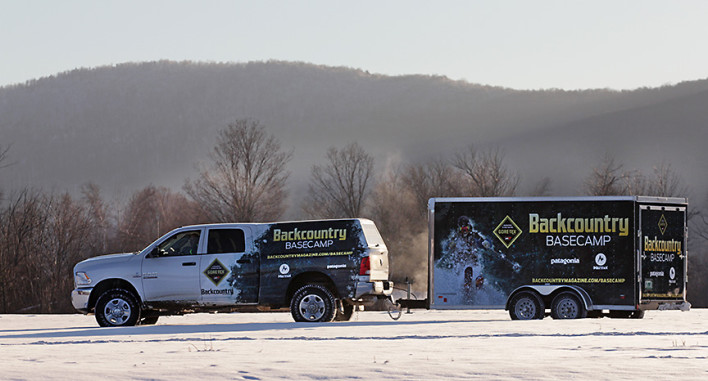 Backcountry Magazine, Gore, Patagonia and Marmot Launch Nationwide Backcountry Education Tour. For stories and photos from the road, follow along with the tour here: backcountrymagazine.com/basecamp
Jeffersonville, VT (for immediate release) – Backcountry Magazine, in association with GORE-TEX, Patagonia and Marmot is proud to announce its nationwide backcountry skiing and snowboarding tour. Featuring education, safety, and the latest gear, Backcountry Basecamp will visit some of the most iconic ski resorts in the country to bring the backcountry to the masses.
"We're excited to give newcomers the tools they need to get out there," says Backcountry Magazine Editor in Chief Adam Howard. "It's our imperative to both educate and stoke our community. It's in everyone's best interest to be better informed and prepared for the backcountry."
The tour will feature three stops at key resorts whose identities have helped shape the backcountry movement. First stop, Jackson Hole, Wyo. from February 8-9. Then it's off to Crested Butte, Co. from March 15-16. And finally, Backcountry will bring it to Smugglers' Notch, Vt., March 29-30.
Each Basecamp stop will feature displays of the newest backcountry equipment and technical apparel, as well as on-site guides who can answer the most important safety and gear questions. And when the day is done, staff will be there to point visitors towards further educational opportunities in their area.
"We're excited to work with our key partners to spread the word about what people need to do in the backcountry in order to stay dry and be safe. Backcountry is helping spread that message," says Tom Boyle , Gore Strategic Marketing.
About Height of Land: Founded in Jeffersonville, Vermont in 2002, HOL is one of the few remaining independent publishers in outdoor action sports. Our mission is simple: We are core, adventure-sports media by those who live it, for those who aspire to it. HOL print and electronic brands include Alpinist, Backcountry, Kronicle and Climberism.
Media Contact:
Adam Howard
Editor in Chief
howie@backcountrymagazine.com
802.598.4200