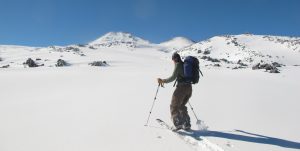 Backcountry Magazine is excited to welcome Tom Hallberg to its production team as associate editor. The Victor, Idaho-based writer joins editorial director Tyler Cohen and managing editor Betsy Manero and is the publication's first splitboarder to hold a full-time editorial position since 2009.
"Tom's experience and background—as a splitboarder, as someone originally from the Pacific Northwest and as a longtime newspaper reporter—will complement the talents of Backcountry's staff in exciting and interesting ways," says Cohen. "I'm certain his chops as a newsroom reporter, especially one from a mountain town, will help Backcountry up the ante online, too. And with Betsy Manero, our managing editor, based in Driggs, maybe it's time for a satellite office in the Tetons?"
Hallberg is an award-winning journalist who has spent the last five years at the Jackson Hole News&Guide, focusing on everything from health care and education to long-form feature writing. He even held the paper's coveted backcountry skiing beat, which included reporting on Teton Pass, avalanche fatalities and the people who make up the Tetons' backcountry community. He holds a master's degree in creative writing from Oregon State University and still tries to find time for fiction writing between work and snowboarding.
Hallberg's backcountry career started more than a decade ago with snowshoe ascents of Cascade volcanoes, though he quickly moved on to a real splitboard and headed for the Tetons to find fluffier snow. He even puts on skis a few times a winter and, for one disastrous season, tried to telemark in the backcountry. He has skied from Chile to Canada, though some of his favorite slopes are the pow shots close to home where his dogs can keep up. Working at Backcountry promises to be different than reporting local news, and Hallberg looks forward to the change.
"With so many more people heading out into the backcountry recently, there is a multitude of stories to be told about how we adapt to that changing landscape," he says. "I can't wait to jump in and tell them."
Hallberg can be reached at tom@backcountrymagazine.com.
—
ABOUT BACKCOUNTRY MAGAZINE
Backcountry is the only ski and snowboard media dedicated exclusively to the untracked experience. In every issue, Backcountry covers gear, destinations, avalanche and safety education, and everything else that accompanies skiing and riding beyond boundaries. Backcountry is one of four magazines under the Height of Land Publications (HOL) umbrella, alongside Alpinist, Mountain Flyer and Cross Country Skier. Get the latest in human-powered stories by visiting backcountrymagazine.com/subscribe.