This was supposed to be the week we announced our new Backcountry Podcast and prepared for our annual community fundraiser, the Barn Bash, to get more kids on snow. Instead it was spent not sleeping, fielding calls from friends, family, readers, employees and colleagues wondering if we're being sued by Backcountry.com like so many small companies in the outdoor industry. Any week spent talking to attorneys is not a good week.
But here's the thing: We've been in business since 1994 and our trademark to operate as a media business is strong. These rights are reflected in a registration obtained from the USPTO in 2001, Registration #2433065. This registration was filed in 1999 and reflects trademark usage at least as early as September 1994.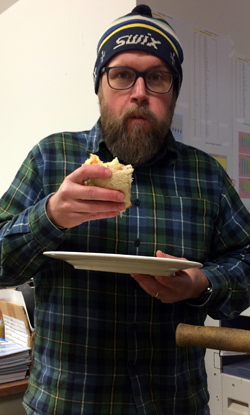 So, to date, we've received no certified letter nor do we expect to. To be clear, there are many organizations large and small that are using "backcountry" in the general field of outdoor recreation services and products. But our readers are thoughtful and discriminating about the source of the services and products they use (their lives can depend upon it), and so far we have not encountered any real confusion about our trademark. So, have we ever thought of suing? Not once. But, then, we're owned by a bunch of ski bums, myself included. I used to work for the late John Bresee, one of the founders of Backcountry.com, and he understood this (Please see an email below from him about our magazine in 2014, not long after he'd left Backcountry.com).
We do not do business with Backcountry.com. Our values are simply not aligned at this time. We don't want to take money for advertising from them while they are taking divisive legal actions against so many of our colleagues in this close-knit industry.
I do have one request of the community that's been so good to us and our other brands, Alpinist, Cross Country Skier and Mountain Flyer: Let's continue to be good to one another. There are good people working at Backcountry.com, and the rank and file there has been hammered this week. Please be respectful of these people. Collectively you've had an impact. A message has seemingly been heard by leadership at Backcountry.com that this big city, corporate way of doing business will not work here.
Finally, remember the little guys out there. Support your local shops and the companies that supply them.
We're celebrating our 25th birthday this year! We couldn't have come this far without all of you.
Respectfully,
Howie
Adam Howard
President
Backcountry Magazine
Jeffersonville, Vt.
Email from John Bresee, December 13, 2014:
Adam,

I rarely take the time to praise the people who impress me…much to my detriment. But after watching Backountry's [sic] growth I just had to say something.

You and your team are killing it and producing an incredible magazine. After working in the industry I had lost the excitement of getting a ski magazine; now that thrill [sic] is back.

I wanted to recognize not just the editorial side, who are clearly excellent but also the business and administration group. I know full well how hard it is to grow a business and keep it great and you guys just keep doing it.

I'm just really proud and impressed with your organization.

Keep ripping,

John Bresee