Before winter has really even kicked into gear across the U.S., the word backcountry is already making major headlines. But not because of news of avalanches, access issues or tension beyond boundaries. Earlier this week, the Colorado Sun reported that online retail giant Backcountry.com is suing a handful of small businesses over a trademark of the word "backcountry." Backcountry Magazine has not faced legal action.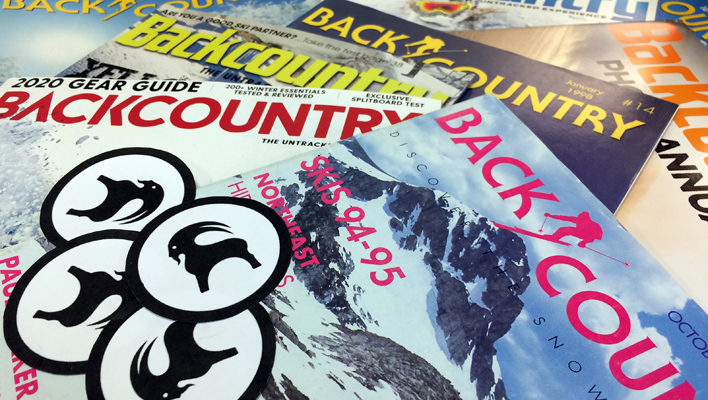 According to Jason Blevins's Colorado Sun story, Backcountry.com has employed the nation's largest trademark-only law firm, IPLA Legal Advisors, which has filed four lawsuits, submitted dozens of petitions for cancellation of trademarks with the U.S. Patent and Trademark Office and distributed many cease-and-desist letters to small businesses with backcountry in their name. These lawsuits, according to the United States Patent and Trademark Office, follow years of similar litigation dating back to 2006 that have become more prolific since 2017. Among those in the backcountry skiing and riding industry who have been targeted are splitboard maker Weston Backcountry, nonprofit women's-focused avalanche educator Backcountry Babes and the makers of the Marquette Backcountry Ski.
Following Monday's Colorado Sun story, Backcountry.com had not responded to any media outlets' request for comment. Pressure mounted in the ensuing days, including through a Boycott Backcountry DOT com Facebook group numbering nearly 15,000 and a GoFundMe campaign that's raised nearly $6,500 in legal defense of affected brands. Late Wednesday, Backcountry.com CEO Jonathan Nielsen released an official statement and broke his silence in an interview with SNEWS, the outdoor industry trade news outlet.
"I understand that people are disappointed in us and feel let down by us. I take that very seriously," Nielsen told SNEWS. "What's hard is how we're being portrayed in the market. It's tough to tell our story because we have different confidentiality agreements, but what I will tell you is what's being said is not reflective of how we behave in the market, how we treat partners, and how we treat people. We were never holistically trying to own the term 'backcountry.'"
In his official statement, Nielsen said: "In an attempt to protect the brand we have been building for nearly 25 years, we took certain actions that we now recognize were not consistent with our values, and we truly apologize. It's important to note that we tried to resolve these trademark situations amicably and respectfully, and we only took legal action as a last resort. That said, we know we mishandled this."
Neilsen continued, adding that Backcountry.com has withdrawn its legal action against the Marquette Backcountry Ski and will reexamine its broader approach to trademarks. It's unclear if other litigation has been withdrawn, and an edited parody of Neilsen's official statement has since circulated on Facebook and Reddit. (November 11 Update: Late on Friday, November 8, in an interview with GearJunkie.com, Neilsen noted that Backcountry.com had "severed ties" with IPLA Legal Advisors, had dropped its "only outstanding litigation" against Marquette Backcountry and is taking measures work with the brands impacted by the retailer's legal actions.)
Backcountry.com's roots go back to 1996, when friends Jim Holland and John Bresee began selling avalanche transceivers through the domain backcountrystore.com. Over a period of 11 years, Holland and Bresee grew into Backcountry.com and established other online retailers, including Whiskey Militia and Steep&Cheap. In 2007, Holland and Bresee sold a majority share in the company to Liberty Media Corp., a multi-billion dollar publicly-traded company with interests in the STARZ cable network and Time Warner.
According to the Colorado Sun, Backcountry.com filed for its registration of a service mark 2004 and secured the trademark in 2007. In June 2015, TSG Consumer Partners, a private equity firm, acquired Backcountry.com, as well as the other brands in its portfolio, including Competitive Cyclist, MotoSport, Bergfreunde, Steep&Cheap and Whiskey Militia.
"Backcountry has performed nicely over the past eight years, and its Goat logo has come to symbolize authenticity and excellence in the outdoor industry," Greg Maffel, president and CEO of Liberty Media Corp., said in a press release at the time of the sale, which cost a reported $350 million, according to outdoor industry news site SGB Media. Today, TSG's portfolio includes dozens of brands including Pabst Blue Ribbon, Planet Fitness, Canyon bicycles, Nuun hydration and Spic and Span household cleaners.
Among the businesses with backcountry in its name, avalanche-safety-equipment maker Backcountry Access (BCA) has been unaffected by Backcountry.com's legal actions. BCA's founding predates that of Backcountry.com, having been established in 1994 in a South Boulder, Colo. garage by Bruce Edgerly and Bruce McGowan. Today, BCA is held by private equity firm Kohlberg & Co. "We're the one company they haven't gone after, since we were in the game long before they were," BCA's Edgerly told the Colorado Sun. "And we're now one of their biggest suppliers."
Backcountry Magazine similarly predates Backcountry.com and has also not faced legal action. The title was founded in 1994 in Arvada, Colorado by Brian Litz and David and Betsy Harrower and was initially trademarked as Back Country Magazine. Following the 2002 purchase by Height of Land Publications, based in Jeffersonville, Vt., the company filed for the trademark of the one-word Backcountry in the title's name. This season, Backcountry Magazine is celebrating its 25th anniversary with the most veteran staff in the snowports industry by launching a redesigned banner, dropping a commemorative 25th anniversary issue (available in December) and releasing the all-new Backcountry Podcast and the four-part BOUND film series.
Backcountry Magazine's official statement on the Backcountry.com trademark battle? "Support your local retailer," says Height of Land Publications CEO Adam Howard. "And eat more kale."
Read Howard's official statement here.