It's late morning in October 1993, and I'm sitting in my VW Jetta, a coffee in one hand, a cigarette in the other. I don't smoke. Don't drink much coffee, either. But this moment, this place, begs for both.
I'm somewhere north of Great Falls, Montana. Maybe Cut Bank, maybe Shelby, maybe Conrad. It doesn't matter. There is a gas station and a diner and that's all, and that's all I need.
There is also a dusty four-way stop, a road headed in each direction—north, south, east and west. I am 22 years old, and I am literally at a cross roads in my life.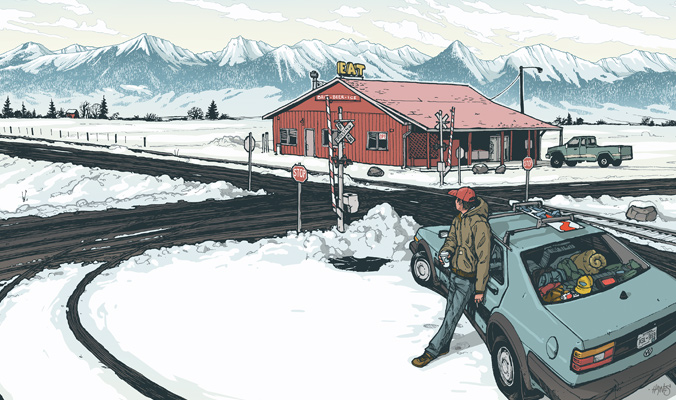 Eight weeks earlier, my buddy Chris and I packed up my Jetta with our skis and, I will confess, my mono ski. Chris had quit his job at a bike shop, and I had given my notice at the ski shop. The ski hills surrounding Ottawa had become too small, too icy, too crowded.
There were bigger mountains to challenge. There was deeper snow to ski and bigger dreams to chase, so we drove west through the first night, buoyed by adventure. As dawn broke, we found a truck-stop diner somewhere in the Midwest. Chris ordered grits. I ordered bacon and eggs.
We continued down Highway 2. North Dakota, Montana and Idaho all vanished into the rearview. In Washington, we turned north. We arrived in Whistler the next day.
At 7 p.m., we pulled into a parking lot, turned off the car and looked at each other. Now what? Over a slice of Misty Mountain pizza, we slapped together a game plan. Stay at the Shoestring Hostel, look for work and wait for snow. Simple.
But résumés went unanswered, time was running out at the hostel and, quite frankly, Chris and I were getting on each other's nerves. Something had to give. The store I left behind in Ottawa was opening up a franchise that fall in Whistler. My boss said he'd put in a good word for me. The interview went well, and we celebrated with beers while watching the Blue Jays and Phillies battle for the World Series at the pub. The call came the next day: sorry.
I'd had enough. I was running out of cash, running out of patience and just… running out. I left Whistler before skiing a single turn. I never spoke to Chris again.
I drove through the day and through the night. Somewhere in the Idaho mountains, fatigued, I hallucinated large blue tuna scattered on the road. I deftly weaved my Jetta among the carcasses, thinking nothing of it. Somewhere in Montana, I nearly drove into a herd of real deer.
The next day breaks clear and crisp. I turn off Montana's empty highway and park at a lonely gas station and diner. It's all this town has. I order breakfast. When I pay the bill, I get a coffee for the road. And, in absence of a much needed vice, a pack of cigarettes.
I look west through the windshield. In the distance, about 50 miles, mountains cut into the blue sky like a saw blade, their peaks coated in a layer of fresh snow. Maybe they are the Tobacco Roots or maybe the Flathead Range; I don't yet know. All I know is they are beautiful, ski season has arrived, and I am nowhere. I take a sip, take a drag. Exhale. Think. Repeat.
I start the car and pull onto the highway and approach the four-way stop, facing north. I take one last look west and flick on my right blinker back to Ottawa.
It's 2001, and I am standing on a mountaintop in the North Cascades. In those eight years, I finished college and returned west. As I place my skis in the deep snow on the first backcountry ski trip of my life, I smile to myself and think of that 22-year-old at that dusty Montana crossroad. I think of how lost that young man was and how much time he wasted following the tracks of others when, deep down, all he wanted was to make his own.
I push off into a swirl of cold smoke that embraces me like an old friend. I laugh out loud, knowing this is exactly where I'm supposed to be.
—
To get the January issue, visit the Backcountry Magazine store.