On the afternoon of Thursday, April 16, Colorado's Summit County Rescue Group shared news of an avalanche fatality north of Silverthorne, Colo. According to a statement published on the group's Facebook page, a party of three was traveling on the north side of Red Mountain in the Gore Range on Wednesday when the avalanche occurred, carrying one member of the party 1,800 feet and causing fatal injuries. According to the Summit Daily, Summit County Coroner Regan Wood has confirmed the deceased as 30-year-old Aaron Wiener of Denver.
The skiers, according to the Summit County Rescue Group (SCRG) statement, were in the upper reaches of a couloir known as Oh What Big Eyes You Have when the avalanche broke. "The one who was standing right where the crack occurred didn't actually take a tumble," Charles Pitman, spokesperson for SCRG, told the Summit Daily. "But he realized something happened when the two people below him disappeared. The one who was right below him managed to roll over and right himself onto his skis. But by the time he looked for the third individual, he couldn't see him." According to SCRG, all three skiers were experienced in the backcountry and one had skied the route before.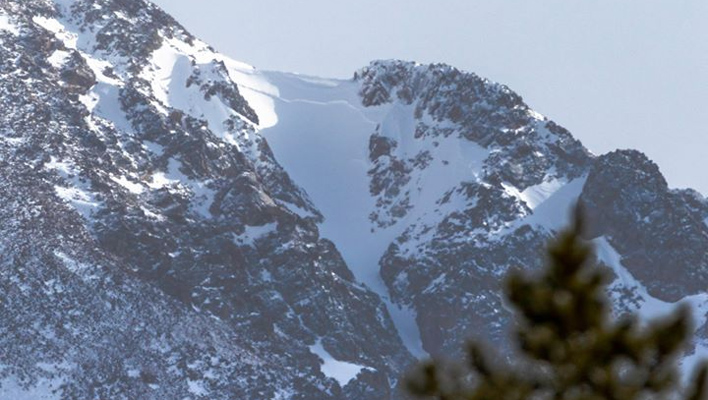 SCRG delayed its rescue operation until Friday morning due to inclement weather and elevated avalanche conditions, which were listed as moderate for Wednesday and raised to considerable that evening. As of Friday, avalanche danger throughout Colorado's northern and central mountains remains considerable due to a recent storm totaling between one and two feet of snow and with gusty west winds.
"We have storm snow instability, wind drifting, all the things that would cause an increase in avalanche danger," Ethan Greene, director of the Colorado Avalanche Information Center (CAIC), told the Summit Daily. "(Wednesday) there was a fair amount of wind, which could have been a contributing factor to this particular accident."
Elsewhere in Colorado, a skier on Loveland Pass was caught and carried on Wednesday by an avalanche that broke 300 feet wide, the CAIC reports. And near Aspen on Friday morning, according to The Aspen Times, a skier was caught and uninjured in a slide in Highland Bowl. "(The fresh powder) drew everybody," Pitkin County Sheriff's Deputy Chris Sulek told The Aspen Times. "People going in to the backcountry need to be strongly advised that conditions are unstable."
On Thursday afternoon, referencing ski-area closures (and thus no inbounds avalanche mitigation since before March 14), the Pitkin County Sheriff's Office issued an alert to all county areas: "Due to heavy snowfall and the recent storm cycle, it is strongly recommended that you limit your uphill and downhill skiing and riding," the alert said. "Exercise caution and judgment on and below high angle terrain.… Please treat the ski areas with the same care you would in the backcountry and stay aware of your surroundings at all times. You assume all risks when entering the ski areas.
In Utah, meanwhile, Thursday saw numerous human-triggered avalanches throughout the Wasatch Mountains, where the Utah Avalanche Center (UAC) reported danger for that day as moderate. As of Friday, avalanche conditions had been raised to considerable. On the UAC's Observation Page, nearly 30 human-triggered avalanches were reported Thursday, including four that caught and carried skiers or snowboarders. One within the boundaries of the closed Alta Ski Area caught, carried and buried two skiers, injuring one. (Read the report here.)
According to the UAC's Friday bulletin for the Salt Lake Area Mountains, "Today has avalanche accident written all over it."