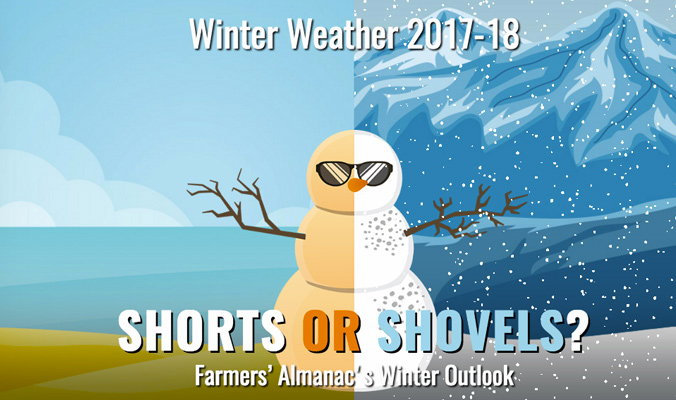 Summer is winding down, daylight hours are waning, and the Old Farmer's Almanac has released its 2018 winter-weather predictions. What are they calling for? Normalcy.
But what does normal mean in a time when variability is becoming the climatological standard?
For some parts of the U.S., winter seems close at hand, with Vermont's leafy trees turning red and orange unseasonably early and chilly nights requiring extra layers for comfort. But in other parts of the country, high temperatures have been a summer trend—Salt Lake City, Utah and Reno, Nev. experienced their hottest Julys on record, drought plagued the Northern Rockies, and Alaska experienced its third warmest July ever.
As of the beginning of August, the National Oceanic and Atmospheric Administration (NOAA) reported 2017 as the second hottest year on record. Even in New England, NOAA's September/October weather outlook appears above normal, despite cooler temperatures at summer's peak.
But for this winter, the Farmer's Almanac, which derives its long-range outlooks from solar science, climatology, meteorology and a 200-year-old secret formula stored in a black box in Dublin, N.H., is predicting snowy conditions on the Eastern Seaboard.
"For those readers rooting for shovels," states the Almanac, "we are red-flagging the 2018 dates of January 20 to 23, February four to seven and 16 to 19, and March one to three and 20 to 23 along the Atlantic Seaboard for some heavy precipitation."
One thing East Coaster's will always be, however, is skeptical. High precipitation predictions can often turn into a rainy winter, turning joy-filled tours into sloppy schleps.
In the western United Sates, the Old Farmer's Almanac predicts a return to slightly drier conditions as compared to last year's record-breaking snowfall. That's not to say things will fall back into drought conditions in some locations, but the Almanac's folklore indicates Mt. Baker might not see the same 866 inches of snow last year brought.
The Farmer's Almanac is clear that this normalcy only pertains to our country's coasts. In the Midwest, things may get wild with their outlook calling for swings from "very warm to very cold, and periods of tranquil conditions mixed with occasional spells of tempestuous weather." All told, things sound a little, well, unpredictable.
NOAA and the National Weather Service are in agreement with the some of the predictions drawn from the Almanac's secret formula—they are calling for a neutral weather pattern for the coming winter. This means that, at this point, no La Niña or El Niño events are on the horizon. So while predictions of normalcy might sound far-fetched in this day and age, a winter with fewer temperature oscillations might be at our doorstep. And if you live in the Midwest, you'll just have to wait and see.