As backcountry skiers and riders, we're understandably keen to study avalanche fatalities, so that we may learn from them and avoid the same fate. But rarely do we analyze a life—particularly a life well-lived—with the same scrutiny. Luca Pandolfi, a 47-year-old Italian big mountain snowboarder who passed away in Italy's Gran San Bernardo Valley on March 17, lived one such life, both on and off the hill.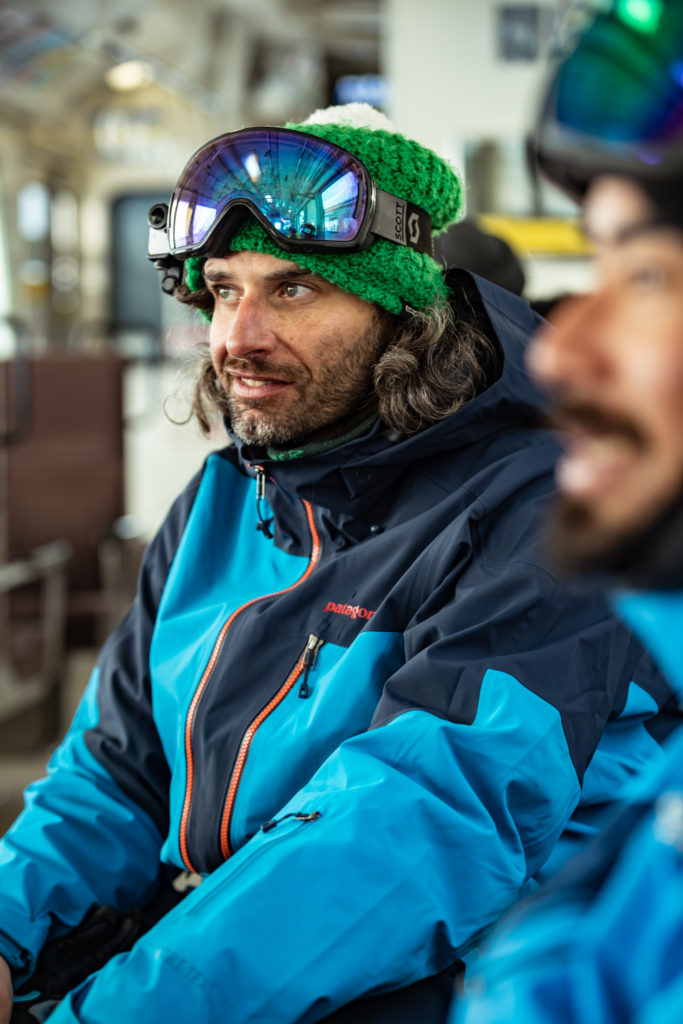 From the Alps to the Himalaya
Pandolfi originally hailed from the Italian province of Asti, although his snowboard journey would eventually draw him deeper into the heart of the Alps—and farther afield. He picked up snowboarding late, at age 18, but quickly took to the craft as he honed his skills in Verbier and Gressoney before settling down in the steep-skiing mecca of Chamonix. While Pandolfi had won competitions earlier in his career, it was on sheer faces and first descents in Chamonix where he truly made his name.
"He was one of the first riders for Jones," says Jeremy Jones. "I didn't know him before that. My Italian distributor started hooking him up with boards and then I started seeing what he was doing on them and was really just blown away by it."
"Coming from Chamonix, both the Italian side and French side, the stuff he was doing off the Midi and the Helbronner and just the Mont Blanc Massif, that's about as cutting-edge snowboarding in serious, complex terrain as it gets," Jones continues. But comfortability on technical steeps wasn't the only quality that encouraged Jones to invite Pandolfi on a trip to the Himalaya during the filming of Higher (2014). Pandolfi, Jones says, had a "thirst for exotic adventure." He was someone who Jones knew could handle "foreign lands, a different diet, different cultures," and, "when it did come to snowboarding—big serious mountains."
Pandolfi's presence and personality came through in Higher, which is well-worth a re-watch in the wake of his passing. The multi-day trek to the high-altitude Shangri-La spine wall was guaranteed to be grueling, but Pandolfi wasn't just facing physical battles—he was also battling mental ones, too. "I've been hit by a bad thing. I discovered my mom was terminal, she was ill, she had a bad cancer," explained Pandolfi in Higher. "Then she was doing well again, so I got motivated, I went into training again, then suddenly, four days before leaving she passed away. And that's been a pretty tough moment for me. I just fell down. I was emotionally destroyed. But I knew also that Nepal was a good place to refresh my mind, to get in touch with nature. Nature is the best way to get into the flow again."
After three-and-a-half weeks of trekking through the Himalaya without so much as touching snow, Pandolfi held his own when it came to riding spines—a terrain feature that was utterly foreign to him. Perched atop a corrugated wall, he watched Jones get sloughed out, and his response was as comical as it was impressive: "Pretty much first experience for me on big spines like that with a lot of sluff management, and imagine the feeling to be at the top of these spines, you're not sure what you're doing, this is your first experience, and you see [the] Spine Master get sloughed out… I was like 'What the fuck I do now,' you know? But then I just like to unplug the brain, be in that zone, where you just react to what is coming your way."
Pandolfi unplugged, tapped in, and rode the line with grace. Later, he made the decision to back off of the main objective as he wasn't feeling one hundred percent. The strength, adaptability, and wisdom Pandolfi exhibited in these consequential moments confirmed that Jones was right—Pandolfi was the perfect partner for this Himalayan adventure.
Like a Brother
Ettore Personnettaz, an Italian splitboarder and snowboard instructor from Aosta Valley, had the pleasure of spending many days with Pandolfi in the mountains, both as his teacher and riding partner. Together, the two tackled serious lines, like the seldom-skied Grivola, a 3,969-meter pyramid reminiscent of the Himalaya.
Personnettaz rode the Givola in 2016, the same year that Pandolfi turned around on the same line on a separate attempt, but in May 2018 a rare window of stable conditions, clear weather and sufficient coverage materialized. Pandolfi was nursing a shoulder injury, yet with a little prodding joined Personnettaz and a few others on a successful two-day bid at the peak. "The conditions were fantastic," remembers Personnettaz. "40 centimeters of fresh snow—crazy conditions."
"Luca was very, very happy for this—'Finally, the Grivola!'" says Personnettaz. "This experience, made our friendship stronger, our friendship forever…. When you go to the top, the effort, the adrenaline, the study of the descent, and the feeling of being part of the team—that is [a beautiful] thing. I ride with many skiers and snowboarders, but only with a few do I feel that [special bond]."
"Luca was like a brother for me," explains Personnettaz. He was "a frank friend, no frills, a free spirit, sincere and unpredictable, a nonconformist man with an inexhaustible passion for snowboarding and the mountains."
Pandolfi, Personnettaz recollects, also had a wonderful sense of humor. "We joke, we joke, we joke some more." As Personnettaz helped Pandolfi earn his snowboard instructor certifications, "he named me 'Master' because I am the instructor's instructor." During the certification process, Personnettaz says Pandolfi had to demonstrate turns, jumps, and boxes—the latter of which was even more foreign to the big mountain specialist than those Himalayan spines. Pandolfi was nervous to hit the box, laughs Personnettaz, and after he completed the maneuver they drank a beer to celebrate. According to Personnettaz, Pandolfi was flushed with victory as he joked, "Ettore, after this, I think the box emotionally for me was more exciting than a descent of the Sentinella Rossa Couloir," a notable descent Pandolfi ticked off in 2013. In a trip report on the Sentinella, Pandolfi wrote, "Riding a line like the Sentinella Rossa is not a ski journey; it is a trip into another dimension."
While Personnettaz cherished his friendship and brotherhood with Pandolfi, he notes that in Italy, and Europe as a whole, Pandolfi was an iconic freerider. "For the European splitboarding community, his passing was a huge loss." Between his many noteworthy descents and long career, Pandolfi "was a point of reference" for all European freeriders.
Pandolfi's impact rippled well beyond the Alps, thanks to his role in Higher, his proclivity for snowboard trips, his status as a big mountain pioneer in Chamonix and, above all else, his open-hearted attitude. "I rode with him in Chamonix in 2015, and the next year, I invited him to Japan and showed him the Hakuba area," comments prominent Japanese guide and Pandolfi's Jones teammate Yuta Watanabe. "My first impression of Luca was, 'I definitely like this guy.' He was free, always honest to himself, and I felt his passion of snowboarding so much that first day. He showed me the Italian style of snowboarding—must have a strong Espresso to start of a day, riding fast like a Ferrari, and always pizza and beer after riding," recalls Watanabe. "He was the perfect host to make us happy."
Honesty was important to Pandolfi, which sometimes got him into hot water, while at other times it opened doors. Will Ritter, founder of Spark R&D, chuckles as he remembers his first interaction with Pandolfi in 2011. "We were just getting our feet under us," remembers Ritter. "And the first email I have from him he was pissed off because he broke stuff. And he's like, 'I'm in Chamonix. I ride steep shit. I can't have stuff breaking.'"
"We looked him up and went, 'Whoa, he is not kidding.'" A few emails later, Pandolfi joined the Spark family. From the jump, Ritter admired Pandolfi's joie d'vivre. Pandolfi was a "free spirit, wanderer, very much disheveled, following his bliss all over the place," remembers Ritter. "You could just feel the rad on him from afar."
As Ritter sifted back through old correspondence, he found emails from Pandolfi returning from all sorts of exploits, including a trip to Africa. "It was comforting for me to review that stuff and know that, while he might have gotten short-changed a little bit with time, he packed in many lifetime's worth of adventure into it."
"On a personal note, we named our son Luca," says Ritter, of his now seven-year-old. "And Luca Pandolfi was a part of the inspiration to do that—again, being such a rad free spirit."
Dan Ventura, Spark's marketing manager, also worked closely with Pandolfi. "He struck me as someone that had the appropriate amount of gratitude for what he was doing. And I think that comes with people that chase their passions across the globe and across the mountains."
The source of Pandolfi's drive in the mountains, Ritter claims, was pure. "This was a real man of the mountains. He did not seem preoccupied with how many followers he had or how many video parts he could put together. He wanted to do super sick lines for him and then share it with people through guiding," explains Ritter. "I imagine he probably bagged a bunch of first descents, didn't take a single photo and told two friends at the bar at Cham. And that was enough."
The Tracks that Matter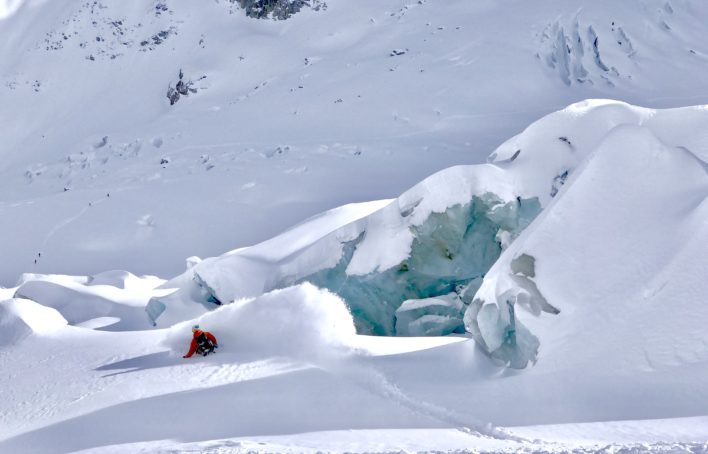 All tracks are fleeting. They fade, day by day. Wind fills them in. Snow entombs them. And as the seasons change, the sun erases them altogether. Backcountry skiers and riders dedicate their lives to these tracks—making them, studying them, training for them, dreaming of them. They are our exercise, our diversion, our suffering, our joy, our art, our religion. But when all is said and done, and a life is lost in the mountains, these tracks don't matter.
Luca Pandolfi left his sweeping signature down countless couloirs, surfed fall lines with grace, and pioneered puckering descents. We celebrate the lines he rode and the peaks he explored, but these aren't the tracks that we remember him for. We remember Luca for the tracks he left upon our lives. The brightness of his being—the freedom of his spirit—these are the tracks that matter.
"It was a very short period spending time with Luca, but I can say that he lives in my heart forever," says Watanabe. "Because his passion still influences my life. In my heart, he tells me how I should live—to be honest to myself. Passion is the most important. That's what he taught me through his snowboarding life."
"He just lived so many lives and brought so much energy and a lot of that energy came from his time in the mountains," says Jones. "And so it's incredibly sad, but it was also such a beautiful life."
"When I go to the top of some peaks, it's for Luca and for other friends that I lost in the mountains," says Personnettaz. "The best tribute, I think, is that we respect their mind, their spirit, their passion." The ambition is not to die in the mountains, explains Personnettaz—it's to live more fully. And that ambition is one that Pandolfi accomplished time and time again throughout his adventure-packed 47 years, may he rest in peace.
---
Drew Zieff is a Utah-based rider and writer who covers all things splitboarding for Backcountry Magazine, including writing the definitive history of the sport. You can read his full splitboarding manifesto in Issue 136.