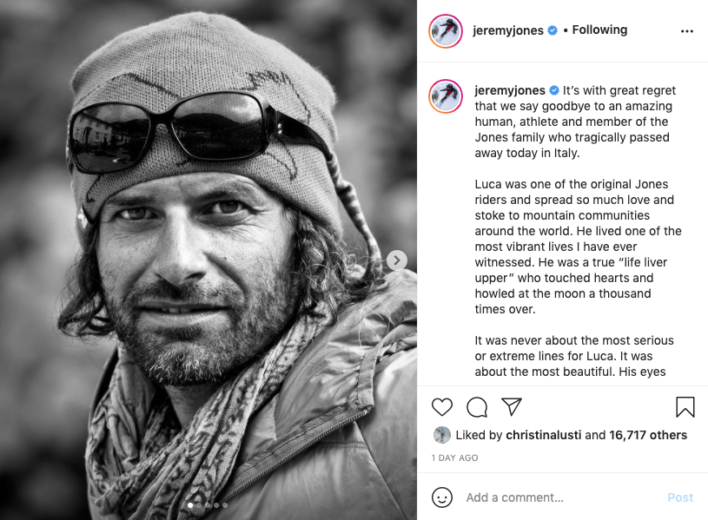 Italian snowboarder Luca Pandolfi died in an avalanche on Wednesday, March 17. He was splitboarding in Italy's Gran San Bernardo Valley, which is located in the Aosta Valley near the French border. Pandolfi is being celebrated and remembered as a freeride champion, guide and visionary splitboarder.
While riding with a partner, Pandolfi reportedly dropped into a 1,900-meter gully off Mont de Flassin and made a few turns before the avalanche caught and carried him to the valley floor. Pandolfi's partner and three other skiers who were in the area witnessed the avalanche and called emergency services; the force of the avalanche ripped off Pandolfi's beacon, but a canine unit located his body.
According to the Vallee d'Aosta avalanche bulletin, heavy snowfall in the area had elevated the avalanche danger to high before it dropped to considerable on the day of the avalanche. The forecast for March 17 warned of wind slab and new storm snow that sat atop persistent weak layers and indicated that large, human-triggered avalanches that could be more than a meter deep were likely.
Pandolfi started snowboarding in 1991 when his parents gifted him a ski trip for his 18th birthday. When he rented a snowboard on the last day of the trip, he became hooked. Over the past 30 years, Pandolfi built a résumé that included everything from winning freeride competitions to riding with Jeremy Jones in his trilogy of backcountry snowboard films, Deeper, Further and Higher. The 47-year-old was a splitboard guide and an experienced splitboard mountaineer with numerous notable descents in the Himalaya, the Andes and all across the Alps, including surrounding his home of Chamonix, France.
"It was never about the most serious or extreme lines for Luca. It was about the most beautiful," said Jones in an Instagram post paying tribute to Pandolfi. "His eyes were always drawn to big, serious, but rippable lines. He loved the aesthetics of the perfect line. An obvious path of snow beautifully winding down some of the world's most dramatic mountains."