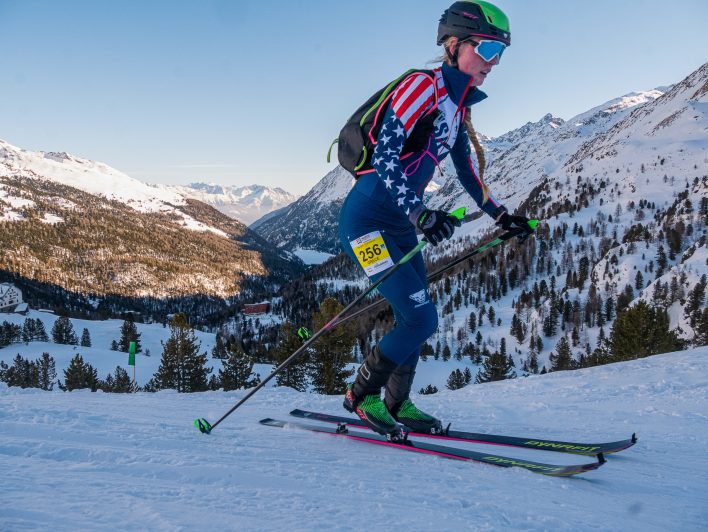 When Grace Staberg starting skimo racing during her freshman year of high school in Summit County, Colorado, she was "by far the slowest kid on the team," says coach Joe Hardyshell. But the 15-year-old's pace didn't deter her; instead, she asked Hardyshell, who oversees Summit Endurance Academy's youth programs, how she could improve. "She did that every day, and she came to practice every day, and she's done that for five years," Hardyshell says. Now age 20, Staberg is living in Europe and competing on the Skimo World Cup. At the time of publications, she was ranked second among the U20 women, making her the only American in contention for an overall title.
"I think it's easy for people to say, 'Oh, well, clearly, she's just really talented,'" Hardyshell explains. "She is, for sure, but she is also the hardest-working athlete that I've ever worked with."
Staberg was born into a skiing family in Denver. Her parents packed up their two daughters every weekend and traveled to their cabin in Summit County, where Staberg and her sister were on a competitive freeride team at Breckenridge. "I realized that I loved skiing," Staberg says. "I loved when we would hike the bowls or when we would go on really big adventure days, but I didn't really love the hucking cliffs part of it." Accepting that she was more of an endorphin junkie than an adrenaline junkie, she looked for a new winter sport. Luckily for Staberg, a local mountain athlete training program, the Summit Endurance Academy, was launching a youth skimo team. The combination of adventure skiing and fitness seemed like the perfect fit.
At the academy, Staberg found a mentor, training partner and friend in Nikki LaRochelle, a fellow skimo racer 16 years her senior. "I heard Grace passing me, and I was like, 'Wow, she's fast, that little high schooler,'" LaRochelle recalls about meeting Staberg in 2019. She laughs at the idea that she's Staberg's mentor. "If you talk to her, you forget she's 20 because she presents as though she could be 40," says LaRochelle. "She's just got this maturity about her." Instead, LaRochelle describes Staberg as her contemporary, an equal training partner with an equally deep breadth of knowledge.
The pair became close when they traveled to Switzerland during Staberg's first season competing internationally. The experience left the younger skier humbled. "The Europeans had just such a different culture around the sport," she says. "They were in much better shape than me. They had much greater skills than me. Their technique was just off the charts."
Hardyshell remembers Staberg's international debut a little differently. Though the European skimo racing scene is significantly more competitive than the one in the U.S., the coach had faith that the young athlete would perform well. He didn't realize how well she'd perform: Staberg finished in the top 10 of all three races she competed in. "She was very clearly in the hunt, and it was really fun because all the European coaches noticed," says Hardyshell.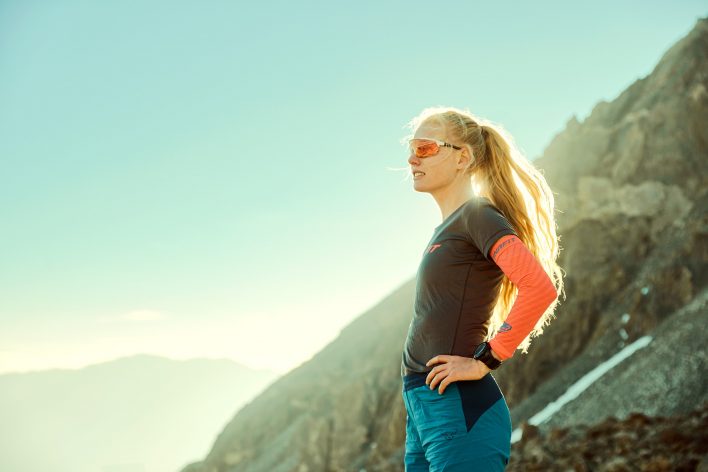 That Staberg downplays her international debut reflects her unassuming nature. "There's this kind of paradox to her," explains LaRochelle. "She's fiercely committed to her training, but she also has a real sort of easygoing spirit about herself." On top of her maturity, dedication to training and a bit of self-deprecating humor, Staberg is smart. She runs a podcast, Alpine Start, and is a remote student at the London School of Economics, where she studies accounting and finance.
Most of all, Staberg simply loves to train. LaRochelle calls it her "happy place," and Hardyshell says that even if Staberg wasn't competing on the World Cup, she'd still be spending long days touring in the mountains. She excels on climbing-heavy days with plenty of mileage, making her a rarity among younger athletes, who usually dominate sprint-style races. Last season, she broke the North American women's 24-hour vertical record by skinning 56,153 feet at Colorado's Copper Mountain Resort. "It's just surreal and hard to describe what it feels like to be in that flow state for 24 hours," says Staberg, who hopes to break her own record in the future. Hardyshell has no doubt she'll achieve her goal, pointing out that Staberg spent the entire day above 11,000 feet. The women's world record (57,890 feet) was set at a significantly lower elevation, maxing out at 5,032 feet.
Does Staberg have any weaknesses? Perhaps only two. This first, according to LaRochelle, is that she has to carry a larger, heavier tube of sunscreen and stop regularly to reapply it to her fair skin. The second is her paralyzing fear of heights, which Staberg jokes has made her "the worst skier on the World Cup." Despite this, she's managed to land on the podium 10 times this season, notching five wins. "She is so strong on the climbs that she's able to make up for the downhill," says Hardyshell.
Staberg still has a few years before she joins the senior women's division on the World Cup, and she keeps the 2026 Olympics, where skimo racing will debut, in the back of her mind. Endurance athletes tend to peak later in their careers, and Staberg has yet to reach her full potential. "I don't think she has a great sense of where she would stack up against the senior women right now because they race different lengths," says LaRochelle. "But I would suspect she would be right up towards the top. Given she has many more years ahead of her, if she so chooses, I think she could be phenomenal."
---
This profile originally appeared in Backcountry No. 145, The Generations Issue. To read more, including three more profile of young badasses in the mountains, pick up a copy at BackcountryMagazine.com/145 or subscribe.