When Brigid Mander wrote this piece for our February 2021 issue, the Teton Range Bighorn Sheep Working Group was hosting a series of public meetings to chart a new course for balancing wildlife and recreation needs. Now, the group has a list of recommendations, ones that it says preserve 95% of "high-value" ski terrain in Jackson Hole while protecting 47% of the bighorn herd's winter habitat.
The working group will meet at Wednesday, Oct. 20, at 6 p.m., Mountain, to present those recommendations and discuss policy changes and implementation. The virtual meeting (Zoom link here) is open to everyone. —The Editors
In Wyoming's Teton Range, skiers cherish famed alpine faces and steeps cloaked in snow. But another smaller, core, native herd with a genetically pure Teton lineage also calls this range home, waiting out winters on the rocky terrain beside some of the most iconic ski lines.
The Teton bighorn sheep population are that tenacious-yet-imperiled species, and increasing backcountry skier traffic over the last two decades has alarmed biologists, who say, for the sheep to survive and rebound, it's crucial to reduce or eliminate disturbances—skiers and riders included.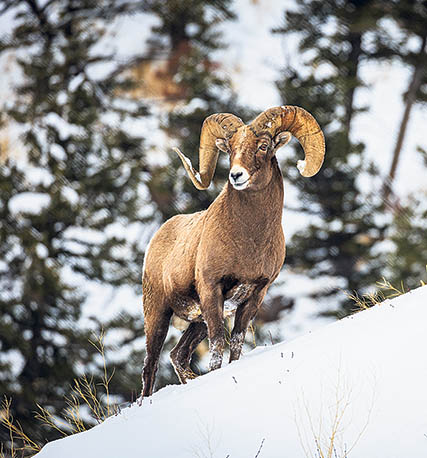 Backcountry users are now caught in a conflict of how and where to give the ovis canadensis enough space to return from the brink of extinction. The debate brings to question the idea that human-powered recreation has little impact on nature. Opinions on this question vary, from those who are convinced that wild sheep don't mind skiers to those torn between conservation ideals and beloved ski lines and those supporting bighorn lives over ski lines. While it's not skiers' fault that bighorns were reduced to wintering on top of the Tetons, the animals currently have nowhere else to go.
Before Euro-American settlement, wild sheep roamed the Rockies from Mexico to British Columbia, 1.5 to 2 million strong. In the 1900s, the Teton bighorns' plight began when fences, livestock grazing and housing cut off their millennia-old migration routes to lower winter ranges. Unregulated hunting further decimated their population. By 1960, Wyoming had only 2,000 bighorns left, and the Teton bighorns stopped trying to migrate to lower elevations in winter. The current Teton herd of approximately 125 now survives the harshest months on isolated patches of wind-scoured, high-elevation ridges and faces with exposed lichens and grasses.
Aly Courtemanch, a biologist with Wyoming Game and Fish (WYGF), has studied these wild sheep extensively over the last decade and works to protect them along with Grand Teton National Park (GTNP) biologist Sarah Dewey. "The Teton herd is really important. They've survived all these hardships, persisted despite all the challenges," Courtemanch says. "Usually when a population loses its migration, it dies out. It's incredible they're surviving up there, having lambs and sustaining themselves. But they are in trouble, and they need help."
Based on data collected from 28 collared bighorns and with cooperation from backcountry users traveling with GPS units that resulted in 700 ski tracks, researchers were able to determine that bighorns exhibit more daily movement when near ski routes. This causes the ungulates to lose critical energy reserves and avoid otherwise good habitat even when human visits are infrequent.
The rest of the ski world has tuned in. "The decisions made will have national implications," says Hilary Eisen, policy director at Winter Wildlands Alliance. "The Tetons have been at the forefront of skiing. Maybe now they're on the forefront of a new question: how to balance wildlife and recreation in wild places?"
The park has a mission to prioritize protecting the bighorn population, according to an email from GTNP Public Affairs Officer Denise Germann: "[The National Park Service] has a responsibility to protect native species, including the Teton Range Bighorn Sheep." Current bighorn winter closures in GTNP include terrain on Static Peak, Mt. Hunt, Prospector's and surrounding subpeaks. Safe habitat is especially important for ewes, usually pregnant with lambs during winter, but the closed areas are small and occasionally poached by skiers. New closures have not been suggested yet but are on the table.
"It's hard to see things from wildlife's point of view," said Renée Siedler, biologist and director of the Jackson Hole Wildlife Foundation. "Skiers think they're not impacting the sheep, especially if certain individuals don't run away, but there is a stress response in the sheep." In 2020, biologists and land managers from GTNP, WYGF, the Bridger-Teton National Forest (BTNF) and Caribou-Targhee National Forest (CTNF) convened a series of public meetings to discuss the situation. About 158 members of the public attended, offering the gamut of opinions.
To biologist, cinematographer and 40-year Jackson resident Franz Carmenzind, putting the bighorn's survival above recreation is a no brainer in a world where biodiversity loss reports estimate that 96 percent of current global mammalian biomass is humans and domestic animals. "It's a national park. If the sheep can't be protected here, what's left for them?" he asks. "It's morally obscene we are even having this discussion. It's a small group of skiers with a narrow interest making big demands."
Some ski mountaineers—including Exum guide Dan Corn—suggest that more studies should be done. "There's no science that says the closures will help that much," Corn says. "And the sheep aren't where we are skiing—we like deep snow; they like rocks." Corn also questions why WYGF still sells one annual sheep hunt tag for the Teton herd: "You're going to close skiing, but someone can shoot a sheep if it steps out of the park?"
According to Courtemanch, the hunt is rarely successful, but ski lines are often flanked by rocky walls where wild sheep winter. Of special concern to skiers and conservationists are iconic areas of the BTNF's Rendezvous Peak and GTNP's Avalanche Canyon.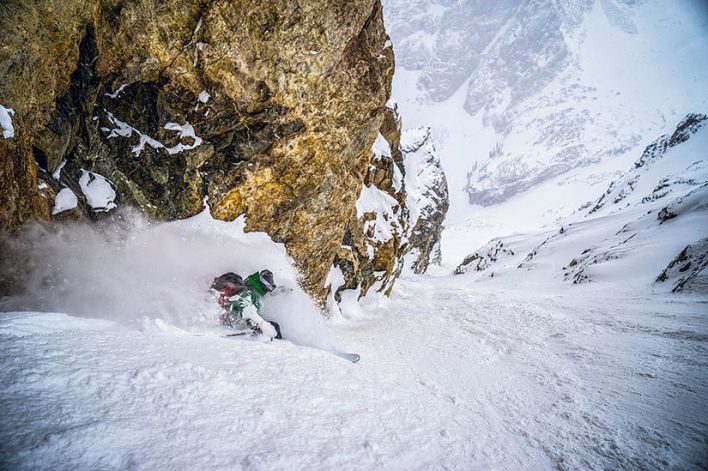 Most of the community supports compromise. "It's worth the effort to try to save them," says Jay Pistono, a GTNP skier since the 1970s and the current Teton Pass Ambassador. Kim Havell, a guide and pro skier, feels similarly: "What defines Jackson Hole is coexisting with wildlife. Some classic lines will be impacted if more closures happen, but there's so much else to ski."
There are slow signs of progress for the Teton herd. In the 1990s, conservation groups bought out grazing allotments on the western slope, reopening a corridor to a lower winter range. Now, Courtemanch says, "The wild sheep are starting to use the corridors back to lower slopes, which is really promising. If we give them a place to go, reestablish traditional habitats, get the population above 200, that's the goal."
"We wanted to approach this holistically," she continues. "If we were just doing what's best for the sheep, we would close the range in winter. But there's enough space in the Tetons we should be able to share, give the sheep what they need to survive and expand and still have skiing."
---
This article was originally published in February 2021 in Issue #139. To read more, pick up your copy at BackcountryMagazine.com/139 or subscribe.