Backcountry's extended Gear Test Week family lost its greatest legend earlier this week. Richard "Woody" Wood—Powder Mountain, Utah's smiling, steady-handed, always-punctual bus driver—passed away on Monday. He was 81.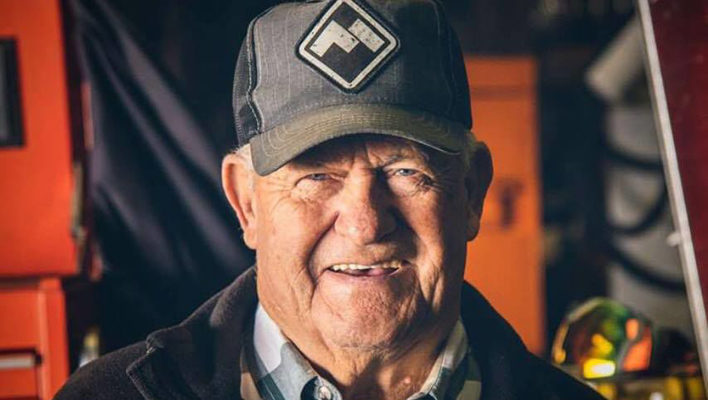 By all accounts, Woody shuttled Backcountry's Gear Test crew for 11 years up and down Highway 158, a road he began driving as a teenager, back when it was dirt and before Powder Mountain was a ski area. Woody grew up in Roy, Utah, just southwest of Ogden, and learned to ski in the mid 1950s.
After serving in the U.S. military, he returned to Utah, settling in Huntsville, where he'd raise two daughters, Holly and Jennifer, the latter of whom would have competed in the 2010 Vancouver Winter Olympics if not for an injury.
"Woody began working alongside Powder Mountain manager Chuck Panter to develop a free shuttle service on Powder Mountain Road to access the 1,000+ acres of powder skiing we now know as Powder Country," Powder Mountain wrote in a Facebook post celebrating the bus driver's legacy. "In 1981, Woody's knowledge of the road and infectious spirit made him the perfect candidate to start the shuttle service that would become a cornerstone of the Powder Mountain experience." He later became the resort's night manager and spent his summers working on and off the ski resort operating his dump trucks and other heavy equipment.
Woody retired from Powder Mountain several times during the last decade—at least twice that Editorial Director Tyler Cohen is aware of. But he couldn't stay away from the people, the road and the buses. Even last season, while in official retirement, he purportedly drove a shuttle more days than not. "Woody routinely got behind the wheel and helped haul happy skiers and snowboarders out of the powder paradise he helped create 38 years earlier," Powder Mountain wrote.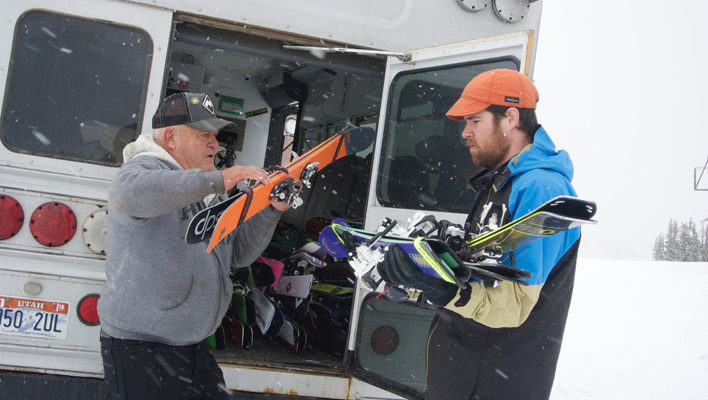 "I was honored to have met Woody this past spring," first-year tester Matt McCawley wrote on Backcountry's Instagram. "It was very apparent the test crew was quite fond of him, and it was easy to see why. I recall Howie (Adam Howard, Backcountry's CEO) saying that he wished the ride in the afternoon would last forever."
"I'll never forget his infectious smile, easy manner and his earnest dedication to taking care of guests," 11-year Gear Test veteran Jeremy "Shaggy" Bailey remembers. "He was an institution that will be missed by the entire BCM crew. From the seat of his bus, he could tell you a story for nearly every bend, creek and avalanche area of that canyon. Damn, I'll miss him."
Tyler Cohen's brightest memory of Woody is from two years back, on the last morning of the test when the canyon was closed due to heavy overnight snowfall, and a long line of traffic kept the bus from being first to the mountain. Woody blew past the idling cars to the front of the line, where a police officer signaled him to stop with stern wave and a who-do-you-think-you-are look of authority.
"I know, I know," Woody said coolly to the officer. "I've gotta get up there. We've got some VIPs on the bus and have gotta be first in line."
It was an Obi-Wan Kenobi, "these aren't the droids you're looking for" moment where Woody worked his magic, not as a shuttle-bus driver, but as a Jedi master. The officer resigned to Woody's power move and let the bus proceed forward to the closed gate.
There, Woody waved to a man from the highway department and said, "Morning, Troy. Is that the new deputy?" to which Troy nodded. "New badge and pistol, too?" Woody asked with a chuckle. Then, to those in the front of the bus, he added, "Yup. I almost needed to take mine out."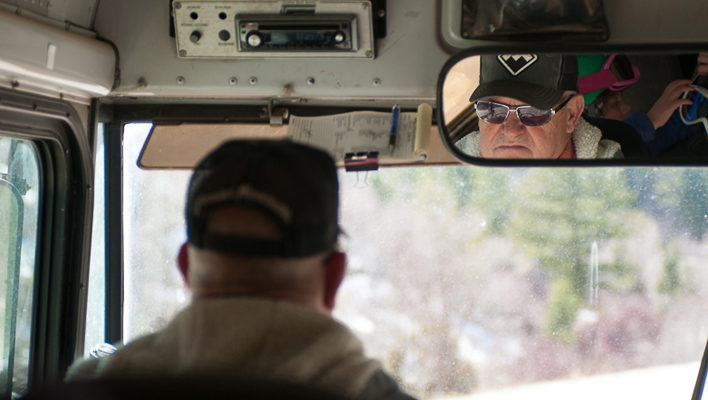 Woody's humor seemed ever present, and he dealt with the endless requests and schedule changes inherent to Gear Test Week with an even unflappability. When a bus's brakes went out or a rig started sliding, he calmly negotiated the situation, keeping everyone safe and, likely, unaware of the issue. He kept the Gear Test on schedule, welcomed everyone each morning with a shining smile and treated testers like the VIPs they only pretend to be. The Gear Test won't be the same without him.
In 2014, former Backcountry photo editor Dave Crothers interviewed and profiled the longtime shuttle driver. "It's been an incredible life driving this road," Woody told Crothers. "I've met some great friends up here. You guys included."
Funeral services for Woody will be held at 12 p.m. on Saturday, May 11 at the Huntsville LDS Church.