In spite of the prominence of New Hampshire's Tuckerman Ravine as a classic spring-skiing destination, the U.S. Forest Service has closed access to Mt. Washington's east side and the Mt. Washington Avalanche Center has ceased forecasting for the season, instead urging visitors to stay off Mt. Washington in accordance with New Hampshire's Stay at Home order that's part of the state's response to the COVID-19 pandemic. While it's not quite the same as a spring day spent in Tucks, Backcountry's Boundless Issue (#133) features a 24-page deep dive into the history of skiing on Mt. Washington—purchase a copy of the issue now at shop.holpublications.com with free shipping or download the digital version for just $3.50.
Here's an essay that's excerpted from the feature. 
A long time ago I learned that not every day is your best day when backcountry skiing. That couldn't be truer than on Mt. Washington, the jewel of New Hampshire's Presidential Range, which is infamously home to some of the world's worst weather. It also is home to some of the best high-alpine skiing on the East Coast and the reason I chose to move to North Conway in 2014. The unprecedented accessibility to steep skiing in remote glacial cirques around the "Prezzies" is my first choice when dialing up a tour plan. But when inhospitable weather moves in or avalanche risk becomes a nonstarter, there's been limited opportunities to stretch the legs in less exposed tree-skiing terrain. Until now. Say hello to the East Coast craft glading movement.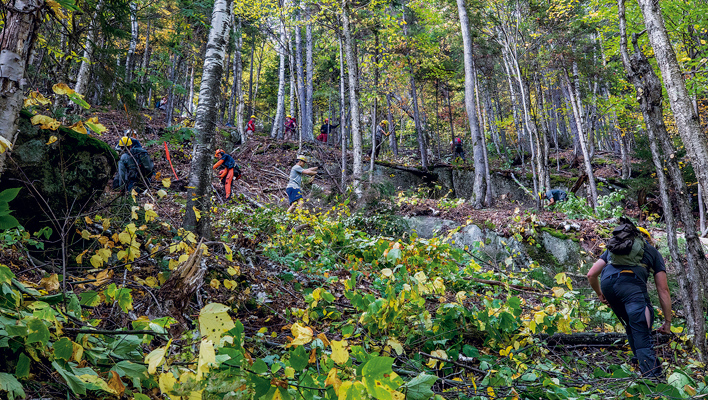 The seed for sanctioned glading was planted for me back in 2013 when I first discovered the concept while hunting online for powder instead of billing hours at my desk job. What caught my eye was a Vermont group known as "RASTA" that sought to turn the tables on bootleg cutting with their glade zone partnerships with landowners. In other words, they received permission to cut—not a commonplace practice in the sport.
I started poking around, talking to folks from the New England Ski Museum, local land trusts and all the way to Winter Wildlands Alliance in Boise, Idaho to figure out how to make this happen right here in the Whites. Finally, in fall 2015, a group of 45 skiers met on the second floor of the iconic climbing shop International Mountain Equipment in North Conway to begin brainstorming. While ideas ran rampant, the bigger takeaway was that the RASTA blueprint required backcountry skiers to first organize, fundamentally disrupting the discrete and clandestine nature of backcountry ski culture.
In September 2016, Granite Backcountry Alliance (GBA) formed to work directly with landowners to steward properties for low-impact and sustainable glade development across the state of New Hampshire and western Maine. With the excitement of a goldminer staking a claim, we began to hunt for zones by lacing up our trail running shoes and blanketing areas in the Whites.
Our first official scout run was on a miserable, rainy fall day starting at the AMC's Highland Center in Crawford Notch. We sent small teams to nearby peaks including Mt. Tom, Mt. Field and Mt. Willey, envisioning a high-elevation, northeast- facing gladed paradise. Instead, we found thick, dense softwoods that soaked our souls to the core. While we returned empty-handed and soundly defeated, our spirits remained surprisingly high and planning for the next scout had already begun.
Over time, we've shifted away from a reliance on federal projects and focused on community forests, land trusts and other forms of local conservation whose management plans align with GBA's recreational objectives. We call this strategic initiative #GIMBY (Glade In My Backyard), because every community should be so blessed to have a glade zone in town. In many ways, we have reincarnated the spirit of the Civilian Conservation Corps (CCC), which traveled from town to town to cut ski trails for local ski clubs back in the 1930s. History does repeat itself, even in backcountry skiing.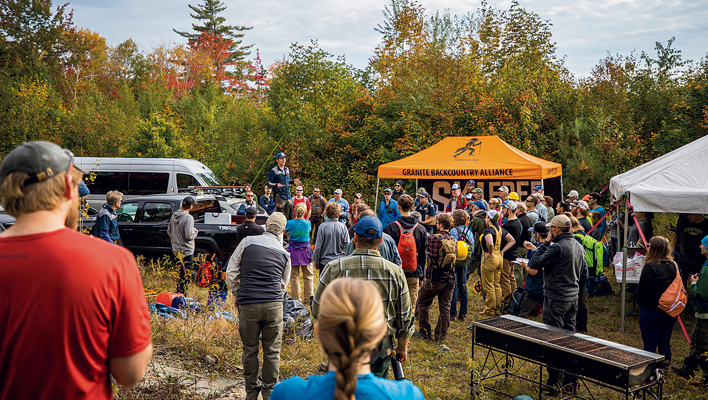 We treat our organization like a start-up despite being caged in a nonprofit body. We've invested in resources and tools to facilitate glade implementation by using past performance metrics to predict cutting pace and setting goals. It sounds contrived and almost anti-backcountry but we're stoked on finding new and improved ways to manage and educate volunteers, and we also really like gear.
Last fall, on our final glade day of the season, we had more than 120 volunteers sign up to glade, which seemed insane (because it was). We were able to obtain approval on a smaller privately owned zone before glade day and separated volunteers into two groups using online communication. Glade management can be serious business—but it's more fun when we get to ski and the snow is deep.
In three and a half years we've developed eight glade zones and maintained four historic CCC trails, totaling nearly 30,000 vertical feet of skiing either in or contiguous to the Presidential Range. Collaborating with five different landowner types (namely federal, state, municipal, land trust and private), we have nearly 600 members and volunteers who have committed more than 11,000 hours engaging with the land.
In an age of obesity, consumerism and excessive screen time, we're proud to encourage folks to get outside and offer newfound playgrounds to slide through. So while it is still true that not every day is a best day, we now have a bona fide below-tree-line network that at least provides the opportunity to turn any day around. And for that, we are grateful.
—
Tyler T. Ray is the founder of Granite Backcountry Alliance and now manages GBA through his outdoor advocacy firm Backyard Concept, LLC and Frontyard Law, PLLC—for which he can't help but use the tagline "Business Up Front, Party in the Back." This essay first appeared in Backcountry's Boundless Issue (#133).