It's not an overstatement to say that Jeremy Jones's contributions to backcountry snowboarding have been unparalleled. Not only did he bring splitboarding to the big screen in the Teton Gravity Research Deeper, Further, Higher trilogy, but his eponymous brand has also dominated the splitboard market. Now, Jones embarks on his biggest endeavor yet—not solely enjoying winter, but protecting it.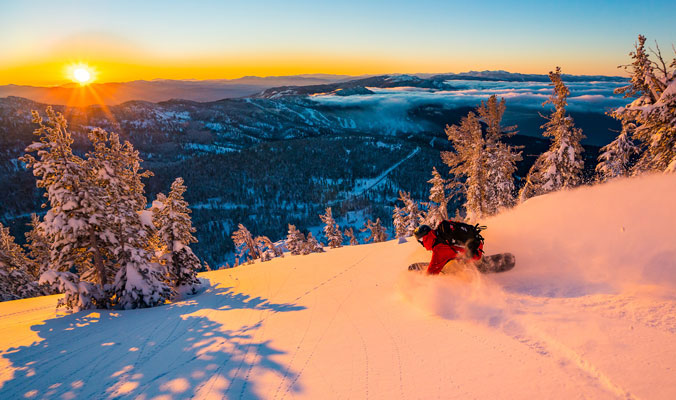 I made a splitboard in the mid '90s, but I moved to Jackson in '98 and the boundaries had just opened. We were so hyped hiking off the resort that I'd only splitboard once or twice a year. I first got into a helicopter in Alaska in '94, and ski bums had figured out that they could rent helicopters or take planes off Thompson Pass for cheap. The parking lot would be full of people camping. There was no guiding at that point—it was basically get your chips together, go and explore. The evolution was fast, and I got hooked. I'd spend the majority of my year locally and then take all of my travel budget and put it into six to eight weeks in Alaska heliboarding.
I vividly remember when I was in Valdez, pointing to the mountain in front of me, saying, "Let's go there," and the pilot saying, "We can't go there." We found the edge of that boundary, then we went to Haines, found the edge of that boundary. I realized that we can really only take a helicopter to like five percent of these ranges. At the same time, in Jackson, I'd be racing people out to the North Shore. It got to be like, "I'm standing on top of the same line I was on five years ago on the best day of the year." That's what led me to go all in on foot-powered snowboarding.
Hiking was always a part of my snowboarding. I would get dropped off by helicopter and have to hike this knife-edge ridge, and that's actually technical mountain climbing—upper ridges, dealing with cornices. But I remember our first foot-powered trip to Alaska, getting dropped off by plane and going, "How the hell are we getting over the bergschrunds?" Tom Burt was with us, though, and he'd had experience with that. Mountaineers hike spines, but they're looking for hard snow. We were going into these steep spine walls in deep snow and tunneling our way up. We were learning on the fly.
I shot the first year of Deeper on a Rossignol DIY and the second year on a Jones split. Rossignol wasn't interested in making splitboards. I talked to other companies about it; they weren't interested either. I was close with Shane McConkey—he'd just come out with the Spatula—and we talked a lot about alternative camber profiles and shapes. I just wanted to be able to design what I wanted to design and not be held back at all. So I started Jones [Snowboards].
I wasn't forecasting this huge growth of splitboarding. I was just like, "This is what I want to do, and I want to have good product under my feet." All things can be made better, either through design or materials. We strive for performance, durability and sustainability—they're all equally important. I do think there's room for improvement on all fronts.
You'll see evolution in the Jones line as we bring new dimensions into these splits. Just having surfboard shaper Chris Christenson there—you hand a board to Chris, and he will call out a millimeter warble in a curve. His understanding of curves, transitions and flat spots is really intricate.
Developing boots is a hard thing to do and very expensive. It's a bit like, who's got the guts to start from scratch? My experience with ThirtyTwo has been really positive, and you will see improvement over the years with the stuff that I'm working on. The binding world is incredibly complicated, too, and these guys—whether it's Phantom, Spark or Karakoram—they're mad scientists. We're not looking to develop new interfaces at Jones any time soon.
We're not in this climate mess because people are snowmobiling or heliskiing. Yes, that increases the carbon footprint, but in the grand scheme of CO2 emissions, we have a society that's based on burning as much fossil fuel as possible. So at POW [nonprofit Protect Our Winters, founded in 2007 to focus on climate-change legislation], we give you tools to reduce your personal footprint, but real change needs to start with our leaders. What I don't like is people pointing fingers at each other. It's counterproductive. We all need to come together and kick ass at the polls and get climate leaders running our country.