In 2010, at the age of 35, Revelstoke, B.C.-based skier Greg Hill set the benchmark for most vertical feet skied in a single year: two million. That's an average of 5,500 feet per day, and Hill traveled around the world to make the dream happen. But in the aftermath he began to ponder the impacts of intensive ski travel and the carbon emissions that resulted from what is ultimately recreation. So he shifted his tack and began pursuing a different kind of adventure: reducing his carbon footprint while continuing to pursue big days and objectives.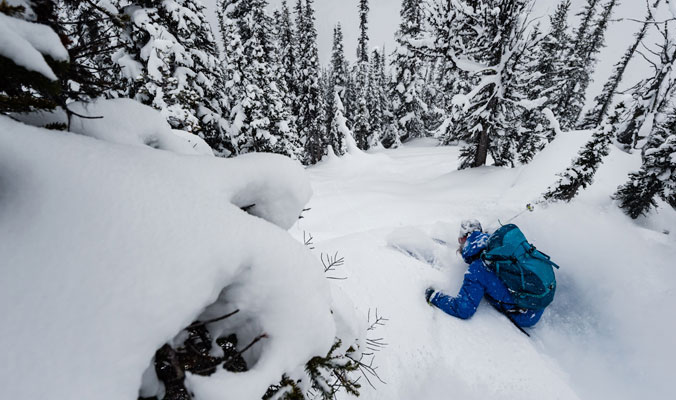 I started dreaming about the two million feet in 1999 when I did some math on a 5,500-foot day and was like, "Oh, wow. If you did that every day, that's 2 million." It took many years of training and doing 5,000 feet in a day, working up my verticals. The first million was done in seven and a half months, and it was all a process toward this goal that I didn't talk to anybody about. It was just quietly in the back of my mind.
And then in 2010, to think of what I was able to do that year with touring—an average of a vertical mile a day, every day, all year, while being a dad, cooking dinners, running a blog, filming, editing—I don't know how I had all that energy. I feel like I'm half the man I used to be. It was about the maximum backcountry that I could feasibly do.
I skied in North America and then I skied for months in Chile and Argentina. It was exploration and adventure, nonstop, day after day. I really pushed myself to see what my limits were. It was definitely one of the more incredible years of my life.
Because I'm trying to decrease my footprint, not traveling, all my guiding is now outside Revelstoke. Typically I just put three clients in my little electric car, and we drive somewhere and ski. I moved to Revelstoke because of the endless amount of backcountry here, and I became a guide to share this incredible mountain experience.
Technology is finally at a place where it's easier to adopt a lighter footprint. I used to drive up to Rogers Pass with my F350 all by myself, use a ton of diesel to go there and ski tour and then jump back into my big truck and drive home. [It's the same] with a snowmobile or a helicopter, and there's this imbalance with everything I loved and in the way I was approaching it.
So after my two million feet, I was reflecting on the year, and I had a realization about all the flights and the snowmobile aid and everything. And I said, "God, can I do it better?" It was April 2012, and I said, "OK, no gas this month." I'm just going to bike to all my ski adventures. And, you know, I biked to and summited 11 different peaks that month. For anybody to adopt something new, however, it's got to be easy. We're so used to convenience these days. So I struggled with [my energy consumption] for a few more years, and I hated it whenever I turned my snowmobile on and watched the smoke go into the air.
In 2016, I sold my F350 and put down some money to get a Chevrolet Bolt, because it was finally an affordable electric car. But at the time, electric cars were just for commuting. So I got to undertake it as an exploration—I've always liked to go to new places, and I looked at these electric cars as [another way to explore]; if I could show that the path works, others might follow it.
So starting in 2016, I tried to really limit my carbon-intensive lifestyle and not fly for any personal adventures. In May 2017, Chris Rubens and I rented a Nissan Leaf out of Vancouver and took it down and skied six volcanoes all the way to Mt. Shasta. That was our first test. I love watching that footage because you can see the nervousness of us wondering, "Is this going to work?" There was just enough infrastructure to go the 150 kilometers or 100 miles between car charges. And he had to call some people to charge at their house, but it worked. Since then, it has evolved so much. Electric cars are more mainstream. But for myself, two years later, I've now summited 100 different summits, running, climbing and skiing, and in my mind I've proved that electric cars can work for adventurers, although I do yearn for the bigger, burly vehicle.