The avalanche rose was black. Known for their danger-beneath-the-surface snowpack, Colorado's San Juan Mountains had an extreme avalanche risk rating on all aspects, at all elevations. Still, Connor Ryan and Cody Townsend were out skiing, working on Ryan's film, Spirit of the Peaks. As they hopped from ridge line to ridge line, avoiding the touchy slopes that swept away to their right and left, they had a guide.
Lynx tracks dotted the snowy ridge, showing them "the only safe place to be," Ryan says. Despite not seeing the animal, they instinctively knew the tracks would lead them up and down safely. "That lynx never took an AIARE course. That lynx didn't read How to Stay Alive in Avalanche Terrain," Ryan says. "There's an element of learning from a place that informs all of us how to be there."
Recognizing and listening to the innate wisdom of place and honoring the people who've lived on this continent for thousands of years is part of the 28-year-old's philosophy as a Hunkpapa Lakota, which he has increasingly shared through his platform as a filmmaker. Beyond simply being the most visible Indigenous skier right now, Ryan wants his work to serve as a guide, like the lynx, to a paradigm shift in the ski industry.
For many, the path to professional skiing begins almost at birth. Lessons from the time one can walk, traveling the country for racing—these are oft-recalled elements of the timeline. Ryan's path was more circuitous.
When he was little, his mother was a single parent; they lived in Boulder, Colorado, away from the plains stretching across the Midwest that comprise Lakota ancestral lands. His father would pick him up and take him skiing, offering connection to the land and sport. When he was about 10, however, his father's business went under, and Ryan lost the socioeconomic means to go skiing. Without this, he felt he no longer had a place on the mountain.
At 21, while living in Denver, he and a Black friend drove past Copper Mountain. "We just looked at it, and we were like, 'Oh, that's a place that's not for us,'" he says. "That immediately made us want to go there." The next year Ryan saved money, bought gear and started skiing, mostly inbounds. Rediscovering the sport brought him joy, but without a community, he also found it isolating.
In search of community, Ryan contacted NativesOutdoors, a Native-owned apparel and creative company, a few years ago. "He wrote a pretty long email that I think was like a three-page letter," CEO and founder Len Necefer told me. That type of introduction is right in line with Ryan's personality: He is driven, articulate, verbose and intensely self-reflective. By sending that letter, Ryan found a group of like-minded outdoor enthusiasts and creatives. "That was a huge turning point for me," he says.
Necefer opened doors for Ryan, including providing an introduction to Townsend, who they joined for the "Fifty Project" episode on Mt. Tukuhnikivatz in southern Utah's La Sal Mountains. Ryan quickly made an impact on Townsend. In a scene immortalized in that episode, as the group left the Geyser Pass Road trailhead, Ryan began singing in Lakota, announcing himself to the mountains, declaring his intention to pass through and ski.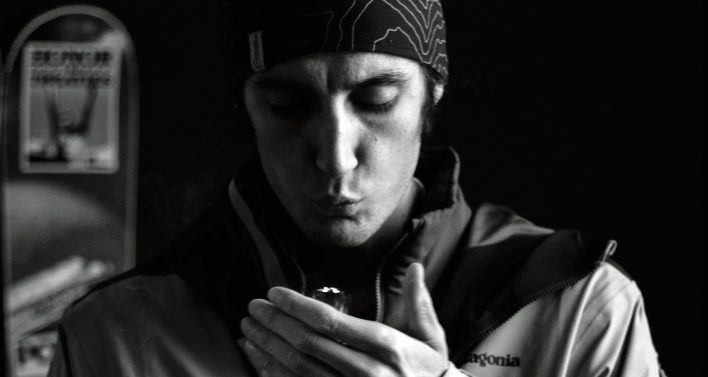 Townsend has his own internal practice of speaking to the mountains, which he says grounds him and keeps him humble, so he recognized the power in Ryan's song. "As outdoors people and as skiers, a lot of us do feel connection to place and a connection to mountains," he says. "But it's, in many ways, very superficial compared to these 10,000-, 20,000-year-old stories and cultures that have had intimate relationships with these places."
Following his trip with Townsend and Necefer, Ryan's next project was a short film, Paha Sapa: The Skier's Journey, as part of Mike Whelan's Skiing States series. They skied in Nebraska, then South Dakota's Black Hills—the Paha Sapa in Lakota—where they landed just after a bomb cyclone dumped several feet of snow. Throughout the film, Ryan discusses what it meant to ski where his ancestors had roamed, though he also had to reckon with the challenging realities of his people's treatment. "It was my first season of really taking on that angle of storytelling through sport," he says. "I kind of dove into maybe the most high-stakes place possible for me emotionally and personally, like, right off the bat."
Filmmaking, with its juxtaposition of introspection and pow shots, was the perfect vehicle for Ryan to explore the duality of his identity as a Lakota skier. Paha Sapa, though it was foundational, was just the beginning.
Imagine the climactic scene in your favorite ski movie. It probably features someone descending a technical Alaskan spine line or carving a huge face in British Columbia. Ryan takes a different tack in Spirit of the Peaks, his feature directorial debut, which was released this fall. Sure, the final voiceovers show him descending big terrain, but the true final scene follows Ryan as he takes Bird Red, a Ute singer, to Wolf Creek Ski Area for his first day of skiing—ever. Ryan outfits him, shepherds him up the magic carpet, the bunny hill, then, finally, the big lift.
Red falls the first time he exits the lift; skiing in the backseat, he careens across the run and spins out; he wedge-Christies while Ryan skis backwards next to him. Above all, Red has a damn good time.
"I think that's the best scene in the movie," says Isaiah Branch-Boyle, principal cinematographer for the film's mountain scenes. "The joy from Bird is the joy that people, I think, are trying to capture in a lot of ski movies."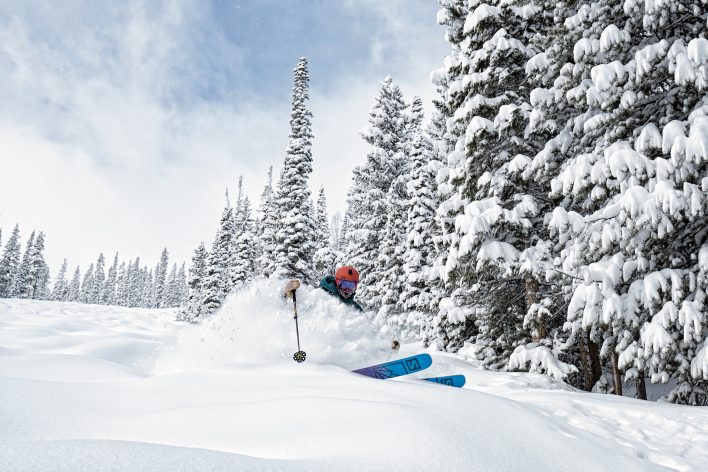 By the time Red enters, it's abundantly clear that Spirit of the Peaks is not a typical ski film. Starting with Ryan's background, it illuminates his spiritual progression as he answers the pivotal question of how to honor his Lakota ancestry while pursuing a career as a professional skier. To a Western observer, the dichotomy may not be apparent, because, as photographer and NativesOutdoors member Micheli Oliver told me, the ski industry is built for people of that background, so heritage and sport are not in conflict. Ryan didn't always feel that the selfish act of skiing—in which resorts are situated on Native land and (mostly) white people use the land for recreation and economic development—was in line with his indigeneity.
Answering that question was a process of redefinition: Instead of being an exploitative act, skiing can bring Indigenous communities into the mountains, as Ryan did with Red, and it's a way to share traditional knowledge and highlight issues like climate change and environmental degradation. In one scene, Ryan visits Southern Ute Tribal Council Member Lorelei Cloud as she delivers hay to her cattle; she describes the reservation's water issues and her frustration knowing that exploitative extractive industries are diminishing water quality while governments and companies ignore Indigenous knowledge about stewarding the land.
Cloud tells him that being in the mountains and skiing makes her feel closer to her Creator, that those activities ground her desire to protect the land and the water it provides, and in those moments Ryan's praxis reveals itself: Not only is skiing a way to share Indigenous values and connection to the land and people, but filmmaking by reframing the solitary-skier ethos into one of community. With Spirit of the Peaks and his other films as evidence, those who work with Ryan say he's an ideal person to lead that transformation.
"Connor has a great ability to find those stories that are going to have the best opportunity to be catalysts for change," photographer and writer Matthew Tufts says. "He's a really good translator for those stories, because those stories are really complex, and they're really nuanced, and it really takes the right voice to tell that story."
When I ask Ryan how his internal struggle to reconcile the parts of his identity influences his "activism," he pushes back a bit.
"I'm not really an activist," he says. "I'm Lakota, so the things that I'm doing, it's less out of a desire to be a certain thing or fulfill a certain role. It's more so that in coming back into an understanding of ultimately what it means to be human, then you find all these other levels of obligation that I think are defined as activism."
No matter how Ryan views himself, others pin that descriptor on him for opening doors in the industry by using his platform to delve into issues beyond skiing. Climate change will inevitably affect all of us, but Indigenous peoples, who have already lost much of their ancestral homelands to colonialization, risk seeing a warming planet degrade or destroy their scared places. That creates an urgency Oliver says makes it impossible to separate what might be seen as activism from the professional athlete persona. Part of what has given Ryan the platform to push for change, what makes him a good translator, Oliver says, is his ability to "code switch," that is, speak on those issues to both his Native community and white, Western ones.
Tufts agrees, saying Ryan's stances can ultimately improve the ski world for everyone. "The industry is comfortable where they are," he says. "But he has the messages that they need to hear if they want to move towards something that's more sustainable, more inclusive and more equitable."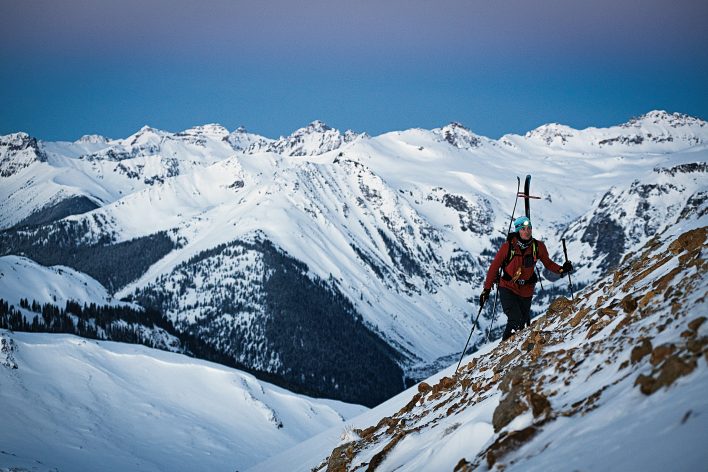 Ryan's position as a Native professional skier is unfortunately rare right now, and he acknowledges the potential for tokenism in the interest he sees from companies and media. He counters it by being intentional with which brands he works with, seeking out ones that put underrepresented athletes in positions of leadership, rather than just in ads. That includes REI, which gave him the green light to co-direct Spirit of the Peaks, despite his lack of filmmaking experience. The way he sees it, the process of diversification must start somewhere, and he's willing to put in that work.
"That's kind of my role in getting to be a bit of a trailblazer," he says. "I just know sometimes, 'OK, if I can deal with this bullshit or if I can set this boundary now, the person who comes after me doesn't have to."
Being a translator of Indigenous principles may have helped build Ryan's platform, and he believes he can use it to bring some of us white, Western skiers along, if we're open to listening. He also sees a more personal role in the work, one that's fundamental to his identity as a Lakota, one that might inspire another Native kid like him.
"If I'd had somebody to look up to, you know, who embodied Indigenous values and was an athlete in the sport that I love, then maybe I would have gotten here a lot quicker," he says. "I would have realized that it was a possibility."
---
This story was originally published in November 2020 in Backcountry Magazine No. 145. To read more, pick up a copy at BackcountryMagazine.com/145 or subscribe.