She presses herself to the front door, as though I might forget to bring her along if she were anywhere but obstructing the entryway. On the drive to the trailhead, whenever I flip the car blinker, she rises from the backseat, her head a periscope, pivoting to gather her bearings. At the trailhead, she bolts from the car, canvasses the parking lot, then heads up the trail or the skintrack, leaving me still deploying skis, boots and pack at the tailgate.
In classic dog-owner fashion, I've personified everything about Niva, my 10-year-old border collie. And if she were human, she'd be the most annoying of all skier types, the bro who won't stop spewing stoke—about where she skied or how rad she got or that she found face shots on literally every turn. Every. Damn. Turn. I choose to ski with her anyway.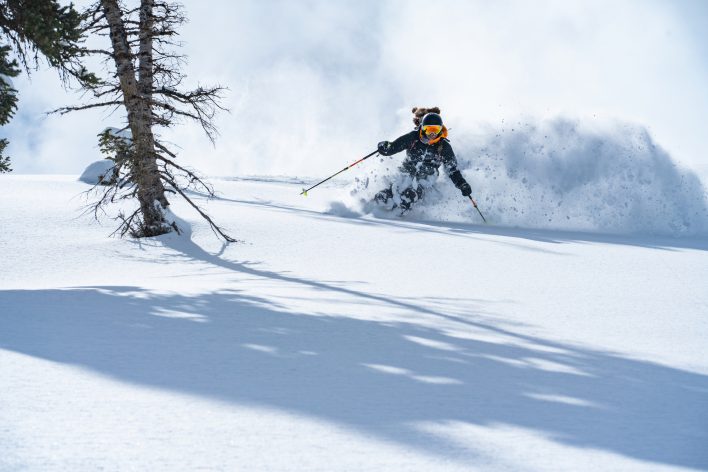 Let's get something out of the way. I generally don't think dogs belong in the backcountry. I know: Your dog is the best behaved dog and follows voice commands so well her nickname could be Siri or Alexa. So does mine—she's a border collie who could probably figure out how to operate even the most intricate tech bindings. But an animal with a brain the size of a clementine really doesn't belong in avalanche terrain, where even mature, responsible and well-trained humans struggle to make smart choices.
Imagine if, in addition to fresh snow messing with our rational thought processes, opportunities to chase squirrels, snow freezing to our stomachs and the need to sniff one another's butts further inhibited our decision-making capacities. The heuristic-traps acronym FACETS would require a whole lot more letters. And should your first-aid kit really need to include a skin stapler for when one of Fifi's legs gets fileted by someone's edges?
Dog training aside, my overall belief on bringing pets along for the trip boils down to this: Unless Rex's attendance is going to enhance the experience—for everyone—leave him home. Otherwise, it's a dog walk with skis. Which is why, only when it's early morning and few people will be out or when Niva and I are both in need of some fresh air after a long day at/beneath the desk, we go skiing together, most frequently in a glade just down the road from home.
But she's still the world's worst ski partner. On the uptrack, she's always a half-dozen switchbacks ahead, literally clawing her way up the slope to top out before I do. Once there, she immediately rears to drop in, without even pausing to consider which way we might descend. On the way down, her yipping is a constant soundtrack. (I get it, skiing is great, but is it that great?) And after one lap, she's almost always done, beelining down the approach route for the car, whether I want to do another lap or not.
She's impatient, inflexible and unable to communicate anything but stoke. She steps on your tails, compromises most kickturns, pees in the skintrack and tracks wet clods of snow melting from her coat all over the floor when we get home. If she were a human, I'd have severed the partnership after our first tour.
But here's the thing: That clementine-sized brain never seeks to sleep in; it passes no judgment on subpar snow; and it doesn't worry that, by going just a little farther or higher, she'll be too late for dinner or work or that appointment later. To her, skiing is a total immersion in winter, the freedom to wander the woods in whichever direction she wants, the lightness of flinging herself down a hillside to be buoyed by soft powder. It's pure joy, every single time, every single turn.
Maybe someone who sees skiing that way—and only that way—is actually the perfect partner.
---
This article was originally published in Issue #144. To read more, pick up your copy at BackcountryMagazine.com/144 or subscribe.