Crested Butte, Colo.-based guide Steve Banks takes the "I" in his IFMGA (International Federation of Mountain Guides Associations) certification to heart. So far, he's visited eight different countries for ski guiding, with many repeat stamps in his passport to his favorite locations. But his motivations for jet setting have changed since he first earned his international certification more than a decade ago. Increased permit requirements and overcrowding in Europe's Alps have motivated Banks to venture farther afield in search of that perfect blend of culture and untouched powder. And along the way, he's stockpiled a few tips to help his plane-bound clientele travel with ease. Here's what he has to say about travel prep.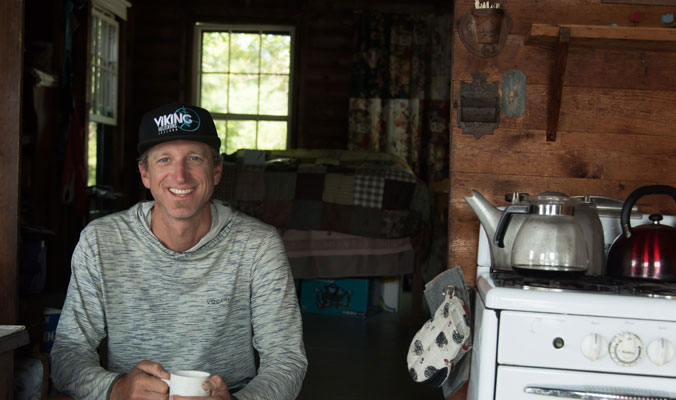 If you're looking for someone with stamps in his passport, I'm your guy. I started guiding internationally because that meant I got to go to Europe. There, guides can command higher wages, and train infrastructure for accessing the mountains means you can get to big alpine objectives without three days of camping like in the U.S. But good infrastructure also means that these places are accessible to a lot of people, so the Alps can be pretty crowded.
Another limitation is logistics. Each country has different permit structures and work visa issues. This has become a big factor in how, why and where I go. I want to visit places where I have to do the least amount of paperwork to be able to guide. One of my favorite places to guide right now is Japan. The powder is fantastic, and the Japanese culture is really cool. I mostly guide on Hokkaido. It's a rural farming island, and it's not hard to get away from people in the mountains.
For my clientele, which is mostly American, they are generally more comfortable with a person who shares the same language and a cultural bond. When you go to a new culture and you hire local services, things might be provided in an unfamiliar way. I think that for people hiring guides, they want to be as comfortable as possible. If they're hiring a local guide during international travel, that comes with a lot of benefits because that person is in tune with culture and weather conditions. But it can be hard to build that relationship between the guide and the client, especially if you're only spending a few days together.
Iceland is one of my other favorite destinations right now because of the remote mountains. There aren't many people out there, and there's a lot of freedom. There aren't many regulations, and I think it's because there are fewer people skiing. Will those regulations come? Yeah, probably. As more people start to visit those areas, there will be more regulations to control how people move through the mountains.
In Japan and Iceland, avalanche forecasts and bulletins are hard to come by, so when I travel, doing that falls to me. I usually go ahead of my clients to deal with jet lag and get acquainted with the snowpack before my clients show up.
If I'm skiing in my backyard, where I have the entire seasonal snowpack history engrained in my mind, as well as 20 years of history with that snowpack and terrain, I can thread the margins more than when I go to an unknown area. I might need a wider buffer with the type of terrain I'm comfortable in. But, honestly, compared to Colorado, pretty much anywhere else is a lot easier to deal with.
Before leaving home, I tell all of my clients to make sure their passport is valid for at least six months from the time of departure. I also talk a lot about local food. I always want my clients to explore the culture. But at the same time, people need to refuel and have a happy stomach, and they need to eat food they can handle on the skintrack. I always encourage people to bring whatever their favorite skintrack snacks are at home. After that, I encourage people to explore the local culture.