I've written and edited many obituaries in my tenure as an editor at Backcountry and now as editorial director at Height of Land Publications. It's part of the job, covering outdoor adventure sports. But the last year or so has marked an odd shift in the pieces we write in memoriam.
Last August, two competing titles of Backcountry's sister publication Cross Country Skier closed their doors within a single week of each other. A few months later, right at the beginning of 2020, Dirt Rag—a close competitor of our sister mountain bike title, Mountain Flyer—announced its closure. The losses hurt like the passing of an individual, and seeing them stack up has become a disturbing, too-close-to-home trend.
The latest publications to fall in this pattern include Powder, Bike, Surfer and Snowboarder, which Adventure Journal reported over the weekend will be closing down over the next few months.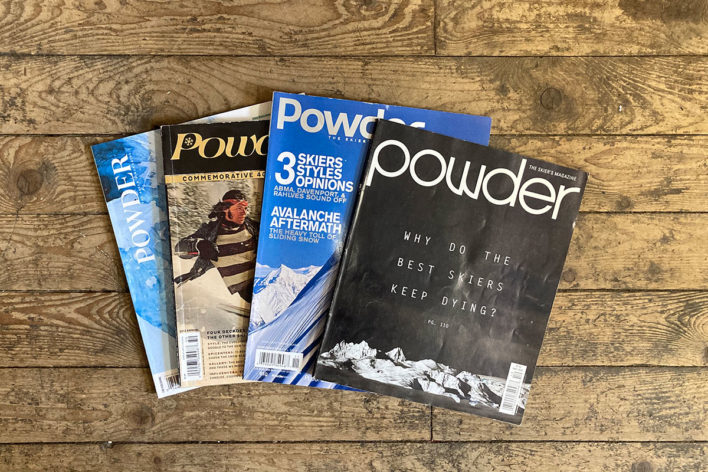 I wasn't surprised on Saturday to hear rumors that Powder might be closing—the economic fallout of the pandemic has been hard on the publishing industry, and ever since Powder and the other titles of The Enthusiast Network (TEN) were rather tumultuously acquired by American Media Inc. in February 2019, I've been curious about what a company known for publishing tabloids, including the National Enquirer, would do with an icon of core action sports media. But I was surprised by how quickly the rumors were confirmed, and how swiftly the closures will occur.
Adventure Journal reported Sunday that print and digital products for Bike, Powder and Surfer and print for Snowboarder will be closed; staffs for Bike and Surfer were furloughed Friday, while those for Powder and Snowboarder will be furloughed in November. The story, written by Adventure Journal founder Steve Casimiro, a 12-year editor of Powder and the founding editor of Bike, shared that this news came from company insiders and friends at the closing titles.
Powder confirmed this news on Monday, October 5. "Effective November 20, 2020…operations of the magazine, our website, and our social channels will be paused," Powder editor Sierra Schaffer wrote. "We do not know if or when this hiatus will end."
American Media didn't say if the closures are permanent, Casimiro noted before eulogizing so well the influence and impact that these four titles have had for decades on their respective sports and communities. As always, his reflections on the situation feel spot on, including his encouragement of readers to support—with their dollars—the small, independent publishers who are fighting the good fight, including his Adventure Journal, our titles at Height of Land Publications, the newly reborn Mountain Gazette, Funny Feelings (Fly Fish Journal, Frequency, The Ski Journal), Big Stone (Rock and Ice, Trail Runner) and The Surfer's Journal. I'd highly recommend reading Casimiro's story and checking out the recent letter that Backcountry's editor-in-chief, Lucy Higgins, penned to our readers.
While we think and talk of other magazines like Powder and Dirt Rag as competition, they—like us—are each critical threads in the fabric of our sports' cultures and communities. And the staff who work(ed) there are motivated not as much by money as by the work itself and the lifestyle that goes along with it. As I wrote following Dirt Rag's closure, competition pushes everyone to be better; it offers diverse readers different outlets with which they can identify; it provides multiple spaces for writers and photographers to ply their craft and earn at least some of their living; and it represents a robust industry, in which there's support for honest, quality journalism.
This competition is a healthy rivalry that leads to progress and the pursuit of betterment—we dissect covers, analyze pricing, compare our stories and photography and paper quality, which ultimately leads to a better magazine and experience for reader. Regularly evaluating Powder in part led to Backcountry's new logo and cover style, redesigned last year; it's pushed us to include more stories in each issue; and it's why we began our long-form Contours profiles of mountain ranges a few years ago. Powder helped shaped Backcountry, far beyond Height of Land CEO Adam Howard's internship under Steve Casimiro's tutelage.
When a competitor is struck from the newsstand, there's no windfall for anybody, really—not for us or photographers or writers or, most importantly, the community. There's one less magazine to draw you excitedly out to your mailbox. There are fewer stories that deeply capture the places and people and events that are central to the sports that define our lives. There are fewer large, crisp printed photos that transport you from your living room to the mountains. There are fewer pages to become immersed in.
For 49 years, Powder did all these things and did them very, very well. And skiing will be less rich without it.