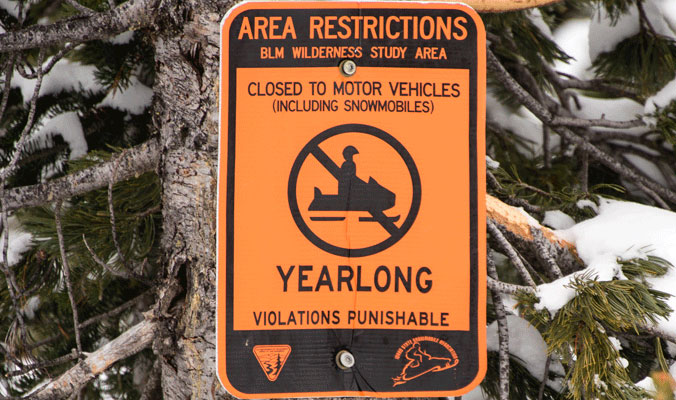 The 50-year history of snowmobile management in U.S. national forests has been a policy of looking the other way—with the exception of Wilderness Areas, if an over-snow vehicle could get there, it could go there. A federal court decision in January 2015, referred to as the Over-Snow-Vehicle (OSV) Rule, promised to change that. But has it?

The ruling recognizes that, while the U.S. Forest Service strictly manages off-highway vehicles in summer, it has been out of compliance with longstanding executive orders to manage all off-road vehicles. Now each forest with enough snow for winter recreation must designate specific areas where OSVs will not substantially impact wildlife, forest resources or other forest users, employing a public process and producing maps that define where OSVs are allowed.
The decision presented a rosy future for non-motorized winter recreation. And yet in my own backyard, Washington's Okanogan-Wenatchee National Forest, the mandated winter travel planning has gone from zero to zero in three years flat. My forest is typical of many: Improvements in snowmobile power and design have greatly expanded motorized terrain, effectively squeezing non-motorists into an ever-shrinking piece of the pie. But despite our local ski and snowshoe club nudging forest managers to start the mandated winter planning, nothing has happened.

What's happening elsewhere with the other 77 national forests with enough snow to require winter travel planning? The short answer: Surprisingly little.

To date, California gets the best grades for effort. The Plumas, Lassen, Shoshone, Eldorado, Tahoe and Stanislaus National Forests are all in the thick of winter planning and have defined timelines for completing the process.

Of course, simply embarking on the process does not guarantee success. Winter Wildlands Alliance (WWA), a national nonprofit focused on promoting quiet winter recreation and the group whose lawsuit resulted in the 2015 OSV Rule, is monitoring these plans and seeing mixed results.

The Boise, Payette and Bridger-Teton National Forests are simply applying their current usage guidelines to winter travel. Hilary Eisen, policy director for WWA, says these forests are sidestepping the public process and legal requirements of the OSV Rule and are setting themselves up for lawsuits—different user groups have not been engaged nor has science been used to evaluate OSV impact on wildlife, forest resources or other users.

Eisen says the Tahoe National Forest is the best example to date of serious winter travel planning, using the opportunity to account for current trends and the eventualities of climate change. "The draft environmental impact statement of the Tahoe Plan has all the necessary pieces and has varied alternatives for forest users to discuss and decide upon," she says. "Overall, it's a good plan."
Seeing the disparity between some forests' plans, Eisen believes it may be a blessing that most forests haven't jumped into the process just yet. "Rather than simply getting the job done, it's more important that forests do the planning right," she says. "If a few of the early forests produce quality plans, other forests can use those as templates."

Eisen emphasizes it will be a long undertaking to get each forest engaged in winter planning, but she says collaborative strategies will speed up the process. To prod individual forests into the required planning, Eisen suggests skiers and snowshoers form a group voicing their concerns and desires. That group should contact their local forest supervisor and start the dialogue about when and how the forest will begin the planning. Finally, non-motorized groups should reach out to the leadership of regional snowmobile clubs to discuss how to equitably share the backcountry pie.

Getting both skiers and snowmobilers working collaboratively toward solutions is also likely to lure Forest Service managers into the undertaking. Few managers want to jump into a polarized fray, but arbitrating a process where the different sides are working respectfully toward a balanced decision is a beast of another color.

All of which means that turning this landmark decision into a landmark change of the skiscape depends on us—all of us.

During the 40 years he's been backcountry skiing, Andy Dappen has seen many of his favorite haunts on Forest Service lands invaded by machines. Dappen is working with his local ski and snowshoe club on this issue and hopes more balanced wintertime opportunities can be established near his home in Wenatchee, Washington.