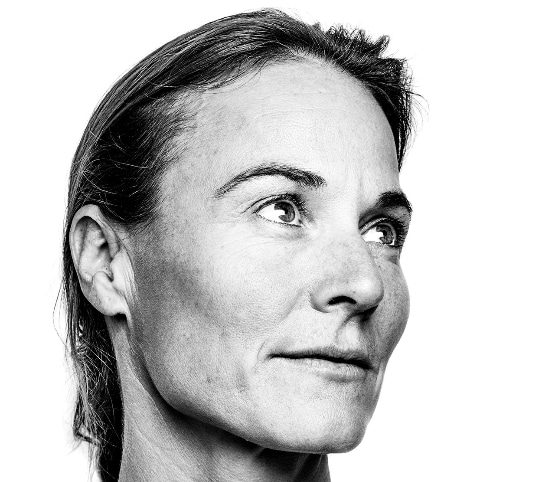 Rescuers have recovered the body of renowned ski mountaineer Hilaree Nelson, 49, two days after she fell while skiing below the summit of Manaslu in the Nepalese Himalaya. Bad weather impeded initial rescue efforts, but a helicopter from Simrik Air carrying two Sherpa guides and Nelson's partner, Jim Morrison, was able to access the upper mountain Tuesday, the Washington Post reported.
Nelson and Morrison were a part of a ski expedition managed by Shangri-La Nepal Treks. On Instagram on Wednesday morning, Morrison wrote that Nelson fell down the mountain's south face (opposite the climbing route) after triggering a small avalanche and being swept off her feet in a roughly 6,000-foot fall. Unable to ski down to her, Morrison had to descend their climbing route before assisting with the later search from the helicopter. He thanked the rescuers and eulogized Nelson, asking people to pray for the far-flung community of people she influenced.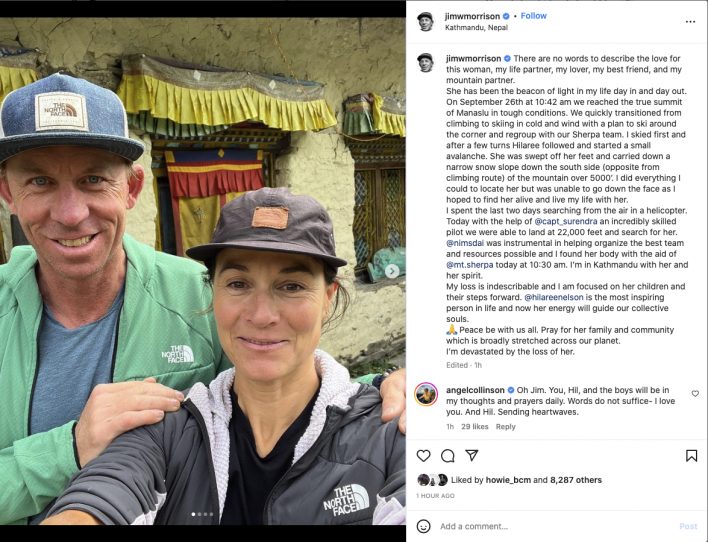 "I'm in Kathmandu with her and her spirit. My loss is indescribable, and I am focused on her children and their steps forward," he wrote. "@hilareenelson is the most inspiring person in life and now her energy will guide our collective souls."
Bad weather thwarted the expedition's first summit bid. "Yesterday we ended our summit bid when we decided it was too dangerous to move from C3 to C4," Nelson wrote on Instagram on Sept. 22. "We subsequently decided to ski down from C3 knowing that would mean carrying our skis all the way back up the mountain again if, big if here, we try again for a summit. It was the best thing we could've done."
On their second attempt, Nelson and Morrison summited Manaslu before Nelson fell on the descent. As part of The North Face's athlete team, the pair have tackled numerous impressive expeditions, including the first ski descent of the Lhotse Couloir in 2018, for which the pair won National Geographic's Adventurer of the Year award.
In 2012, Nelson climbed both Everest and Lhotse in a 24-hour period, making her the first woman to do so. She has the first female descent of Bubble Fun, a rarely skied line on Buck Mountain in Wyoming's Teton Range and won the European Women's Extreme Skiing Championship in 1996. The North Face, one of her sponsors, calls her "the most prolific ski mountaineer of her generation."
Nelson, who leaves behind two sons, grew up in Seattle and learned to ski at Stevens Pass before taking a one-way trip to Chamonix, France, that jump-started her ski mountaineering career, according to her biography on The North Face's website. From there she embarked on bigger and bigger expeditions, including to Hkakabo Razi, a little known peak in the far northern reaches of Myanmar; Alaska's Denali; and India's Papasura, known as the "Peak of Evil." She became captain of The North Face's athlete team in 2018, the first woman to be named to that role.
Nelson touched the lives of many in the outdoor community, many of whom took to social media to share their memories of the trailblazing ski mountaineer.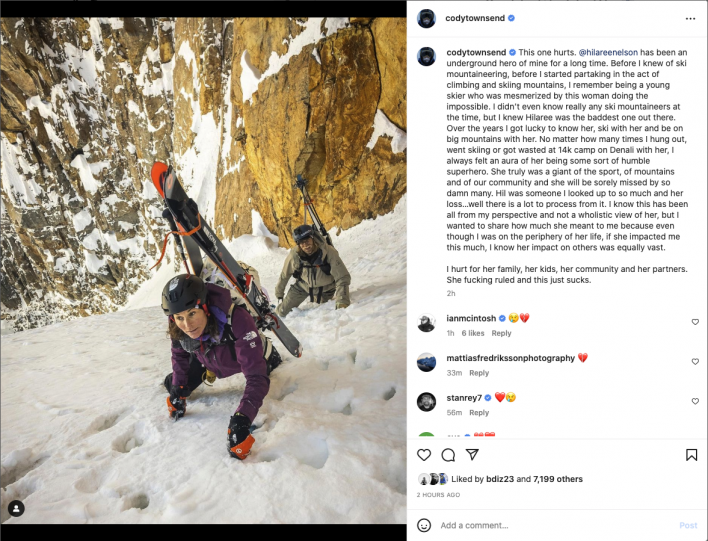 Cody Townsend of "The Fifty Project" remembered Nelson as an "underground hero" in an Instagram post. "Over the years I got lucky to know her, ski with her and be on big mountains with her. No matter how many times I hung out, went skiing or got wasted at 14k camp on Denali with her, I always felt an aura of her being some sort of humble superhero. She truly was a giant of the sport, of mountains and of our community and she will be sorely missed by so damn many," he wrote.
"Grateful to have known @hilareenelson in real life, a mom fit for the title of superhero and still so human," professional skier Lynsey Dyer wrote in an Instagram tribute to Nelson. "They say don't meet your heroes. She was one of the very few I've met over the years who lived up to the hype."
"In the niche of moms who pursue alpine adventures and strive to push their own limits always, she is a beacon," IFMGA guide Caroline George wrote in another tribute. "Sitting here, I can't really think of another mother who has done so much and so big after having children."
In an unrelated incident the same day Nelson fell, at least 12 climbers were injured in an avalanche below Camp IV. At least five of the injured climbers are in critical condition, according to a report from The Himalayan Times. The parties involved were shuttling gear to Camp IV in hopes of summiting September 28 or 29. More than 400 climbers planned to summit during the upcoming weather window.