This week, Salomon and Atomic announced an initiative to advance mountain safety education through a new online platform—Mountain Academy. No, you don't need to buy textbooks and join the glee club to participate; all you need is a set of eyes and a few minutes to spare.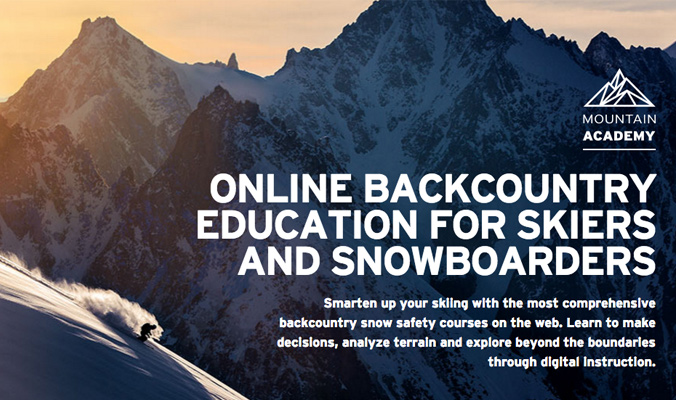 Announced at the 2015 Outdoor Retailer trade show, Mountain Academy presents a snow-safety curriculum taught by mountain experts, explains Monday's press release.
"Through a series of high-quality videos, pictures, animations and self-tests, Mountain Academy students gain fundamental knowledge in snowpack variables, identifying different types of avalanches, basic information about rescue tools and techniques," the press release states.
AIARE, the Utah Avalanche Center, the Northwest Avalanche Center and the Colorado Avalanche Information Center are among the many distinguished avalanche education partners of Mountain Academy, and for $29 or through purchasing Atomic Backland and Automatic products or Salomon Quest and MTN products, participants are able to gain access to this knowledge.
The program is comprised of two online courses. The first focuses on the participant's basic understanding of out-of-bounds terrain and snow dangers, while the second delves deeper into the nuances of terrain management in the backcountry.
"As Salomon and Atomic are developing more and more equipment designed to help people access backcountry terrain with greater ease, we think it's crucial for us to also equip people with an understanding of the risks associated with backcountry skiing," Evin Catlett, senior digital marketing manager for Salomon and Atomic in the Americas explains in the press release.
Mountain Academy is similar to other programs popping up, like the Know Before You Go program and The Avalanche Project, which focus on introductory avalanche and backcountry education that skiers and riders receive before taking an Avy Level 1 class.
And while Mountain Academy does not provide the same certification an AIARE class offers, it aims to provide a stepping-off point for learning backcountry etiquette and safety.
As the press release clearly states, "Mountain Academy is not meant to replace avalanche safety and gear training, but rather supplement it and direct participants to sign up for an in-person course in their area"—thus giving people an opportunity to learn from the point of sale and beyond.
—
Experience Mountain Academy at mountainacademy.salomon.com or mountainacademy.atomic.com.