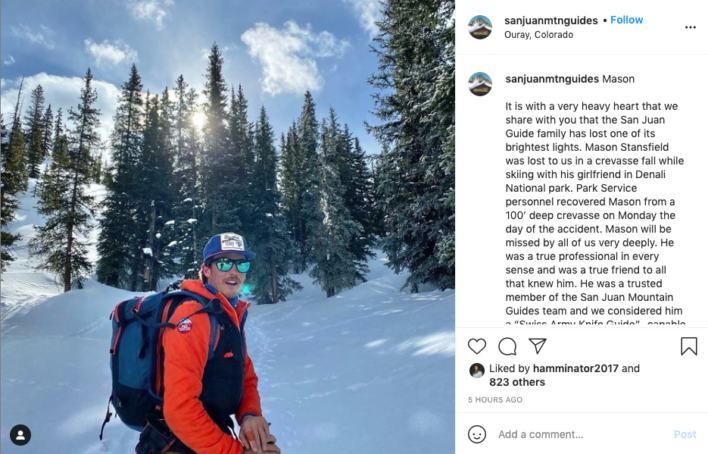 On Monday, May 3, 28-year-old Mason Stansfield of Ouray, Colorado, died while skiing the Eldridge Glacier in Denali National Park and Preserve, Alaska. Stansfield was an experienced ski mountaineering and a mountain guide who had worked on Denali before.
According to a press release from Denali National Park and Preserve, the National Park mountaineering rangers received an InReach communication that a ski mountaineer had fallen into a crevasse near the Eldridge Glacier on Monday afternoon. Two park service rangers departed the Talkeetna Airport via helicopter within 30 minutes to assist the reporting partner, who could not see or communicate with Stansfield.
The rescuers were dropped off at the InReach's GPS coordinate, at approximately 8,000 feet on the South Spur of the Eldridge Glacier. The helicopter returned to Talkeetna to pick up two additional rangers. One of the mountaineering rangers lowered into the crevasse, where they found Stansfield and confirmed that he was deceased.
Stansfield and his partner had been skinning uphill approximately 20 miles east of Denali's summit. According to a report from the Anchorage Daily News, the pair were unroped and in mellow terrain when the accident occurred. Stansfield's partner was uninjured and flow to Talkeetna. Stansfield's body was recovered by rescuers later that evening.
Stansfield was a Certified Rock Guide through the American Mountain Guide Association who had spent the past six years working as a mountain guide out of Colorado's San Juan range and in Alaska. This work included guiding Denali—which he was scheduled to do again in the coming weeks—and at a steep skiing camp with Eric Larsson and Chris Davenport in the Alaska Range.
"[Mason had] become really reliable, well rounded, well respected, a very good tour guide," Nate Disser, owner of Colorado's San Juan Mountain Guides, told Alaska Daily News. "As he got a little bit older, he just became a bit more experienced—he was kind of coming into his own. He'd really developed his skill set in a well-rounded and future-oriented way."
There will be an informal memorial for Stansfield at the Ouray Ice Park on Saturday, May 7, at 5 p.m. MST.