Knowledge is power and, in the mountains, it leads to powder. But getting there and doing it safely takes time, practice and lessons both formal and not. And this year's Skills Guide is a platform from which to dip a toe into the off piste, the impetus to dive headlong into a backcountry education or an opportunity to refresh and rethink personal processes. Because no matter your background, there's always more to learn. And, just like traveling through the mountains, there's pleasure in the pursuit.
—
Many snow pros spend their lifetimes researching avalanches, safety or decision making. And while traveling the backcountry isn't the career of most individuals who are out there, everyone can learn a lesson from those investing their life's work in promoting mountain safety: education is an ongoing process, requiring constant commitment to practice, progress and inquiry.
Here's why and how to continue your backcountry education after Avy 1.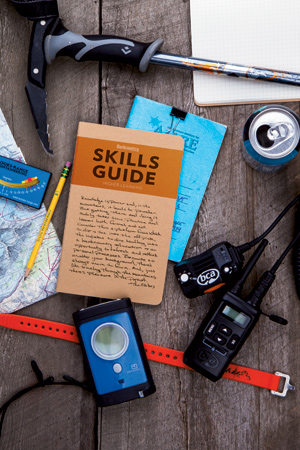 Home School
Snow safety might start at an organized Level 1 avalanche class, but rescue skills demand regular practice to remain sharp. And the easiest place to practice is at home. As soon as the snow falls each autumn, gather some partners together and bury beacons in the backyard; practice again throughout the winter whenever a period of high pressure sets in, either at home or at a resort beacon park. Next time the plow fills the end of your driveway with a cement-like snow bank, race to clear it with your avalanche shovel. Hit your bookshelf, too, regularly revisiting any Avy 1 texts or other safety-related reads in your collection.
Higher Learning
Most bc travelers end their formal avalanche education after Avy 1. But there are plenty of opportunities for further development—the obvious choice being the next course in line. While previously designed to be an entry-level professional offering, the Avy 2 curriculum saw a recent overhaul and now offers two pathways, aiming to meet the needs of advanced recreational students or budding professionals. Refresher courses are more widely available than ever, too. Check out a listing of courses here.
Class Dismissed
Today, heaps of learning opportunities exist beyond the classroom. Most avalanche centers and guide services now host short, evening workshops and presentations on focused topics. And, each fall, avalanche centers across the U.S. host annual snow-safety workshops modeled after the International Snow Science Workshop, packing a day or weekend with the field's latest research, science and higher-level thinking. Backcountry festivals usually match demos, festive atmospheres and more with heavy doses of education—often either free or quite affordable—and such gatherings provide great opportunities to meet prospective partners, too.
Mentor on Tour
Guides often talk about their mentors. Avalanche forecasters have them, too. Why shouldn't the average recreationist? Find a more seasoned partner and seek to learn the habits that make him or her a safer and more efficient traveler. Even though it might feel awkward or forced, ask questions often and encourage him or her to question you; recap decisions good and bad and repay wisdom by breaking trail.