Zahan Billimoria, better known as Z, is a Jackson, Wyoming-based mountain guide with an extensive résumé. He's guiding seasoned athletes and professional skiers alike. He's guided for Teton Gravity Research (TGR), Redbull, works with Exum Mountain Guides and runs his own training and big mountain-focused company, Samsara Experience. Through it all, Billimoria has learned that there is a balance of quantifying snowpack and being immersed in the natural environment, which he showcases in the recent film, Solving for Z. Shortly after the film came out, I caught up with Billimoria, and he reflected on the evolution of his process, what athletes have influenced his decision making and how he balances risk and reward in the mountains. The following are Billimoria's thoughts in his own words. —Betsy Manero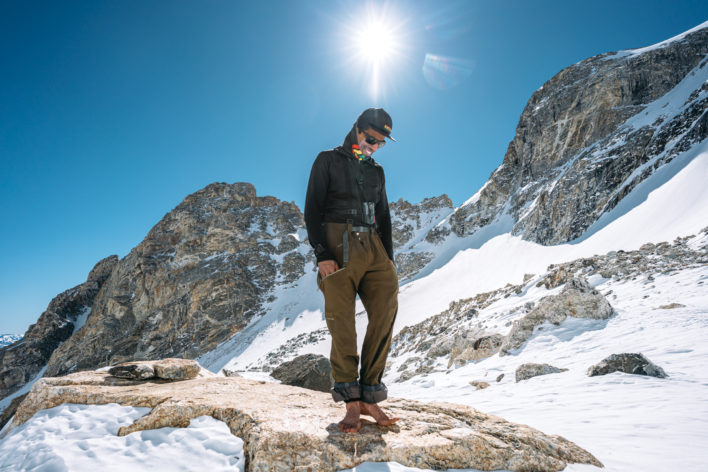 In skiing, the problem with risk management is that the risk is related to the reward, right? So a lot of times more risk yields a better experience in the sense that the most memorable things in your skiing life have often been the things that are most on the margins. Like skiing powder in the high peaks is something that is very ephemeral, but the less time the snow has had to settle, the more likely it is to come unglued. It's those really special moments, when everything comes together and you find yourself in those situations, where both the reward and the risk are the highest.
Something that's really present for me right now is that avalanche education has done a good job of categorizing all of these different ideas about snow. We can talk about mechanics, we can talk about stratigraphy, how the snow's layered, all these different dimensions of the snow game. But, at the end of the day, what we're trying to do when we're out there as travelers in a winter environment, is to interpret the natural world, to understand where on the spectrum of stability the environment of snow is.
One of the challenges is that, when life is busy and you have all these priorities—you know, work and family and these different things—you bring a lot of that mind frame into the mountains. I see for myself how having a really healthy mind frame when I'm in the mountains leads to success. Being really tuned in is a state of mind that really allows for great observations. And the ability to interpret what's going on around us is built on first observing what's going. Like, "Oh, the snow's rippled here. What does that mean? Oh, there's been wind transport. Where does that wind come from?"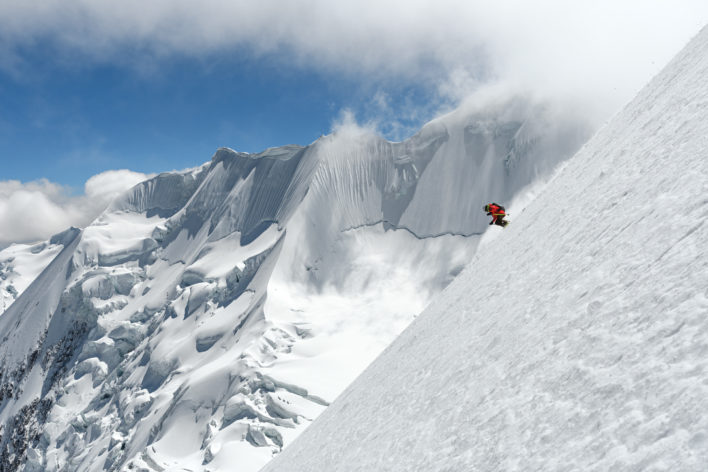 The ability to really sniff out and interpret the natural world requires a very quiet state of mind. The world is a fast-paced place, and there's a lot of stress. There's a lot of competing priorities, and for me that's something that I'm carrying into this season: Being aware of what kind of state of mind I'm in and where my head is as I go into the mountains.
Another thing that has influenced my thinking an enormous amount is that the early part of my career was so driven by becoming a guide and with pursuing all the education that all guides pursue. And that's all great, and the guide mentality, especially nowadays, is so driven by the need to quantify everything. You've got your notebook, and, you know, you've got your nice, neat little charts, and you're sticking thermometers in the snow, and that's all great. I think that as I've seen things go sideways in the mountains, I've been like, "I've had it all quantified, I had it all measured," and now I think I'm coming to this place where there's a whole other dimension to thinking about our relationship with snow that is just more complex than I think we often give it credit for.
The other big influence for me has been the athletes that I've worked with, especially through TGR. Somebody who has really had an enormous impact on my thinking is Jeremy Jones. Jeremy and I have worked together for years—over a decade now. By working with athletes at that level, you learn that there's more than one way to skin a cat. Ultimately athletes at that level are absolutely as dialed as the guides. Some of them are much more dialed. But it's not quantified in that same way. They're not driven by that same highway track of education that we're in. Their way of rolling in the mountains is very driven by their own self-guided experience. And for me—with Jeremy in particular and all those conversations over all the years and all those courses that we've done together and trips—that way of thinking has really rubbed off on me.