Photographer Liam Doran spent his quarantine in Eagle's Nest Wilderness, located in Colorado's Gore Range. After coming out of the woods, he reflected on the highs and lows of backcountry living, and shares the first part of his tale along with some choice photos. —The Editors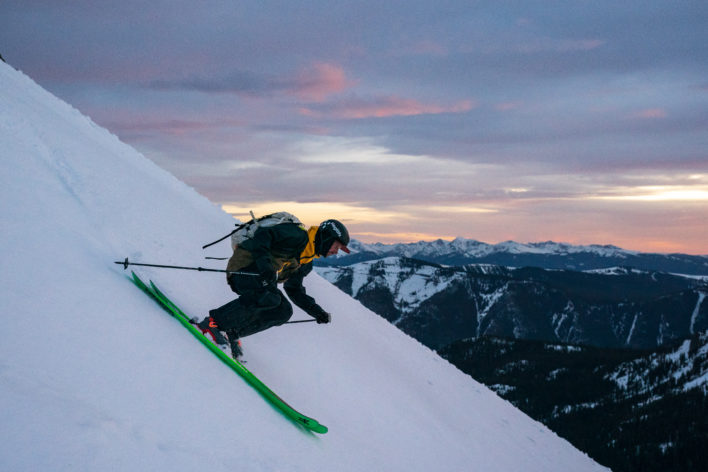 My disappointingly ever-present phone squawks at me as I drop a teaspoon of Turbinado sugar into the morning's coffee. I assume it's something terrible like an Amber Alert or the state telling me I'm not supposed to breathe the air 'cause I'll get sick. But it's actually a bit of good news. "Your screen time is down 58 percent." Good for me! Apparently, my strong will to stay away from social media is paying off. But then I remember: I have no strong will. Okay, that's not exactly true, but, then again, when it comes to social media what is "truth," anyway?
The actual (and far better) reason my screen time was down so much is that I had just returned from a few days of skiing in my local backcountry mecca, the Eagle's Nest Wilderness in Colorado's Gore Range. The idea to go off-grid was born after coming out of weeks of lockdown and itching to stretch my legs, brains and soul. And how better to do that than by heading into a pristine world transforming itself from cold, clean and white to the earthy and acrid deliciousness that is springtime in the Rockies.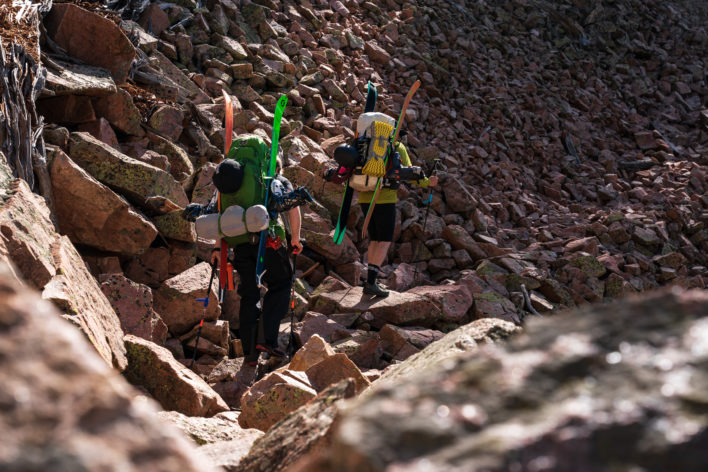 The plan was simple. My ski partners—Aaron Carlson and Adam Karch—and I would load our packs for a three-night, four-day adventure into the core of the Gore. We would basecamp at a high-alpine lake whose location would make it easy for us to drainage hop into remote corners of the wilderness. From there we'd walk ridges, cruise for corn and punch up steep coolies in terrain that typically sees more goats than skiers.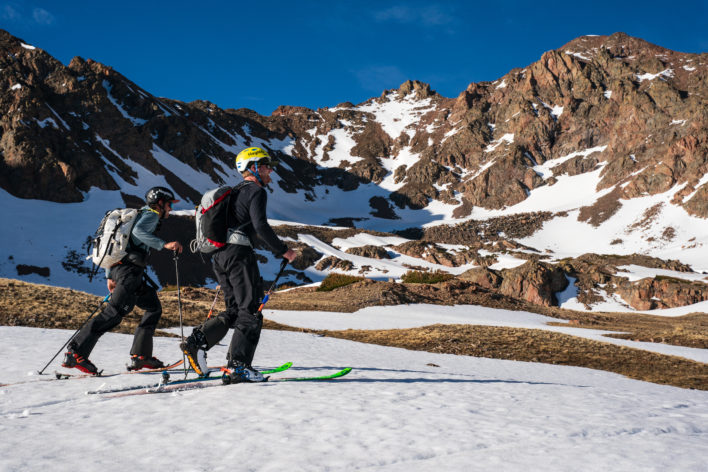 But we had no idea about the life-changing ordeal we were about to get ourselves into. The suffering we endured was something like an afternoon chat with the Spanish Inquisition, but the personal growth from the trip was so intensely mesmerizing that my best-selling book will practically write itself.
OK—nothing like that actually happened. In fact, the trip was so fun and relatively easy that I had to downgrade the event from Type 2 to Type 1.5 fun. Hell, we ended up not even having to snow camp; we surprised to find a hut imbued with rustic—if mouse infested—elegance to post up at.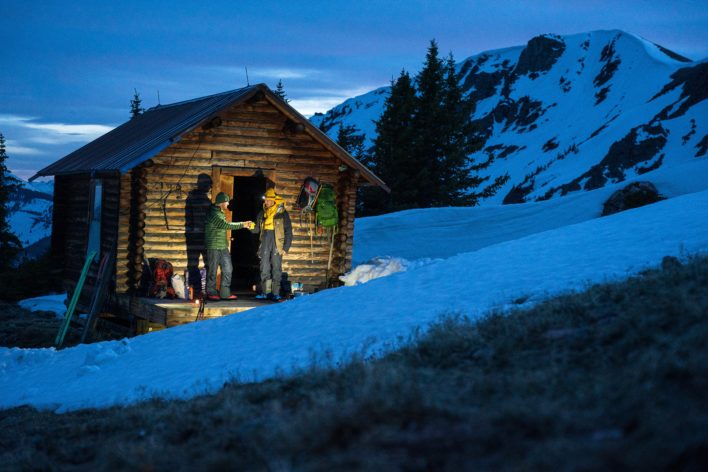 The hut's little deck, a scant five-feet wide and 10-feet long, became home base. Here we'd boil snow for water, cook meals, dry gear, drink whisky, crank tunes, glass lines and, for me, sleep. It was almost strange how much joy a handful of 2×4's bound together with tenpenny nails could bring us.
That being said, there were still a few hurdles to clear. Like when Aaron sliced his finger so badly in the first 100 feet of the trail he had to run back to his car from more bandages and tape. And the time Aaron drove a splinter the size of a martini-olive pick straight through his finger. How does one get a giant splinter at 11,000 feet? Stumbling upon the cabin as we did, we were a bit unsure what do. We'd dragged our tents and a Megamid up to basecamp, our oxygen-starved brains convinced that we would be camping on snow. We dithered about for a while at the hut, halfheartedly looking for a place to dig in camp when Jack Daniels himself smacked me upside the head, knocking loose what had been trying to get out.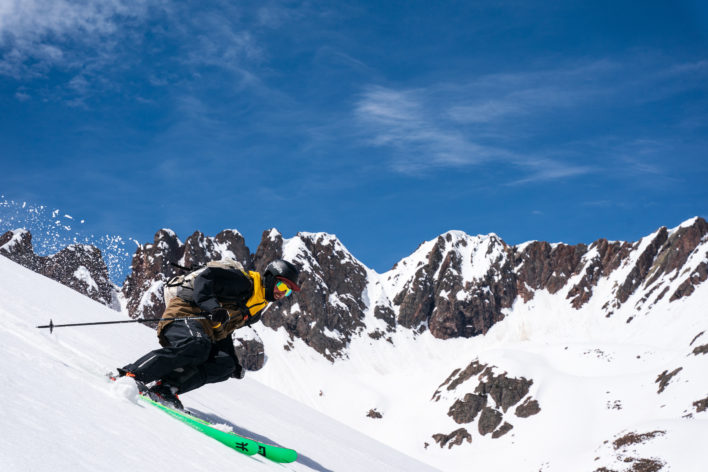 "Hey, guys, what the hell are we doing? We're making lemons out of lemonade. There is dry ground and a deck right there, let's use it!" Decision made. Aaron, being the good guy that he is, grabbed an old, rusty shovel leaning in the corner of the cabin and started to clear the deck of a small patch of snow. The next thing I saw was him reeling backward, all the color drained from his face, staring in disbelief at the lance piercing his finger. Before I could even get a photo of the carnage (photography habits die hard), he yanked it out and quickly took a seat in the snow. We thanked Aaron for taking two for the team, thus hitting our mishap limit and ensuring us a safe few days.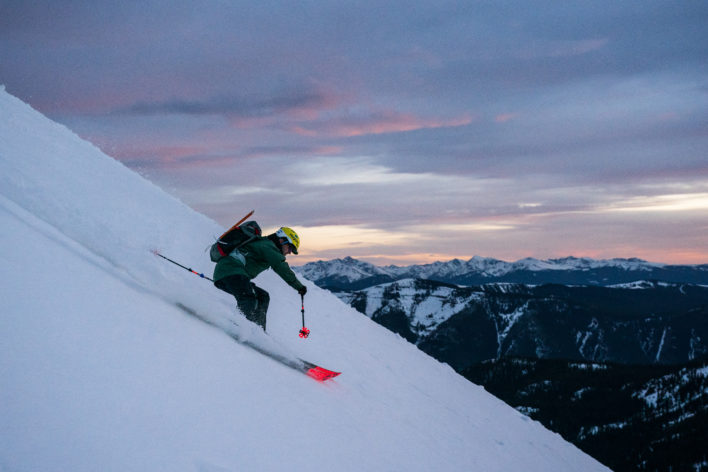 The weather was excellent—maybe too good, as we had to battle high temperatures in the alpine. Early mornings had us strapping on crampons and wielding axes, but all too soon we were kicking steps in a blazing heat with boots penetrating beyond our margin of safety. We hedged our bets and played a game measured in angles, aspects and degrees, and we were happy to come away with a win.
Check out Part Two of Liam's Eagle's Nest Wilderness trip report here.