Photographer Liam Doran spent his quarantine in Eagle's Nest Wilderness, located in Colorado's Gore Range. After coming out of the woods, he reflected on the highs and lows of backcountry living, and shares the second part of his tale along with some choice photos. If you haven't read Part One, check it out here. —The Editors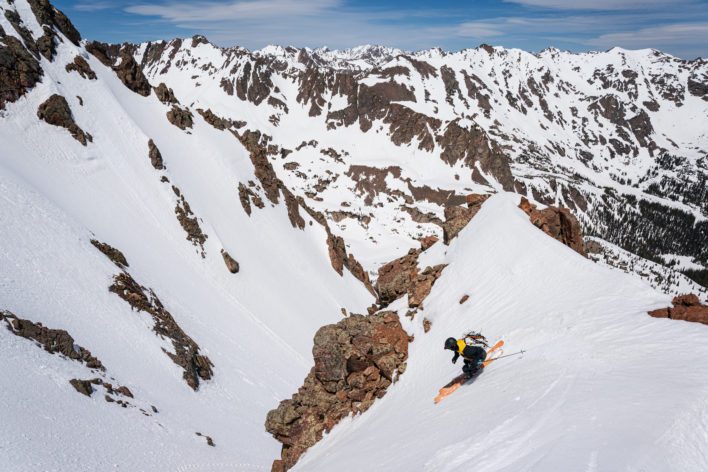 The one actual scary moment of our trip came late one afternoon when we were planning on an evening ski and photoshoot. We had been out touring most of the day, skipping back and forth between Summit and Eagle counties while skiing a variety of bowls and chutes. The goal for the morning had been Palomino Point, and it didn't disappoint—except maybe when my super wide-angle lens, a Sigma 14-24mm, popped out of my pack and rolled about 1,000 feet down the line. As we cramponed our way to the top of the climb, we ventured into true north territory where the snow was cold and even chalky. The descent has us mildly gripped, as our edges chattered in the upper reaches, but then it turned corn-tastic for the last 1,000 feet. I even found my lens, which had bounced down the mountain. It stood out starkly against the snow and somehow was totally fine.
As we made our way back to the Eagle County side of the range, things changed fast. The intensity of the sun had tipped the scales too far in favor of snow, water and gravity, and our final climb and descent was spooky. So, we retreated to our happy deck to relax and wait for the sun's heat to relent and the snow to cool off again.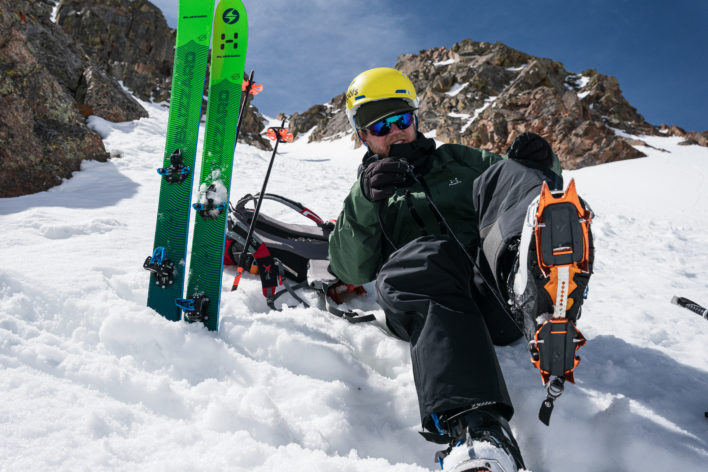 With my socks pulled off and feet dangling off our deck, I spied the perfect shot. High on a west-facing slope, I pointed out a small rock in the middle of an open face to the guys and told them that that is exactly where I would be standing while they climbed and skied a vertical cornice line that had a beautiful backdrop.
As we packed our gear to head back up, I heard a faint rumbling. I looked up in disbelief as the exact spot where I had planned on shooting from had just avalanched to ground. "Holy shit," I shouted.
The guys looked up. Eyes widened and jaws gaped.
"Wait, did that really just happen?" Karch asked. "Sure did," Carlson replied.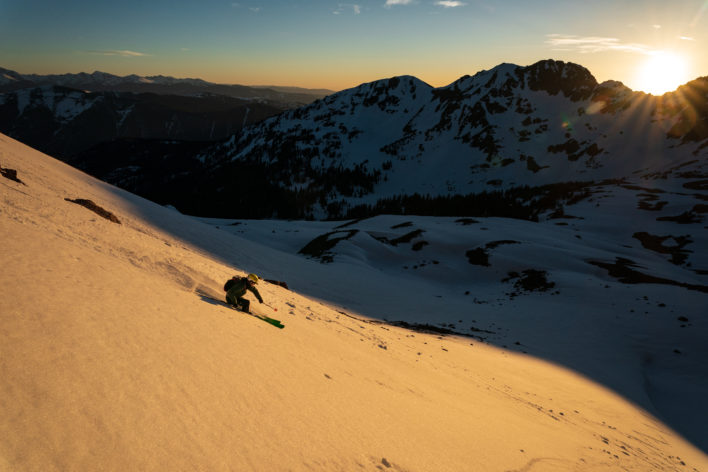 We reassessed and headed to a more northerly aspect for our post-dinner ski. There we found better snow to ski, great light to bask in and gorgeous backdrops to photograph. When the sun finally retired behind a ridge and all light was squeezed from the day, we return to camp and, feeling buzzed from a day of consequence, crawl into our down bags with a satisfaction well known to those who enjoy doing hard things in high places.
The next few days we formed a cadence of early morning tours that took us up, down and around 13,000-foot peaks like Storm, Valhalla and Grand Traverse. We climbed and skied a variety of chutes, faces and bowls with names unknown to us.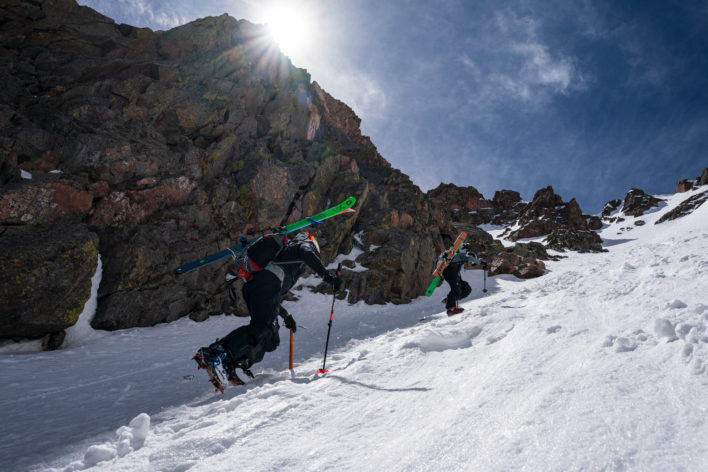 The time of day started to dictate what gear we would be using. Early mornings required skins on low-angle terrain. As we punched up steep, cold lines we switched to crampons and ice axes and, from our summits, clicked boots and binding into ski mode to prepare for descent. Afternoon climbs stayed soft, and we'd either skin or simply kick easy steps straight up. We spent evenings lounging on the deck, punctuated by sunset skiing under vibrant Colorado clouds. Each evening, as the cold, mountain air spilled from the peaks to our deck, we'd don our down jackets and sip whisky to the strum of David Grishman's guitar as the stars popped into the firmament.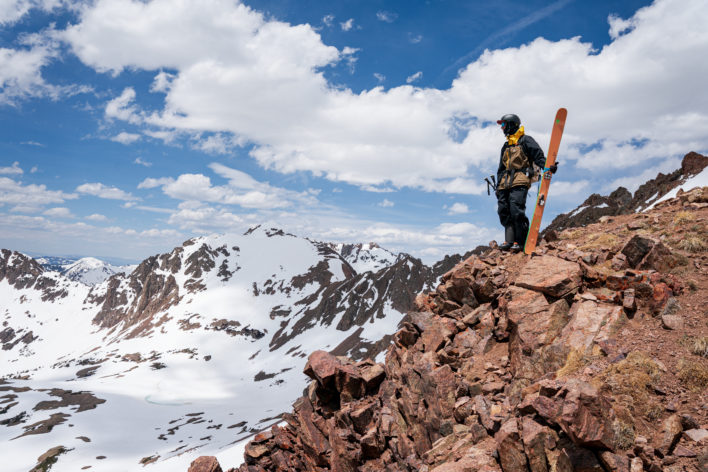 For the first time in a while, the world turned a little easier. Being off the grid means no social media, and, with that, out goes all the screaming voices. For the moment, we were able to escape a pandemic and the anxieties surrounding it. We'd simply sit, staring into the cold, starlit night that instilled a sense of endless possibility.
Ba-Ding! It's weeks later and another intrusion from the phone. "Your screen time is up 56 percent." Dammit, sucked in again. But not for long. It's time to pull out a map and go find an empty spot and, for a few days at least, distill life to more needs and fewer wants. To search and find another sunny deck in the wilderness and to concentrate on the things that matter. You know, the simple things.