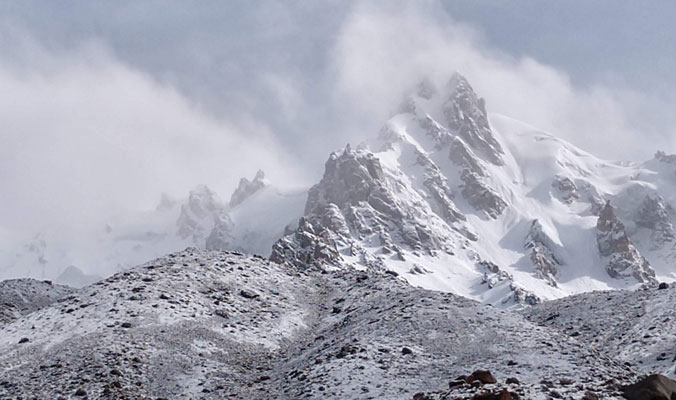 IFMGA guide Tico Gangulee, 41, is a life-long devotee of high alpine pursuits. He began rock climbing as a kid in New York's Shawangunk Mountains (the Gunks) near his home in New York. He became an AMGA Rock guide in 2010 and later acquired his Alpine certification in 2013, then in 2016, Gangulee finished the final stage in becoming an IFMGA certified guide with his AMGA Ski Guide certification. Throughout this process, Gangulee admittedly considered the descent a secondary pursuit, but AMGA certification forced him to expand his breadth of downhill oriented skills. Recently he has further embraced snow-sliding pursuits, illustrated by his June 20 first ascent/descent of Pakistan's 19,799-Foot Chashkin I. We caught up with Tico to learn more about his newfound love of skiing and what tagging fist tracks down a 6,035-meter peak in Pakistan's Shimshal region was like.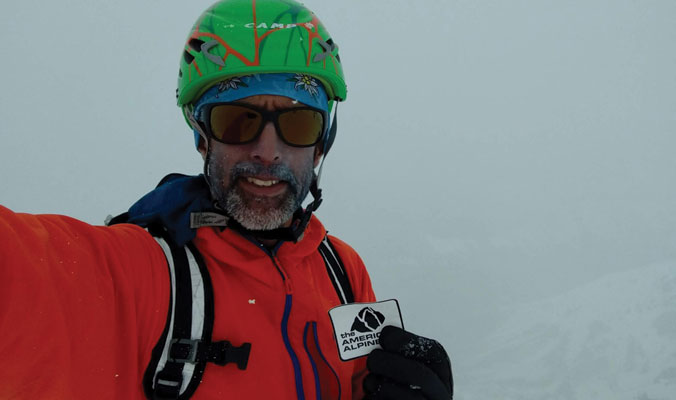 Backcountry Magazine: What has inspired your recent dedication to ski exploration?
Tico Gangulee: In the last few years I've been really focused on skiing, because I was required to ski at a much higher level with the AMGA process. I got focused and that led to getting better and exploring bigger mountain ranges on skis.
This last year, I went Peru to get a first ascent/descent on Huascaran Sur, which didn't go because it rained for 40 hours at 19,000 feet while I was holed up in a cave. But that's how I want to spend my vacation now. I vacation on skis because I now consider it fun; I'm an alpine climber, but now when I go somewhere I bring my skis, too, not just my climbing gear.
I wanted to go to Pakistan because the Shimshal region has a skiing history. There is skiing in this zone and a few of the locals own skis, which is unusual for Pakistan. And honestly, when K2 got skied last year, I was inspired. I was like, "Alright, I should try something."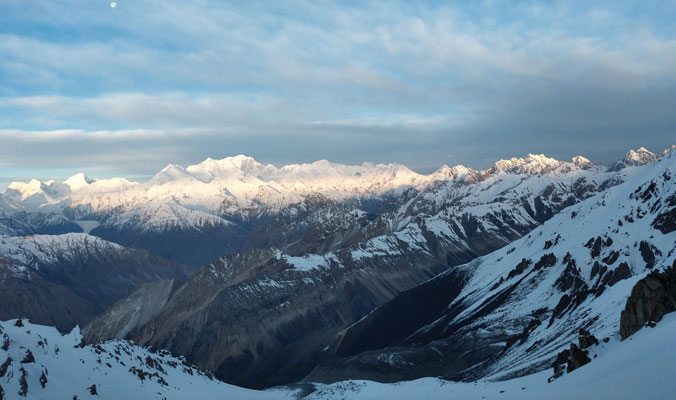 BCM: Is there anything about access to this descent that was particularly intriguing?
TG: A lot of the interest was because there wasn't that much information about this ascent/descent on Chashkin I. I like to go places where other people aren't going. I think that's in part because of my work as a guide; I'm always around people in popular spots. So when I'm on my own time, I like to be places where other people aren't. There was just enough information to plan a trip, but not that much.
There is one picture of Chashkin I on the internet, and it's definitely behind a hill. You can barely see the top 100 meters, maybe. So I had no idea what it looked like before I got there. You come around the corner and see the objective—it makes the experience one where you have to make decisions on your own, not just do what everyone else is doing, and I like that.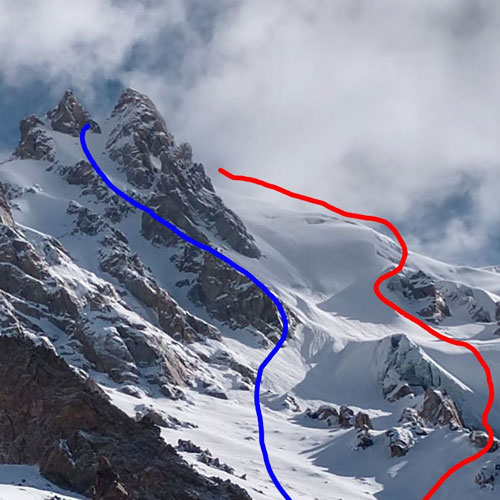 BCM: What was the reality of being on the mountain vs. what you were envisioning?
TG: When you look at it on maps, it doesn't look that bad—a 50-foot cliff doesn't show up. Turns out there were a lot of 50-foot cliffs. Looking at it on Google Earth from home, it looked totally doable. I thought, "Oh, that's fine. It's not event that steep. I'm not even sure it's worth doing." And then seeing the big rock ridge and a lot more snow than I was expecting was a surprise.
The locals were saying that it was the snowiest year they'd ever experienced. If someone had told me that was what it was going to be like, I probably would have done something else. I'm a father and a husband, and I'm not trying to get killed. This is my vacation, but you get invested in it with all the planning.
BCM: What ended up being the biggest challenge?
TG: The hardest part was that I shouldn't have summited. I should have backed off when the snow rolled in. Instead, when I summited there was zero visibility. I had pictures on my phone of the mountain, but that's it. I knew there was a wind and storm slab problem and I had to navigate crevasses as well. Getting from the summit to the cloud deck was really sketchy. My summit picture—it's hard to tell because my face doesn't have emotions—is my "I don't know about this, man" face. Usually I'm happy and I have my shirt off, and this time I took one quick selfie and was like, "fuuuuck." Once I got visibility it was OK, but I was mincing my way down through weird steeps and avalanche problems.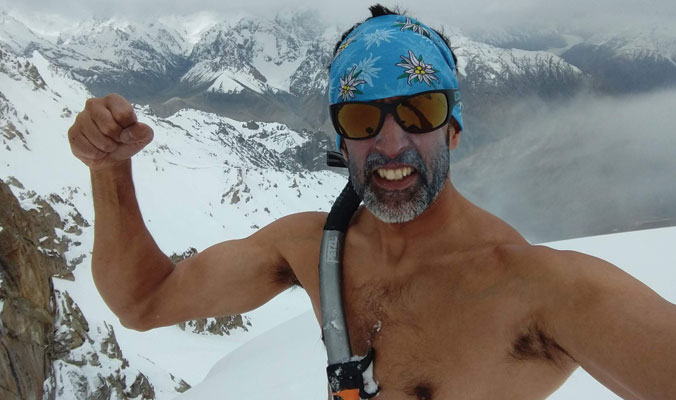 BCM: What were the turns like?
TG: It wasn't a lot of side slipping because there was a variety of new crusts and new snow, so it was a lot of pedal hop to the end of the turn; hop turn/airplane turn stuff. I took a "Skiing for Rock Guides" course with Bela Vadasz and Eric DesLauriers, and Eric's thing is steep skiing: when to make a turn and then finish it. You stop abruptly, and then you do that again on the other side. And on the way down I remember thinking that I was really glad I took that course 10 years ago. I wasn't ripping big GS turns down the face of Chashkin I. At the bottom I got some speed, but most of it was survival skiing with my Black Diamond Helio 88s. I don't like super skinny skis for ski mountaineering.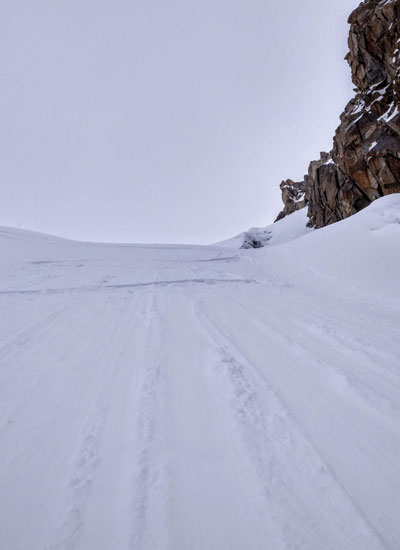 BCM: Are you going to keep trying to tag more objectives of this size?
TG: Yea, I'm going back next year. The thing with Pakistan is that if the peak is under 6,500 meters, you don't need a liaison officer or a permit. They just say, "Come and have some fun." And the Pakistani people are the nicest people I've ever met. The access is easier than India and Nepal and it's safer. It's hard to get a drink and when I got off the airplane, there was this scary announcement, "Possession of illegal drugs is punishable by death," and that gave me the creeps, but other than that it's great.
BCM: Who was the team you were traveling with?
TG: I traveled with Higher Ground Expeditions that my friend Abdul Ghafoor runs and owns. He's been a cook, a porter and trekking guide in Pakistan for 20-plus years and he's just started this company. He's supported very famous skiers and climbers over the years like Hayden Kennedy, Kyle Dempster and Scott Adamson—all those guys. I was friends with friends with Ghafoor and we started talking about this trip three years ago when I couldn't find a partner, so I got in touch with him. His English is very good and he got me to base camp and then hung out because I was at advanced basecamp for five days. He was below slaughtering chickens so it must have been boring for him. But I can't get that deep into the mountains by myself. I couldn't even get out of Islamabad by myself. Logistics people are extremely helpful and I use them everywhere.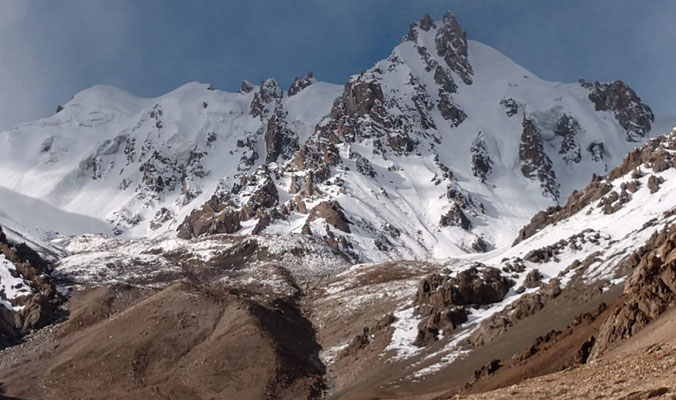 I think that if people are into doing first ascent/descent stuff in the greater ranges, northern Pakistan is the place to go because it's not quite as steep and rocky as eastern Karakoram—East of Skardu, but you look out and there are hundreds of 6,000-meter peaks that are covered in snow. There is so much to do there and so much no one has ever touched—and the travel is relatively easy.
You can get from the states to Islamabad in 20 hours and then in another day you're in the mountains. It's as easy as the Alps, just a bit more expensive.
To read more about Gangulee's ascent, visit Backcountry Magazine's sister publication, Alpinist Magazine, here.