Jackson, Wyoming-based internationally-certified guide Mike Poborsky has three basic considerations when planning for a day out: Is the mountain going to fall on him? Will he fall into the mountain? Could he fall off the mountain? The first question helps him avoid avalanches, while the second two dictate what he needs for technical gear, like an ice axe, crampons or rope. For those looking to step into steep couloirs, onto exposed faces or around glaciated terrain where a slip could mean falling off or into the mountain, both carrying these tools and knowing how to use them is crucial.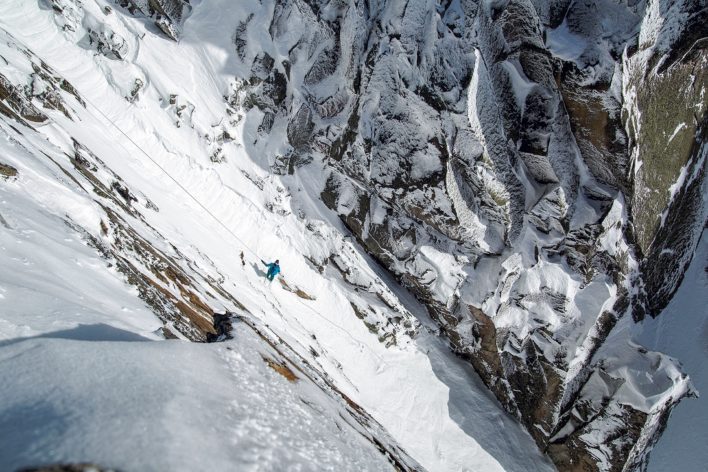 Learn the Ropes
"These skills are honed in part through decades of deliberate practice, and just trying to go out and learn them on your own, although it's possible, takes a long time," Poborsky says. "A guide can just share their experiences and explain it in a reasonable amount of time." If formal education is a piece of the puzzle, practice is what makes it whole. Poborsky suggests practicing rope skills—specifically hauling and lowering systems—in a low-risk environment like a garage or on a tree in your backyard before bringing them into the mountains.
Pick your Picks
Steel or aluminum crampons? Horizonal front points or vertical? Strap-ons or automatics? Crampons come in many different variations and finding the ones that work for you takes some research. Ski The Whites shop owner and New Hampshire-based ski mountaineer Andrew Drummond prefers carrying lightweight aluminum crampons with horizontal front points on Mt. Washington. "A lot of [the snowpack] is just going to be wind slab with tiny ice bulges or just small patches of really firm snow where the aluminum crampons have been totally adequate," he says. "If you're going to be in more rugged terrain or you're a heavier skier or rider, then you might want to consider steel."
Poborsky—who spends his time in the rocky peaks of Grand Teton National Park—seconds considering steel in rugged terrain: "Lightweight is awesome, but it comes with some security compromise. For me, personally, it's totally worth carrying the weight of metal just to be more securely attached to the mountain."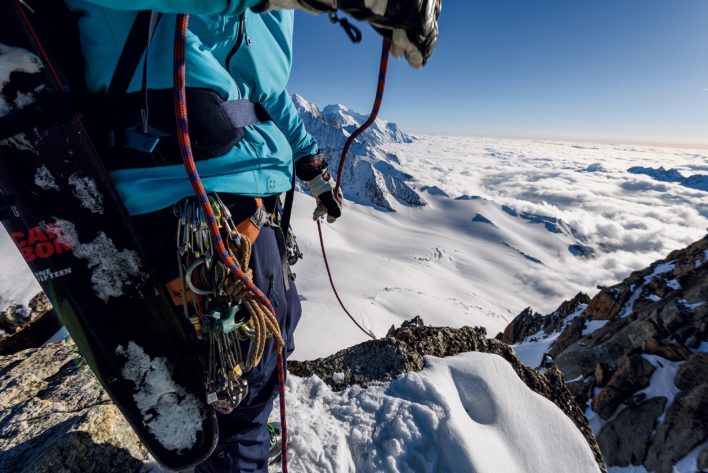 When in Doubt, Get it Out
One of the most common mistakes of using an ice axe is having it on your pack instead of in your hand. "Try to anticipate it ahead of time and then chose comfortable and secure locations [to get the tool out]," Poborsky says. "I think the consequence of doing it too soon is far better than the consequence of waiting until too late."
Drummond echoes the sentiment for crampons, which require a sturdy perch to put on. "If you need to step out of that bootpack, it gives you instant purchase in the snow, even if there's a little bit of ice under that. It gets overlooked so often…you'll see so many people up there that just have an ice axe," he says of the crowds in Mt. Washington's Tuckerman Ravine. "A second part of that is just efficiency in the bootpack. Every time you slip backward, it's just going to slow you down."
Anchors Away
While most axes come with the flat, adze attachment used to dig trenches or carve platforms, Poborsky prefers to switch it out for the hammer attachment, especially when the ropes are coming out. "We rely on anchors often. Some sort of piton anchor is normally involved or we place pitons," he says. Both knowing how to hammer in a piton and how to check if old pitons are placed correctly can be the difference between life and death at a rappel. And for the times when Poborsky wishes that he had an adze, he says, "I can just temporarily trade with my client or my partner if I need to chop something."
Pack your Patience
Poborsky believes the most overlooked tool for a ski mountaineer isn't a physical tool at all. "We lack patience in our kit more than anything," he says. "And it's just patience and discipline to go out and do this activity." Poborsky has seen big, Teton lines being ridden earlier and earlier every season, and if the mountain falls down on you, your axe, crampons and rope aren't going to help you: "The margins are very thin, and when you introduce something like an early season snowpack instability to the equation, you're really just rolling the dice."
---
This article was originally published in Issue #139. To read more, pick up your copy at BackcountryMagazine.com/139 or subscribe.