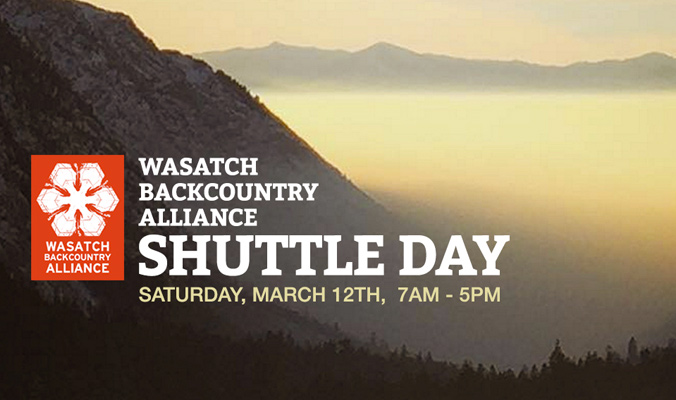 SALT LAKE CITY, UTAH This week the Wasatch Backcountry Alliance announced that on March 12, 2016 they are going to being offering one day of free shuttle service to Little Cottonwood Canyon. Through this event, the Wasatch Backcountry Alliance hopes to gather information about winter recreational transportation issues in the Salt Lake City area.
"Many of our [Wasatch Backcountry Alliance] members want to get up and ski and enjoy the backcountry and we are competing with tourists and locals who are trying to get up the canyon at the same time," says Brad Rutledge, founding Board Member and Officer of the Wasatch Backcountry Alliance. "I have personally sat in my car for over three hours in traffic even though my house is only 20 or 30 minutes away."
The Wasatch Backcountry Alliance Shuttle Day was created in response to an online Facebook poll where the Wasatch Backcountry Alliance asked if skiers and riders would be interested in a one-day shuttle service up the canyon. Ninety-five percent of the polltakers responded yes to the question posed.
The Alliance's goal for the event is to see if broadening this program could be a feasible way to lessen traffic pressure in the area in addition to the alternate desire to decrease carbon emissions that negatively affect air quality in Salt Lake City.
"Air quality is very important. We [The Wasatch Backcountry Alliance] think it is a problem we all share in Utah, but it is very clear when you are sitting in a traffic jam and people are all idling that everything is related," says Rutledge.
This event, as an information-gathering period, is just one day, and Rutledge stresses that it is just the start to a solution for traffic issues. Participation in the event may help create a broader picture of what backcountry users in the Wasatch need in the way of transportation support and so guide the Wasatch Backcountry Alliance in future actions.
Here are details for the event:
Shuttles run from 7 a.m. – 4 p.m.
Shuttle Pickup: Smiths / Shopko Parking lot 2039 E. 9400 South
Little Cottonwood Shuttle Stops: Tanners, White Pine, Our Lady of the Snows, and the Summer Road (Grizzly Gulch)
Shuttle Schedule: Each stop will see a van approximately every 30 minutes from 7 (frequency depends on traffic and weather conditions)a.m. – 4 p.m. A final sweeper shuttle will hit each stop at around 5 p.m.
Van RSVP: www.utahmountainbikeshuttle.com
—
To find out more, visit the Wasatch Backcountry Alliance Event Page.