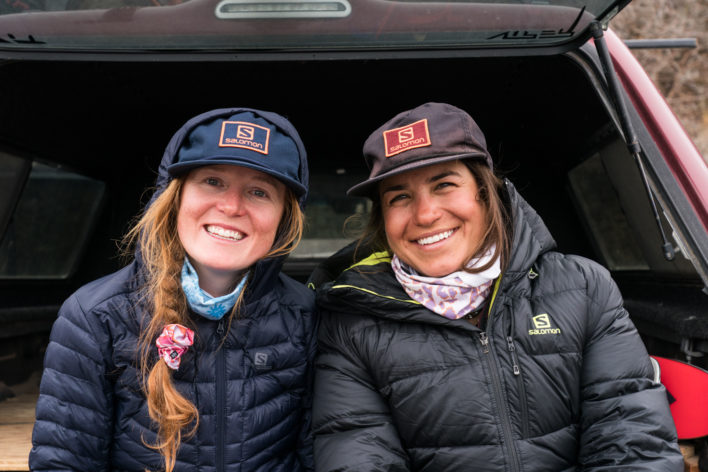 "I had been obsessed with the WURL on the running side of it in the summer," says professional skier Mali Noyes, a resident of Little Cottonwood Canyon in Utah's Wasatch Mountains. "So obsessed that I started thinking about skiing it, because, really, skiing is my favorite."
The WURL, or the Wasatch Ultimate Ridge Linkup, is known as a trail-running test-piece for Salt Lake City, Utah, athletes. The horseshoe-shaped route follows the ridgeline that surrounds Little Cottonwood Canyon, covering 32.2 miles and 16,000 vertical feet with multiple sections of technical ridge scrambling. While the route sees regular summer traffic, Noyes and her ski partner, Lani Bruntz, became the first team to complete a winter attempt last year with a 36 mile push over a period of four days.
Noyes and Bruntz have been in and out of each other's orbits since they were both competing in high school Nordic skiing, when Noyes was growing up in Sun Valley, Idaho, and Bruntz in Vail, Colorado. They connected again in college while competing on the Middlebury Nordic team and barely missed each other while both working as river guides out of Stanley, Idaho, for a summer on the same river (Mali was a multi-day guide, and Lani ran single-day trips). Both found alpine skiing after college and dove into the sport, with Noyes qualifying to compete on the Freeride World Tour in 2015 and Bruntz training to become a guide with Idaho's Sawtooth Mountain Guides before moving to Crested Butte, Colorado, and starting to work for Irwin Guides in 2017.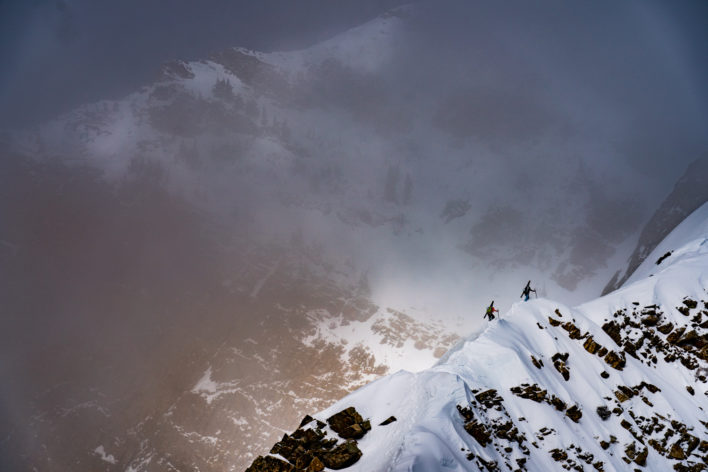 It wasn't until a hut trip to the Sawtooths that the pair discovered just how compatible they were in the mountains. "I remember going in with so much apprehension, not knowing how we'd work together in the mountains, and knowing its such real terrain," says Bruntz of that initial hut trip. "It's always hard to find what partners you can trust and to think that we were able to establish these very clear lines of communication and really work well together for that whole thing."
The mastermind behind the winter WURL, Noyes knew that Bruntz was the perfect partner for the objectives, noting that their shared Nordic background gave them a mutual love of endurance challenges. Plus, Noyes admits that she was nervous about the large objective and the massive amount of planning involved: "Asking Lani, I knew I had a solid partner not just in the mountains, but in the planning and in the emotional parts. [I'd] have someone that I could turn to and have fun with at the same time."
Most trail runners stick to the ridge and complete the WURL in a single, day-long push (the current record is Jason Dorais's impressive 14 hours and 40 minutes, according to fastestknowntime.com)—which was also Noyes's original idea—but Bruntz sparked the idea of focusing more on the skiing and less on the route itself while the two were looking over maps in the initial planning process. "I was like, dang, there's so much beautiful terrain that we'd just be skiing above," Bruntz says. The pair re-examined their goals and made a plan to spend four days in the mountains, carrying day packs and leaving multiple gear caches for winter camping to allow them more freedom to ski.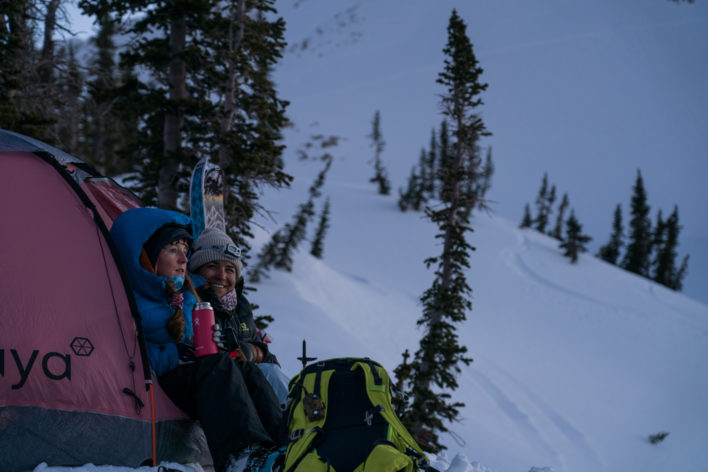 "That's something that Lani and I continuously repeated to ourselves when we were trying to plan our route. We kept being like, 'Well, what's the right way to do it?'" says Noyes. "Then we recognized that there's no right way. We're skiers. How do we want to do it? What do we want to ski?"
This answer came through multiple scouting trips, during which Noyes spotted a couloir that wasn't visible on the map and became one of her highlights of their trip. Other memorable moments included skiing classic lines like the east face of Twin Peak and a powdery Monte Cristo Basin just after sunset, which Bruntz describes as "just a really blissful way to end the day."
While the trip had many high points, the winter WURL also presented some lows, starting when the team's initial photographer, Louis Arevalo, was involved in a backcountry accident just two weeks before the planned trip, leaving Noyes and Bruntz in search of another photographer and coping with the knowledge that their friend and mentor had been severely injured. "Louis is the type of person who would never not want you to do that," Noyes says. "He still texted us the day or two before we went [to say] good luck." Photographer Adam Clark ultimately joined the team to document the traverse.
Other bad luck included Noyes battling a cold throughout the traverse, a day of gray skies and constant graupel and the pair almost suffocating in their tent on the final night. In a testament to Noyes and Bruntz's partnership, they were able to not only work through each of the pitfalls but laugh at them. "I still laugh whenever I think about it," commented Noyes on their tent incident, "which I think makes it so much better. I think I'd much rather be in serious situations with someone that I can laugh with than just always be serious."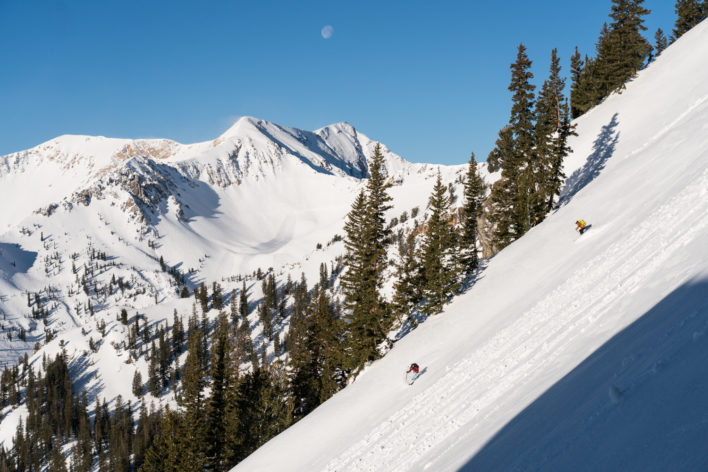 Laughter was a theme for Bruntz and Noyes throughout the Salomon TV episode of the pair's traverse. Even when there was a more serious tone, Noyes and Bruntz were able to support one another with a positive attitude. While Covid-19 has them pressing pause on goals like skiing Alaska's Denali, the experience of exploring Noye's backyard range under a new lens has left both skiers looking forward to planning adventures closer to home.
"When you've got a good partner, you've got a good partner, and there's also just something so special about being in the mountains with another lady," says Noyes. "I think Lani said it well: You're able to collaborate well and be open and vulnerable. But there's also something that's such an accomplishment when it's a team of women. I still struggle to put my finger on it, but it's so fun to get out with strong women, and Lani's one of them."