In the three-day timeframe stretching from Friday, March 27 through Sunday, March 29, the Utah Avalanche Center reported nearly 30 observations of human-triggered avalanches throughout the state. Eleven of those observations involved incidents in which individuals become carried or caught, however no major injuries have been reported.
In response to these accidents, and in light of resort closures and the strain being placed on the healthcare system by the COVID-19 pandemic, the Utah Avalanche Center (UAC) is urging backcountry users to make more conservative decisions in the mountains.
According the UAC's observation page, of those 11 avalanche incidents, seven occurred on Friday; 10 involved skiers or snowboarders; and eight took place in the Salt Lake region. "People were swarming the range and there were many, many close calls," UAC forecaster Drew Hardesty told KPCW, the NPR affiliate in Park City, Utah, on Saturday. "People caught and carried, airbags deployed, people swept over cliff bands. Somebody carried up into a tree as debris washed by."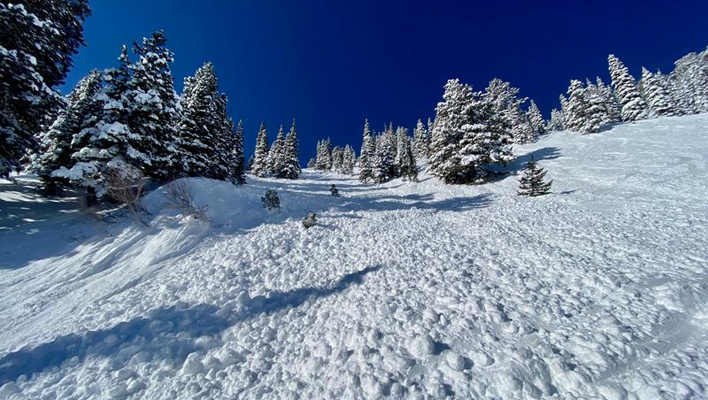 After a lengthy period of high pressure, a storm descended on Utah's mountains beginning on Tuesday, March 24, and that day's avalanche forecast for the Salt Lake region predicted 18-24 inches of new snow by Friday. On Wednesday, avalanche danger in the Salt Lake region at upper elevations rose to considerable after the area received high winds and a foot of new snow. Then, with a storm total of 12-21 inches (0.75-1.85 inches of water) on Thursday, danger spread to considerable across mid and upper elevations before shifting to moderate at upper elevations on Friday.
One of Friday's avalanches, which occurred on Cardiac Ridge in the Central Wasatch, carried two skiers while they were skinning above a party of four. That avalanche broke 18 inches deep and 100 feet wide. Another nearby avalanche on Saturday involved longtime Wasatch skier Jared Inouye, who was carried 2,000 vertical feet down the face of Mt. Superior. Inouye shared an account of the accident on his Instagram feed before posting a video, reflecting more acutely on the effects of risk-taking amid the current situation of healthcare strain due to COVID-19.
The accidents weren't isolated to the Central Wasatch. On Friday, on Snowbasin Resort's No Name Peak in the Ogden region, two skiers within a party of five were caught and buried. Snowbasin is currently closed, however, according to the resort's website, it had opened to uphill travel that morning. "We're telling people that while the resorts are closed, they're no different than the backcountry," UAC forecaster Greg Gagne told Ogden's Standard Examiner.
"We're in a unique healthcare situation right now," the Utah Avalanche Center posted on Instagram on Friday. "Please make especially conservative decisions in the backcountry. Any backcountry emergency will take resources away from other critical needs."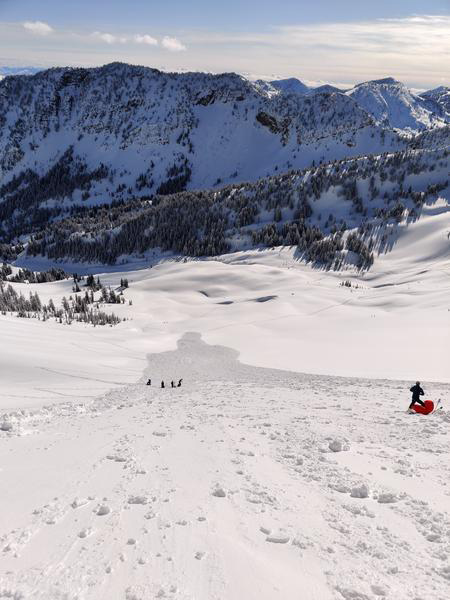 Elsewhere in North America, some avalanche centers are discontinuing their forecasting in response to and resulting from the COVID-19 pandemic. On Tuesday, March 23, the Northwest Avalanche Center announced it would cease forecasting beginning the following day, in accordance with the Stay at Home orders issued in Washington and Oregon. On Saturday, March 28, Avalanche Canada issued its final forecast of the season, noting that limitation in available data from avalanche professionals and observers have impacted their ability to issue accurate forecasts. (Read the full statement here.)
In the East, following a Saturday that saw nearly 400 visitors to New Hampshire's Tuckerman Ravine, the Mt. Washington Avalanche Center (MWAC) issued its final bulletin of the season on Monday, March 30, and implemented the annual closure of the Tuckerman Ravine Trail between the Lunch Rocks and the top of the Headwall, which closes the Lip and Sluice to skiing and riding. "This annual closure is designed to protect the public and rescuers from the hazards associated with the waterfall and crevasses which are just beginning to emerge," the bulletin noted. "Violating this closure is a misdemeanor offense and will be enforced."
On the most recent Ski The Whites MWAC Outreach podcast, lead snow ranger Frank Carus explained the rationale behind the decision and stated that he anticipates that a complete closure of Tuckerman and Huntington Ravines will be in place by the end of the week. All facilities, including bathrooms, camping and shelters, are currently closed.
"These riskier activities, or activities that take you traveling, create more of a problem, and the search and rescue community is really clamoring for some kind of action," Carus said. "At the end of the day, skiing—I think by most people's measure—is not really an essential activity."