Next week, Winter Wildlands Alliance will host their sixth Grassroots Advocacy Conference at Golden, Colo.'s American Alpine Club Mountaineering Center. The conference will include discussions regarding the Forest Service's new Over-Snow Vehicle Rule, the use of maps as advocacy tools and defining a set of ethics for backcountry travelers. The conference begins on Thursday, June 18, and runs through the weekend.
"The overall purpose is to get people excited about winter travel," says Hilary Eisen, WWA's recreation planning coordinator. Eisen adds that this will be the largest Grassroots Conference WWA has ever hosted, both in terms of attendance and the conference's scope.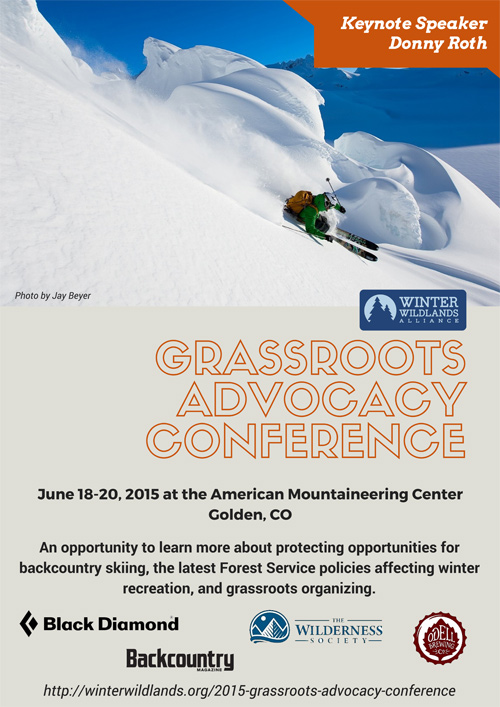 The conference's primary focus is the Forest Service's new rule for over-snow vehicle use. The rule, released in late January, requires that Forest Service land managers develop specific designations for trails, roads and areas where over-snow vehicle use can occur on National Forest Land.
"This new rule is a pretty big opportunity for Winter Wildlands and the organizations we work with," Eisen says, "and this conference is important for getting the word out." Leslie Weldon, Deputy Chief of the Forest Service, will present on the new rule, along with representatives from various forests and snowmobile organizations.
Other topics for the event include a panel discussion on engaging local backcountry communities, using maps as advocacy tools and developing backcountry ethics. Athlete and AMGA guide Donny Roth will kick off the conference with a keynote address on Thursday night.
Learn more about the conference and registration here, and find a full agenda of the event here.