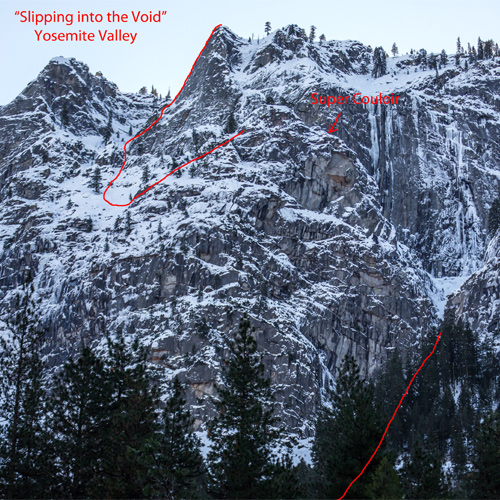 Climber and skier Jason Torlano has called Yosemite home since childhood. And he's in it for the long haul, noting that it has allowed him to see and interpret his natural surroundings in creative ways. Recently, he decided to attempt a rarely skiable line called the Super Couloir that is a section of the bigger line, Slipping into the Void. And because Torlano keeps an eye on home conditions, he was able to take advantage of the snow-filled line.
Along with his longtime partner in crime, photographer Eric Rasmussen and local Yosemite ranger and law enforcement officer Aaron Smith, Torlano successfully descended a line called "Slipping into the Void" on February 5, 2016. That day, Torlano's team got to taste a little bit of everything from rock to ice climbing on the way up and skiing with a healthy dose of rappelling on the way down.
We caught up with Torlano to talk about his ski achievements in Yosemite and to discuss what else he has planned for the winter.
Backcountry Magazine
:
Can you describe your background as a climber and skier?
Jason Torlano: I started climbing when I was about six years old. Mike Corbett taught me how to rock climb. The passion just hit me being there every day, looking at those cliffs. I learned to ski at Badger Pass, a little ski resort at Yosemite—three lifts. When I was 17- to 21-years old, I did a bunch of big wall routes—just a bunch of rock climbing in and around there. I was lucky to have mentors like Walt Shipley and Eric Rasmussen, people like that. I learned to backcountry ski in Yosemite mostly. People would take me on the Trans Sierra route, skiing from Mammoth to Yosemite on multi-day trips.
BCM:
How did that relationship with the landscape and with the people prompt you to tackle this particular descent?
JT: You look at the cliffs forever, just growing up, seeing those lines for years. It was weird, I haven't seen snow in that line where it has been good enough to ski till this year. All of a sudden it was ready to go so we went for it.
BCM: Why specifically did you want to attempt "Slipping into the Void?"
JT: Well, Yosemite is probably one of the most beautiful National Parks in the winter. You look down on Half Dome and you look across at Cloud's Rest and High Country. Since I was a little kid, I have skied lines to the left and right of this line, but we were never able to ski "Slipping into the Void" because of the lack of snow. This year it [the snow] stuck on the rocks and was good to go.
BCM:
Being primarily a climber, what was fun about bringing the element of skiing to this route?
JT: One of the things about Yosemite is that if you don't have the climbing background—ice and rocks and stuff like that, you can't do most of the routes here. For sure there are a couple classic descents that don't need rappels, but most of them need climbing and rappelling—this line in particular had everything. It had steep skiing, it had about 600 feet of ice we had to climb to get to the next chute, and then it also had rappelling in it too, so you really had a whole spectrum to roll rock climbing ice climbing and skiing into one.
BCM:
Can you describe your team and the dynamic that you had?
JT: It was me and Eric Rasumssen first. He was one of my mentors when I was younger. Eric is about nine years older than me and he was one of the first people who brought me rock climbing and wall climbing in Yosemite and Zion. We did our first ski descent together when I was 17 off of Cap Point. So we have been skiing lines in Yosemite for over 15 year together—maybe two decades actually. What's interesting is that there is a ranger here named Aaron Smith who is actually a law enforcement ranger. I had never really hung out with him much, I had heard about him and we were always acquaintances but we never did anything together.
So I saw him in the valley one day, and knew he skied, and I wasn't sure Eric was going to make it, so I asked him if he wanted to ski it. He was like, "OK, if you don't think I am going to die …." He just got back from a climbing expedition in China, he is probably one of the top unknown climbers in Yosemite.
BCM:
What were some of the things that you did to prepare for this line?
JT: Well, it was funny to ski Yosemite carrying pitons and cams, basically we had to bring all of the stuff like if we were going wall climbing [because it was a first descent]. So it was pretty interesting. The same stuff you would carry on El Cap you actually carry on your ski descents. You lay your rack out and everyone is like, "That has nothing to do with skiing." But this is what makes it possible.
BCM:
What was the most challenging part of the route for you?
JT: One of the things that has been challenging for me is waking up in the morning and motivating. It seems like Yosemite has had a lot of deaths recently with a lot of locals, so you are always questioning yourself, asking, is this the right thing to do?
I am 40 years old, and I am always thinking that I have a family and kids and I wonder, if I keep doing this am I going to end up [dead]? So I guess that is one of the scariest things.
BCM:
Do you feel this line was worth it?
JT: I am happy that I live here, and I am still having fun after 40 years of being there. That is what is really amazing. Some people come for two or three years and they are grumpy and don't like it. For me, every time I do something there I realize, "Wow, I am 40 years old, I have been here my whole life, and I really, really enjoy it still."
BCM: What keeps the experience fresh for you?
JT: I think what amazes me is that there are still so many things to do even after years of exploring. Everyone thinks that Yosemite is climbed out and in reality there is so much new stuff to do, from wall climbs to skiing.
BCM:
Were there any cruxes in the line that stood out to you?
JT: When we first started, there was this ridge we needed to navigate, and right off the bat we needed the ropes, because one side had a 900-foot drop and the other side was a 500-foot drop and [we had to climb along a ] 400-foot spine. So instantly we were like, "Oh man, maybe we bit off more than we can chew right now." But then we all just worked together. We used a climbing mentality that's like, "OK, only one pitch at a time."
BCM:
How do you think the way you set objectives as a climber differs from how other skiers set objectives?
JT: One thing that is interesting in the big mountains is that there is a safety margin where, if you are a freerider, and someone is going to land in a helicopter, you can manage a rescue. Whereas in climbing, you need to be able to get everyone out of there [without the help of a helicopter]. If we have to rappel all the way to the valley—two- or three-thousand feet—we need all of that stuff [rappelling gear] with us. We also carry bivy sacks and enough clothes to spend the night. One of the cruxes of Yosemite is that it's on the western slope of the Sierra Nevada, so it gets really warm in the daytime. So we leave really early and if ice starts falling, you sometimes have to bring stuff to spend the night just in case you have to wait till the next morning when the snow is safe again.
One of the other things that makes Yosemite lines so hard to get is that they might only be in for one or two days a year.
BCM:
Do you have other plans for routes that are similar to this line?
JT: I have so many that I want to try in Yosemite, but there was one recently where I did a 33-hour push and I didn't even make it to the summit. I don't want to say what it is because I don't want somebody to get it from me, but that is the biggest project ever, and I have tried twice now without getting it.
BCM:
In a lot of ways "Slipping into the Void" was unique in that it came together in one go. How often that does that happen?
JT: I end up bailing on lines a lot in Yosemite because of conditions. One of the other problems that I have is that Yosemite is not a known zone for skiers, so it is hard for me to find partners. For this reason I have been lucky to have Eric Rasmussen as partner, to have known him for over 20 years.