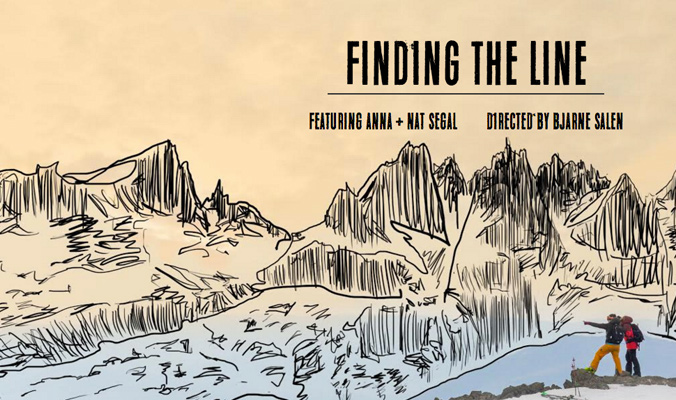 Filmmaker Bjarne Salen, producer of the acclaimed 2015 film Eclipse, has recently announced that he will be producing a ski documentary to be released fall 2017 called Finding the Line in which he will follow two sisters and ski athletes Nat and Anna Segal in their search to understand fear. The Segal sisters will use snowy mountains and big lines as backdrops to explore the subject of fear and how it affects them in their pursuit of professional skiing.
And Salen is excited about the opportunity to tell a story that strays from the standard ski film.
"This was a story that I feel could inspire other people and it could touch other people's minds. When I feel that a film can do that I am definitely happy to start working on it," says Salen. "The subject will be fear, but there will be a journey to get there too. [I will] create a story about these two girls from Australia, having two different careers that they combined. They are unique in that sense."
As sisters, Nat and Anna have dealt with fear together throughout their lives; Nat as a professional freeride skier and Anna as a professional slopestyle skier. Nat's many achievements have included competing on the Freeride World Tour with many podium finishes, and Anna has the lofty success of making it to the 2014 Sochi Winter Olympics. These ladies have had many encounters with scary situations, and while sometimes the setting is a big mountain or half pipe, sometimes it is something as mundane as the halls of University.
"Anna is the one I call when I am scared about failing, when I am scared of missing an opportunity, when fear comes up in day-to-day life. I think it is something we have dealt with together," Nat explains about her sister's role in how she tackles life's hurdles. "We have both decided that sometimes fear really inhibits you and there are different ways to approach it for each person."
While the psychology of fear differs between these siblings, both are looking forward to the opportunity to use each other to push boundaries and explore their capabilities.
"Nat and I have a very different approach to the mountain and different skiing styles, but we both work on a similar wavelength and have similar work ethics," Anna explains. "Skiing with Nat excites me because I know we are going to put in the same effort and achieve what we set out to do. I know how hard Nat works and this inspires me to do the same."
For Salen, fear will give the film a story line that will speak to everyone and will allow him to delve into the nuances of this common human emotion.
"When it comes to filming, I think that fear is a good [subject] because if you are not scared at all you tend to put yourself in very stupid situations, not just in the mountains, but in life in general," says Salen. "When people can handle fear, that is even more interesting. It is important that people take on their fears and listen to them instead of being just like, 'Oh shit, I'm scared.'"
—
To find out more about Finding the Line, visit findingthelinefilm.com.