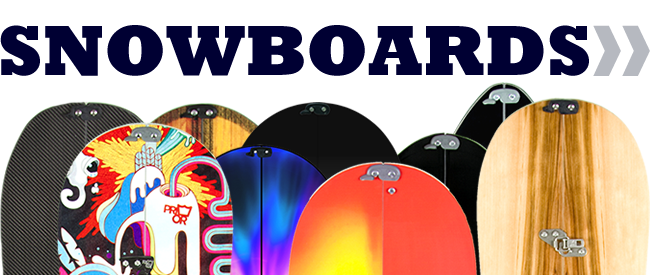 2013 EDITORS' CHOICE AWARDS: Skis, Bindings, Boots, Snowboards
ARBOR ABACUS
$699
ARBORCOLLECTIVE.COM/SNOWBOARDS
SIZES (CM): 156, 160, 164
WAIST (CM): 25.1 (156)
WEIGHT: 6LBS. 14OZ. (156)
+ "Its bomber edgehold on firm spring snow inspired confidence. Quick edge-to-edge response thanks to the right amount of torsional flex."
– "The swing weight was a little heavier than I expected. A little tough to maneuver in crud for my smaller frame."
= THE ALL-MOUNTAIN ABACUS HOLDS AN EDGE WHEN IT COUNTS MOST, AND RIPS SOFT SNOW, TOO.

BURTON SPLIFF
$700
BURTON.COM
SIZES (CM): 148
WAIST (CM): 25.4 (148)
WEIGHT: NA
+ "'Light up and leave me alone': the Spliff is your ticket to the real snow show."
– "While climbing, the Spliff's stubby split skis sank a bit more than I wanted in deeper snow."
= A ONE-OF-A-KIND SHAPE THAT MAKES MELLOW BC TERRAIN MORE FUN.

GNU B-PRO
$850
GNU.COM
SIZES (CM): 152, 155
WAIST (CM): 24.4 (152)
WEIGHT: 6LBS. 13OZ. (152)
+ "My favorite splitboard of the test—so versatile, handles all speeds well and has the perfect flex—landed jumps great but you can still get buttery."
– "A little sluggish edge to edge on hard snow."
= THIS SPLIT EARNED THE HIGHEST MARKS OF ANY WOMEN'S BOARD IN THE TEST. END OF STORY.

JONES SOLUTION CARBON
$1,099
JONESSNOWBOARDS.COM
SIZES (CM): 161, 164, 163W
WAIST (CM): 25.4 (164)
WEIGHT: 7LBS. 2OZ. (161)
+ "Super lightweight and charges the fall line like a board possessed. Slices through windblown snow and rips steep powder."
– "A little sluggish to turn at slow speed."
= A FINELY TUNED, HIGHLY RESPONSIVE FREERIDE SPLIT THAT RIDES BEST WITH BOTH FEET ON THE GAS.

PRIOR AMF XTC
$1,099
PRIORSNOW.COM
SIZES (CM): 156, 159, 162, 165, 169
WAIST (CM): 25.3 (162)
WEIGHT: 6LBS. 5OZ. (162)
+ "Super versatile and fun to pop off rollers and other natural features. Light and fast."
– "Flex is a little stiff for nose presses and other random acts of jibbing."
= AN AWARD-WINNING TWIN THAT JUST GOT LIGHTER.

ROME DOUBLE AGENT
$600
ROMESNOWBOARDS.COM
SIZES (CM): 154
WAIST (CM): 25.4 (154)
WEIGHT: 6LBS. 13OZ. (154)
+ "Flexible and playful. Light and easy to whip around. Nice and buttery; really fun in soft snow; the perfect backcountry freestyle split. "
– "Bouncy in crud/chop. Busted off a tail clip somewhere along the way."
= THE MOST FREESTYLE-FOCUSED DESIGN IN THIS REVIEW, ROME'S DOUBLE AGENT BECKONS FREESTYLE RIDERS TO THE BACKCOUNTRY.

UNITY WHALE
$899
UNITYSNOWBOARDS.COM
SIZES (CM): 160, 167
WAIST (CM): 25.9 (160)
WEIGHT: 7LBS. 10OZ. (160)
+ "So much fun in powder, I had to take another lap even though my legs were smoked. Big thwapper of a nose always stays on top."
– "Heelside turns got a little washy on harder snow. "
= FEED THIS WHALE WHAT IT WANTS—POWDER. LOTS OF IT.

VENTURE EUPHORIA
$895
VENTURESNOWBOARDS.COM
SIZES (CM): 156, 162, 168
WAIST (CM): 33 (ALL LENGTHS)
WEIGHT: 9LBS. (162)
+ "Surfs like a dream in the pow. Incredibly agile and nimble for such a wide-waisted board. Extreme-ly fun in treesand open terrain."
– "I would not want to ride anything but soft snow; needs extra-wide skins for firm/steep skintracks.
= A POWDER-SPECIFIC SNOWBOARD THAT OPENS UP NEW POSSIBILITIES IN THE BACKCOUNTRY.

VOILÉ ARTISAN
$699
VOILE-USA.COM
SIZES (CM): 156, 159, 162, 162W, 165, 165W, 168 [MENS]; 146, 153, 156 [WOMEN'S]
WAIST (CM): 25.8 (165, MEN'S); 24.3 (153, WOMEN'S)
WEIGHT: 8LBS. 2OZ. (165, MEN'S); 6LBS. 14OZ. (153, WOMEN'S)
+ "Smooth sailing at all speeds. This is the split I've been looking for. Skinned like a welterweight prize fighter."
– "Not overly poppy for freestyle but still plenty of boost for jump turns."
= VOILÉ'S NEW DIRECTIONAL TWINS RECEIVED RAVE REVIEWS BY MEN AND WOMEN ALIKE, THUSBOTH MODELS EARN EDITORS' CHOICE AWARDS.

SPLITBOARD ESSENTIALS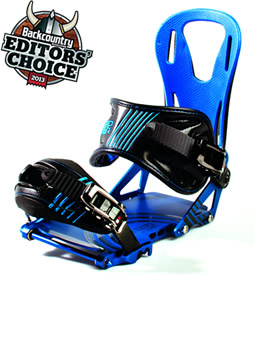 SPARK R&D BURNER [EDITORS' CHOICE]
$329
SPARKRANDD.COM
SIZES (CM): SMALL, MEDIUM, LARGE
WEIGHT/PAIR: 3LBS.8OZ. (MEDIUM)One tester's comments solidified the Burner's top ranking: "Stiff and responsive, these bindings did exactly what they were supposed to—I thought about riding, not about my bindings. Very easy adjustments and changeover from split-to-ride mode…I did it all with gloves on."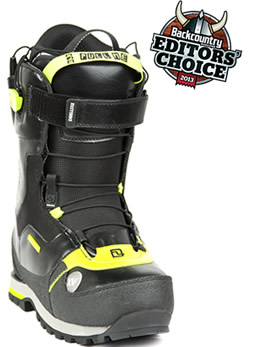 DEELUXE SPARK XV [EDITORS' CHOICE]
$399
DEELUXE.COM
SIZES (CM): 6-13
WEIGHT/PAIR: 5LBS. 10OZ. (8.5)Designed for pro rider Xavier de Le Rue, these freeride boots are on the stiffer side, testers found, and have a power strap that adds support and eliminates cuff slop. Interchangeable "shields" increase boot flex from a base level of seven to a nine out of 10 on the flex scale. If you like sneaker-soft boots, you best look elsewhere.