We've entered the Golden Age of Splitboards. What's that mean? Splitboards are as innovative as ever, with brands introducing more than 60 boards this season. But game-changing technology has gone beyond the decks. This year, we tested a completely new binding system from K2 and the most impressive binding to date from Spark R&D.
Here's just a teaser of this year's Editors' Choice winning snowboards and bindings. To see the full reviews, and those of 20 more boards and accessories, check out the 2014 Gear Guide.
BURTON LANDLORD

$799 – BURTON.COM
SIZES (cm): 159, 163
WEIGHT: NA
+ "Nearly unlimited stance options. Ride it more centered or set it back and experience effortless pow riding."
– "Purely cosmetic, but the black topsheet was a little more scuffed than I expected after a couple days of splitting."
= An innovative split and precision freerider for all conditions.
CHIMERA SCEPTRE

$935 – CHIMERASNOWBOARDS.COM
SIZES (cm): 153, 160, 165
WEIGHT: 7 lbs. 3 oz. (160)
+ "A high-energy board that is great for fast riding. Stiffer flex creates a solid stomping platform. "
– "The upper-level flex means it needs speed to really shine. "
= A versatile split with short yet sharp teeth on the uphill, and provided an energetic, powerful ride.
GNU B-PRO SPLIT

$850 – GNU.COM
SIZES (cm): 152, 155
WEIGHT: 6 lbs. 11 oz. (152)
+ "All-mountain backcountry dominator! Handles steeps, tight trees, open meadows and crud with ease."
– "It took a run or two in spring conditions to get used to the Magne-Traction edges."
= Last year this was the top women's split. This year the reviews were filled with enough high praise to earn the B-Pro a second consecutive Editors' Choice Award.
JONES SOLUTION

$849 – JONESSNOWBOARDS.COM
SIZES (cm): 154, 158, 161, 163W, 164, 168W
WEIGHT: 7 lbs. 6 oz. (161)
+ "Lightweight, but charges like a brick shithouse down the fall line. Great for steeps and variable terrain."
– "I would've liked just a little more tail to save me from backseat landings and for more stability at speed."
= A seasoned freerider that gets better with age.
K2 NORTHERN LITE

$700 (Kit – $950) – K2SNOWBOARDING.COM
SIZES (cm): 152
WEIGHT: 6 lbs. 2 oz. (152)
+ "Great tip-to-tail flex for popping off rollers or dropping ledges into soft snow. And a brilliant skin interface; the best one out there for sure."
– "A bit too stiff torsionally for my liking."
= A lightweight, surfy women's split with a finely-tuned skin system.
NEVER SUMMER PROSPECTOR

$1,000 – NEVERSUMMER.COM
SIZES (cm): 160, 164, 161X, 167X
WEIGHT: 7 lbs. 10 oz. (164)
+ "Simply the best split I've ridden. Feels like a solid board; rides like a dream in all conditions."
– "The topsheet collected snow when skinning in spring conditions."
= As one tester concluded, "Never Summer nailed it with this all-mountain split."
PRIOR FISSILE

$899-1,099 – PRIORSNOW.COM
SIZES (cm): 166, 172
WEIGHT: 6 lbs. 15 oz. (166, XTC)
+ "Absolutely destroys pow. So stable at speed it's almost too easy. Punch down pillow fields and drop depth-charge heelsiders at will—one of the best pow boards I've ever ridden."
– "Big nose was unwieldy in icy trees and on tight traverses."
= A prolific pow stick that won't let you down no matter how deep it gets.
VENTURE ZELIX

$895 – VENTURESNOWBOARDS.COM
SIZES (cm): 149, 153, 154, 158, 159, 162, 163, 164, 167, 168
WEIGHT: 7 lbs. 8 oz. (158)
+ "All-mountain badass. Stomps landings, even on the heel or toe edge. Quick and smooth. Great float for a twin."
– "Strong enough for a man, yet not enough torsional flex for (most) women. Smaller sizes need to soften up."
= A powerful directional twin that's playful in mellow terrain and steps it up in the steeps.
SPARK R&D TESLA BINDINGS
SPARKRANDD.COM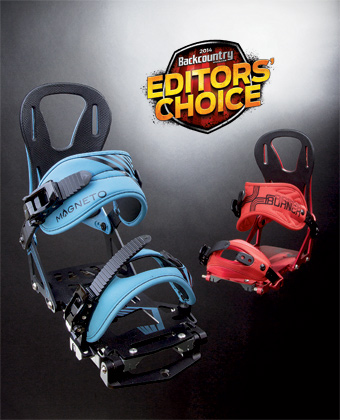 AFTERBURNER – $415
SIZES: small, medium, large
WEIGHT/PAIR: 3 lbs. 8 oz. (medium)
MAGNETO – $385
SIZES: small, medium, large
WEIGHT/PAIR: 3 lbs. 4 oz. (medium)
+ "Ten out of 10."
– Accessing the short riser first requires engaging the longer riser.
= "The most innovative change in splitboarding since the first Spark binding."