The Backcountry Magazine Gear Guide is nothing without its testers—a group of 40 skiers who congregate every year at Powder Mountain, Utah to give the coming season's skis, boots and bindings a thorough shakedown. After completing up to three runs on a given product, each tester fills out a form with numerical scores and detailed insights. Skis are tested, at minimum, eight times; three for boots and bindings. So when it comes time to choose the products covered in the Gear Guide, we're pulling from a deep well of tester feedback. To shed light on these individuals and their preferred tools, we present our Testers' Choice profiles and picks.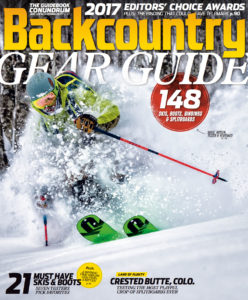 Backcountry September 2016
2017 Gear Guide
More than 100 skis, splitboards, boots and bindings reviewed, rated and recommended.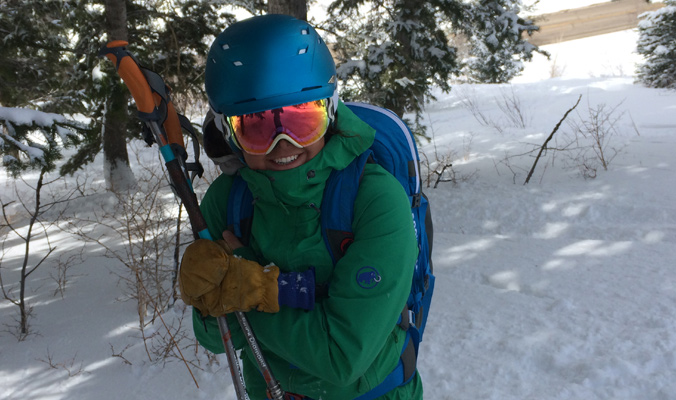 AGE 23
5 feet 2 inches, 125 lbs.
Jackson, Wyo.
CURRENT SETUP
Volkl Aura skis, Scarpa Gea boots, G3 Ion bindings
GEAR PREFERENCE
"I am willing to compromise with a heavier ski that skis how I want, as long as there's a lightweight binding on it."
TERRAIN PREFERENCE
"I like face shots and soft spring snow in the trees. My favorite run has a bunch of Barbies nailed to the trees...and I'm a big fan of White Russian slushies."
---
Rocky Mountain Underground La Cabra Gorda
$1,199 - rmuoutdoors.com | SIZES (cm): 168, 178, 188 | DIMENSIONS (mm): 138/104/126| WEIGHT/PAIR: 8 lbs. (178) | LENGTH TESTED: 178 cm
[aesop_quote type="pull" background="#282828" text="#ffffff" width="90%" align="left" size="1" quote="These were super fun. The shape was perfect for pow and crud, and the five-point construction means that they were extremely stable on hardpack. I could drive them like a giant slalom ski. They're lightweight and great for curing hangovers." cite="—Betsy Manero" parallax="off" direction="left"]

---
Fischer Ranger 108
$850 - fischersports.com | SIZES (cm): 174, 182, 188 | DIMENSIONS (mm): 140/108/130 | WEIGHT/PAIR: 8 lbs. (182) | LENGTH TESTED: 182 cm
[aesop_quote type="pull" background="#282828" text="#ffffff" width="90%" align="left" size="1" quote="The Rangers were super versatile, from hardpack to powder—similar to slalom skis on groomers, but enough float to rip powder and stable enough to charge crud. I don't know what magic beans Fischer keeps putting in their skis, but I want some. " cite="—Betsy Manero" parallax="off" direction="left"]

---
Black Crows Navis Freebird
$800 - black-crows.com | SIZES (cm): 169, 179, 185 | DIMENSIONS (mm): 133/102/118 | WEIGHT/PAIR: 7.4 lbs. (179) | LENGTH TESTED: 179 cm
[aesop_quote type="pull" background="#282828" text="#ffffff" width="90%" align="left" size="1" quote="The Navis Freebirds floated incredibly in fresh snow and were poppy on windslab. Lightweight and ideal for touring. Super responsive to everything I wanted them to do. They are best for slaying in all conditions, making you feel like a hero. " cite="—Betsy Manero" parallax="off" direction="left"]

---
Pick up a copy of the 2017 Backcountry Gear Guide today