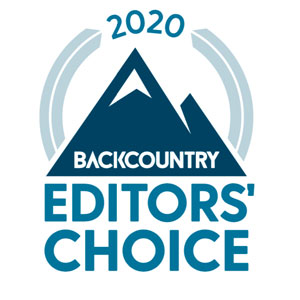 This year at Powder Mountain Utah, testers gathered for the 2020 Gear Test Week to review 157 pairs of skis. Of those, there was a noticeable abundance of standout mid-fat chargers that boasted waist widths between 108 and 90 mm underfoot—so many, in fact, that we dedicated 15 pages of our September 2020 Gear Guide to this category. And for our digital Editors' Choice release, we've split these all-mountain shredders into two categories for your reading pleasure: 105 to 108 mm underfoot and 95 to 100 mm underfoot. Last week, we debuted that wider of the range, and now we're switching gears to the narrower options.
Here are the 2020 Editors' Choice skis: 95 to 100 mm.
Want tester feedback on these products? Order in our online store to get a copy of Backcountry Magazine's 2020 Gear Guide with in-depth reviews of all 39 Editors' Choice winners, plus more than 200 other must-have skis, splitboards, boots, bindings, clothing and accessories.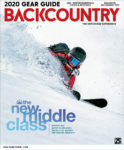 HAGAN BOOST 99
$849 – haganskimountaineering.com | SIZES (cm): 168, 178, 188 | DIMENSIONS (mm): 131/99/116 | WEIGHT/PAIR: 6.2 lbs. (178)

From the Gear Guide: "A light, wispy ski that can carve groomers; a fast turning ski that can navigate tight situations."
---
VÖLKL MANTRA V.WERKS
$1,350 – voelkl.com | SIZES (cm): 170, 178, 186 | DIMENSIONS (mm): 135/99/117 | WEIGHT/PAIR: 7.4 lbs. (178)

From the Gear Guide: "The platform underfoot is stiff and snappy, giving unrelenting edge hold…and the tips and tails are soft enough to float to the top of deep powder pillows."
---
VOILÉ HYPER V6
$795 – voile.com | SIZES (cm): 163, 173, 178, 183, 188 | DIMENSIONS (mm): 131/99/111 | WEIGHT/PAIR: 5.8 lbs. (178)

From the Gear Guide: "Skis big when you need it in pow, but short and quick when you don't in firmer conditions."
---
BLACK DIAMOND EQUIPMENT HELIO 95
$850 – blackdiamondequipment.com | SIZES (cm): 163, 173, 183 | DIMENSIONS (mm): 123/95/113 | WEIGHT/PAIR: 6.1 lbs. (173)

From the Gear Guide: "The best of the Black Diamond Helio line. These skis hit the sweet spot of stiffness, light weight and turnability."
---
BLACK CROWS CAMOX FREEBIRD
$910 – black-crows.com | SIZES (cm): 160, 166, 172, 178, 183, 188 | DIMENSIONS (mm): 135/96/114 | WEIGHT/PAIR: 6.1 lbs. (178)

From the Gear Guide: "[Black Crows] nailed the rocker mix on these boards—they plane in soft snow quickly, turn on a dime and aren't timid in mixed snow."