Last March, our testers tried the best skis, boards, boots, bindings and apparel that we could get our hands on at our 13th annual Gear Test Week. After months of working remotely from our basements, guest bedrooms and kitchen counters, our editors are ready to reveal the top picks to help you get remote on the skintrack with 34 Editors' Choice awards. Below, you'll find the 6 standout splitboards that won an Editors' Choice Award.
Jones Women's Solution
$900 – jonessnowboards.com | SIZES (cm): 154, 162, 168, 176, 182 | WEIGHT: 6 lbs. (152)

"This would be an amazing all-mountain charger for almost any rider. Easy edge-to-edge, super fun flex, but enough stability torsionally to ride through chop at speed. I loved doing ollies off big rollers, and it would be a blast in big pillow lines—great stompability. Float in soft snow, stability when you need it, and poppy and fun for slashing, jumping and ripping through trees. If you're looking for one board that does it all in the backcountry, this is it." —Theresa Clinton, Whistler, British Columbia
---
Pallas Epiphany
$849 – pallassnowboards.com | SIZES (cm): 147, 151, 155 | WEIGHT: 6.3 lbs. (147)

"A quick turner and burner, this board has energy like a kid on Halloween hopped up on candy. It will crush a typical backcountry day. Easy kickturns; edging is smooth and relatively effortless—it tours well in powder as well as on hardpack. Frisky and fun." —Whitney Gilliam, Crested Butte, Colorado
---
Yes. Optisplitstick
$1,000 – yesnowboard.com | SIZES (cm): 159, 165 | WEIGHT: 7.5 lbs. (159)

"If this board were on sale at Wal-Mart on Black Friday, I would consider hip-checking several soccer moms to snag one. UnderBite edge tech is dependable at speed without being catchy. A softer, tapered nose and stiff tail paired with manageable torsional flex make for a stable but maneuverable ride. The tail is energetic, and I found myself cracking ollies off pillows and cliffs without fear. A versatile, all-mountain crusher, whether you're straight-lining couloirs or slashing through trees." —Jed Doane, Salt Lake City, Utah
---
Weston Hatchet
$949 – westonbackcountry.com | SIZES (cm): 152 | WEIGHT: 6.2 lbs. (152)

"Anyone looking to do creative riding will dig this. If you're looking for effective edge, this isn't your jam. The flex is money; damp enough and stable rolling through turns. Super fun to spin on—swing-weight is non-existent. It's not a big cliff stomper, but it'll eat up poppy pillows and open up backcountry butter opportunities." —John Lauer, Tahoe, California
---
Jones Ultracraft
$1,600 – jonessnowboards.com | SIZES (cm): 156, 160 | WEIGHT: 6.2 lbs. (156)

"Ultralight ounce-shavers who don't want to compromise on feel will love this board. The carve game is perfect and playful—you could carve an artisan pumpkin with this. It's an all-mountain dominator: I want it here, I want it there, I want to ride it everywhere." —Kordell Black, Salt Lake City, Utah
---
Cardiff Goat Pro Carbon
$1,200 – cardiffsnow.com | SIZES (cm): 150, 154, 158, 162, 166 | WEIGHT: 6.5 lbs. (162)

"The Goat is for anyone who likes a snappy, responsive board with the ability to charge through variable conditions, ride big lines and get airborne. Powerful, smooth and in control no matter the conditions, the Goat holds an edge, turns on a dime and handles chatter. A great complement to any quiver—or a one-board wonder, too." —Will Sardinsky, Carbondale, Colorado
---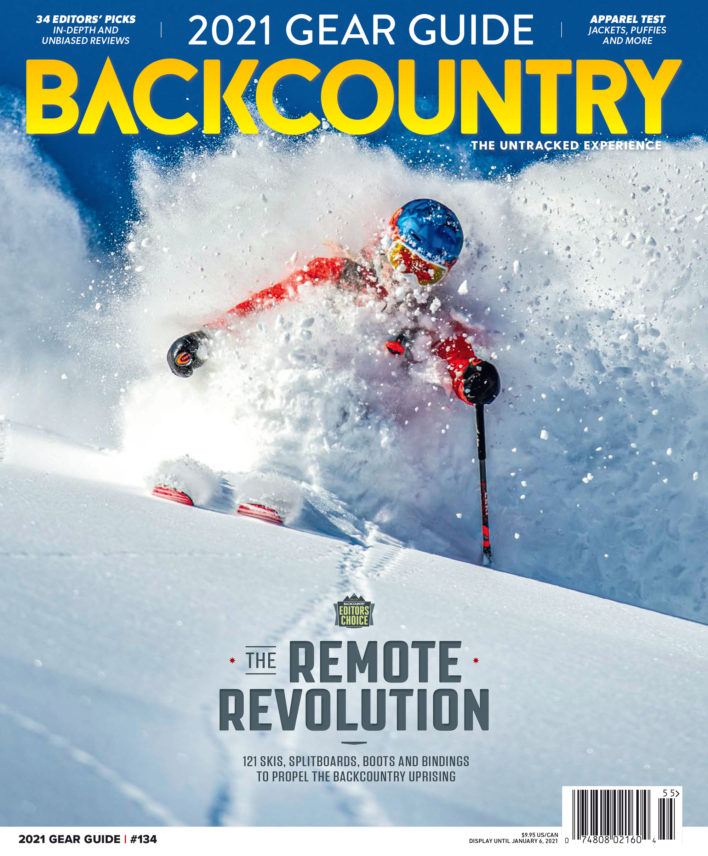 DON'T MISS THE 2021 GEAR GUIDE
Get a year of Backcountry for just $32.95, including the 2021 Gear Guide with in-depth reviews of all 34 Editors' Choice winners, plus more than 120 must-have skis, splitboards, boots, bindings and apparel.