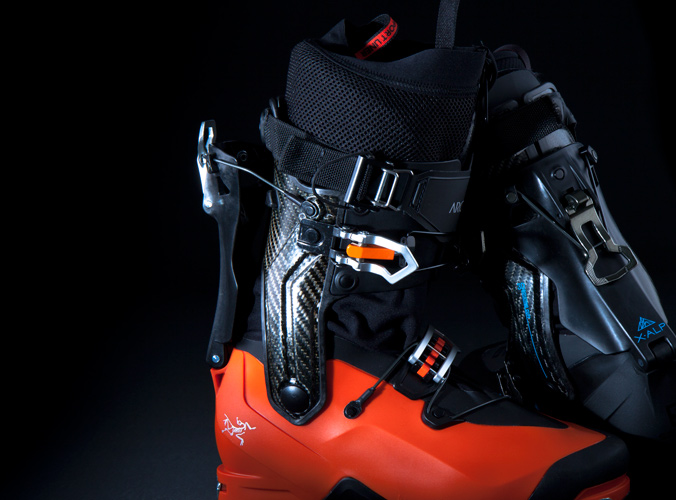 Certain technologies have a way of interrupting the status quo. Such disrupters are often so simple that consumers wonder why nothing like it existed earlier. They change the way we work and play, often solving a problem we never knew existed. 
Federico Sbrissa is known for at least one such disruptive AT boot. While working as footwear product manager at Dynafit, he helped develop the TLT5, which launched in 2010. With just two buckles, an expansive walk-mode range and capable power, the first in a series of TLT boots initiated a cascade of AT innovation across most brands.
It's almost no wonder that Sbrissa was involved with another technology that aims to reenvision the AT-boot walk mode. And while it's too early to say whether the platform behind the Arc'teryx Procline and Salomon X-Alp will revolutionize how other brands think about AT boots, the technology already earned both boots our Editors' Choice Award.
Owned by the same parent company, Amer Sports, Arc'teryx and Salomon developed their Procline and X-Alp boots in tandem over a period of four years. Arc'teryx, where Sbrissa worked as footwear product line manager, brought knowledge of fabrics and materials, and Salomon brought the ski-boot-design horsepower of their Annecy Design Center in Annecy, France. "At the beginning, we worked with the idea to [be able to] ski and also to climb," says Jerome Chaigne, Salomon's alpine boot research and design manager. "The dream was to have at the same time a mountaineering boot and a ski boot [as one]."
That vision has taken the form of what both brands call the 3D Rotating Cuff. Essentially, the boot's upper comprises two carbon-fiber arms that, when in walk mode, enable lateral cuff mobility thanks to a split between each arm and carbon fiber's natural flexibility. In addition to 75-plus degrees of fore/aft range of motion, this design provides 35 degrees of side-to-side ankle articulation—23 inward, 12 outward. This results in a more natural walking stride like that of a soft mountaineering boot, one unhinged from a traditional AT boot's longitudinal-only range of motion. Our tester particularly noticed this advantage while bootpacking on uneven surfaces or skinning across sidehills, and walking agility is further improved by the total absence of a tongue.
In ski mode, a spoiler made of reinforced Grilamid secures the independent arms via a cable closure and dime-sized retention tabs to eliminate side-to-side play. That said, many testers noticed less lateral rigidity among these boots when compared with traditional options of similar stature, especially when paired with wider skis or when in variable conditions. And while neither Arc'teryx nor Salomon provide a flex index for their boots, our testers generally considered Salomon's S/Lab X-Alp, new for this winter, a more confident descender than last year's Arc'teryx Procline Carbon Support.
This, after all, reflects each brand's focus—Arc'teryx approached this project from an alpinist's perspective, aiming to build a ski-capable boot for climbing pursuits. Salomon conversely aimed to build a ski-forward boot with impressive walkability. Other aspects of each follow these intentions. 
The Procline, which is available in six versions—light, lighter and lightest options for both men and women—features several traditional mountaineering-boot features including a rubberized toe, Vibram sole and tall, zippered, waterproof gaiter. The X-Alp, available in two versions and not yet featuring a women's option, employs the ridged Sensifit lower-shell technology and Grilamid+ material of Salomon's more robust touring boots for added stiffness. It also offers a simpler gaiter and stouter power strap and liner than its Arc'teryx sibling.
The designers we spoke with wouldn't say if the 3D Rotating Cuff technology will be integrated in other Salomon or Arc'teryx boots in the future. But if the influence of Dynafit's TLT5 serves as any sort of indication, more out-of-the-box walk modes are to come.
Arc'teryx Procline Carbon Men's Support
$1,000, 5.5 lbs., arcteryx.com
Salomon S/Lab X-Alp
$1,000, 4.9 lbs., salomon.com
Editor's Note: In late August 2017, Arc"teryx recalled roughly 4,500 Proclines sold in North America in 2016 due to a faulty "axis pin," the connection point between the cuff and scaffo that, they found, could become dislodged. Arc'teryx has been replacing this part free of charge, and Salomon's S/Lab X-Alp and X-Alp Explore and all new Arc'teryx Proclines released this past fall are unaffected by this issue.