Editors' Choice: Anon M4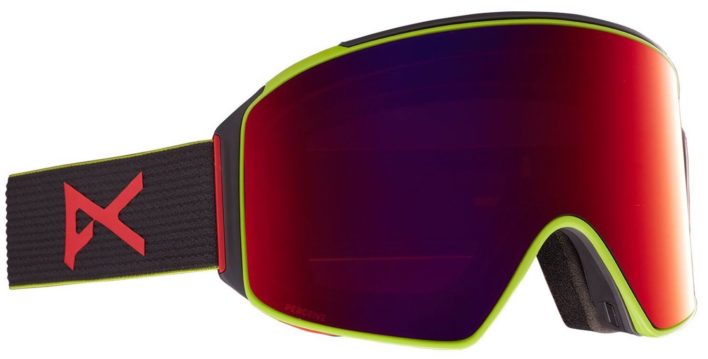 Backcountry skiing often requires sacrificing style for functionality. Luckily, Burton's goggle and eyewear company, Anon Optics, finds the balance between the two with their M4 goggle.
The next iteration to the M2 and M3, the M4 hit the market in 2019 with an upgraded frame shape that features a slightly deeper nose bridge, designed to fit a broader range of face shapes. The M4 series is Anon's largest face fit, but the deeper V shape around the nose is designed to more securely hold the goggle in place on smaller faces. "These aren't the brand I normally ski in," the M4 tester admitted, "but I'm psyched on them. They look like they'd be just a little too big, but they're actually pretty snug."
If the fit earned solid marks from the tester, the technology for interchanging lenses scored a perfect 10. Anon's Magna-Tech Quick Lens Technology is comprised of nine magnets that encircle the frame and lens that enable the wearer to easily swap lenses when the weather shifts, even while wearing gloves. "One of the better versions of a goggle that uses magnets that I've seen," the M4 tester said. "I'm normally afraid of losing my lens if there's only magnets holding it in place, but these are strong enough to put 'em on and keep 'em on."
The lenses are available in two versions: a cylindrical, flatter fit considered "more retro" by the brand and a toric lens, which has a slightly more optically correct lens shape. The M4 tester donned the toric lens, theorizing he'd choose the cyclindrical option for springtime park laps but would otherwise use the toric while skiing off piste. Regardless of lens style, Anon employs proprietary technology to increase depth perception and color contrast in both options.
Anon also designed the M4 to enhance peripheral visibility, increasing the vertical field of vision by adding more material to the bottom of the goggle, creating a larger lens that still fits properly under a helmet. The lens shape also pairs seamlessly with a face mask (included) that affixes to the bottom of the goggles using magnets. The mask is available in a variety of fabrics and styles, from fleece to lighter materials and in hooded and non-hooded styles.
Ultimately, our tester chose no mask at all, noting that he "likes the face mask that the goggles come with, but I realistically wouldn't use it out of bounds. I'm picky about what I wear in the backcountry and have my go-to buff that I like."
$300, burton.com
Glade Adapt Photochromic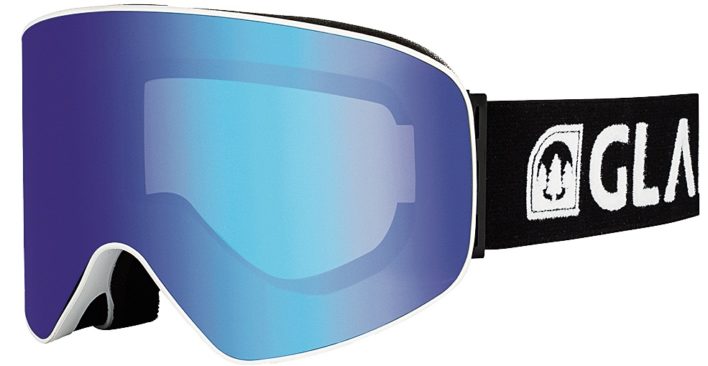 The Tech: Glade Optics continues to celebrate the ski industry's grassroots by using small-batch technology to push innovation while keeping it affordable. Thus, comes the Adapt Photochromic goggle—which includes a lens that will change with the light to provide perfect vision in any condition—at a very fair price of $120.
The Talk: Our tester didn't know what he was missing out on before sliding the Adapt Photochromic onto his face. "A tool for the backcountry bag that works whatever the weather," he praised. He also commented that they had a "nice, snug, comfy fit," on his larger face and that the vents kept the lens from fogging too badly.
$120, shopglade.com
Giro Contour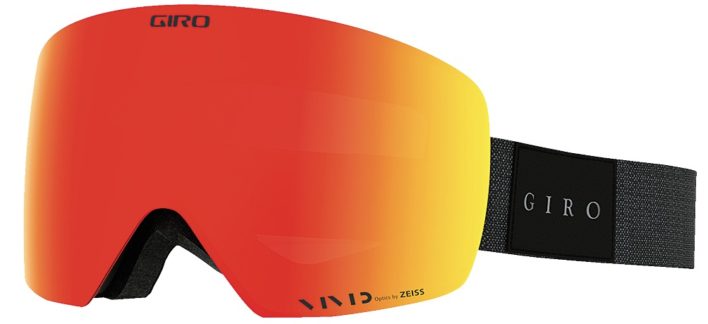 The Tech: The new lens technology in Giro's Contour makes for a goggle with a larger claimed field of vision than anything else in its class. Giro does this by using a proprietary, semi-spherical lens, known as EVX+. Each set of goggles comes with two Vivid lenses co-designed with Optics by Ziess.
The Talk: "The Giro Contour offers IMAX-level peripheral vision," said our tester. He continued to praise the three layers of foam and other comfort features, saying, "Foams are high-quality, vents are well placed, straps are siliconized and sturdy." As for the fit, our tester described it as "large on the face, but fits well."
$280, giro.com
Vallon Freebird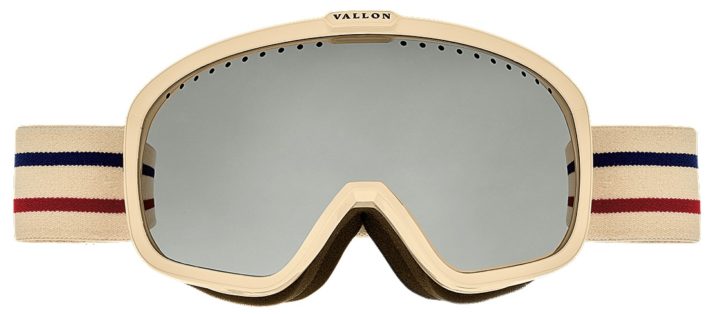 The Tech: Modern tech meets '70s swag in the Freebird. A dual-layered, spherical shape combines with Vallon's anti-scratch, high-contrast VIZ2 lens coating to provide a wider and clearer view. On warmer days, flow-tech vents and anti-fog technology aim to allow airflow and keep lenses clear no matter how much you sweat.
The Talk: Our tester found the Freebird to be ideal for both the up and the down. "I wore them while bootpacking on some hot spring days, and they didn't even fog up!" he said. "My face was warm, but not burning up." A smaller-faced tester said they "fit well on my face…didn't feel too large, which I often feel with goggles."
$151, vallon.store
POC Fovea Clarity Pow x Jeremy Jones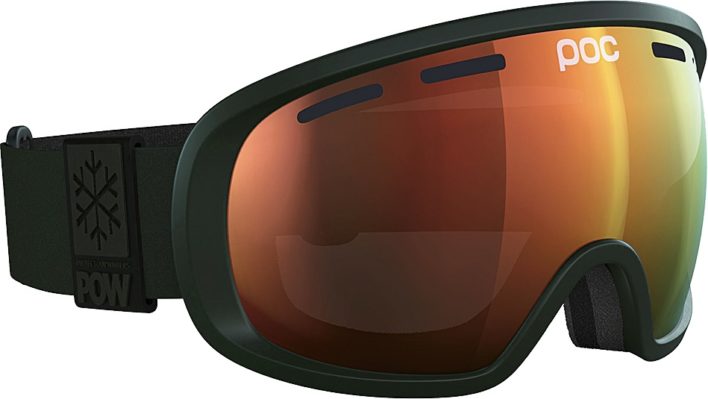 The Tech: Designed to pair seamlessly with POC's Fornix helmet, the Fovea Clarity goggles are an all-conditions option for long days in the mountains. The lenses were designed to retain contrast in sunny, partially sunny and overcast conditions, thanks to a proprietary, mirrored lens coating by optics company Zeiss. That toric-shaped lens sits against a frame with three layers of foam, intended for ventilation and comfort, and POC collaborated with pro rider Jeremy Jones on the goggle's shape—intended for maximum peripheral and vertical vision.
The Talk: "Off the cuff, it feels good buying these knowing 10 percent goes to Protect Our Winters," the tester said. "And maybe even better are the super cushy fit and wide peripheral vision."
$180, pocsports.com
Smith Virtue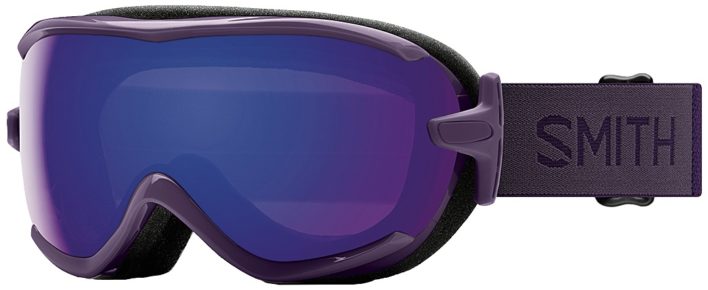 The Tech: Smith's Virtue is designed to cater to women's smaller faces without limiting field of vision. The spherical lens shape—available with Smith's color-enhancing ChromaPop technology—aids in that wide peripheral vision, and Smith's anti-fogging coating on the inner lens—Fog-X—helps keep vision clear. The strap features a silicone backing for secure helmet retention and a clip at the back.
The Talk: "Wow, a first time for everything," quipped the Virtue tester. "It's hard to overstate how nice it is to have a goggle fit not just a woman's face but a small woman's face without looking childish."
$160, smithoptics.com
Scott Vapor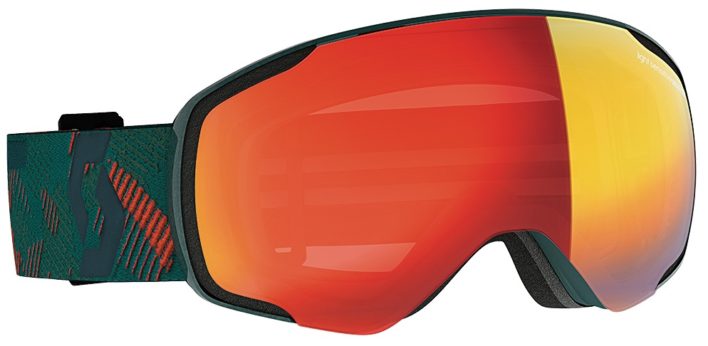 The Tech: New last year, Scott's Vapor features a semi-rimmed construction, which enables air flow to decrease the likelihood of fogging. The brand's Amplifier Lens technology is intended to increase contrast and clarity in flat or changing light, enhanced by a spherical shape that offers a healthy amount of peripheral vision.
The Talk: "The strap feels slightly wider than the typical goggle strap, which is both comfortable even after wearing for a while and feels a little more secure than average goggles," the Vapor tester said, before noting that, while the anti-fog, semi-rimmed construction is great for the spring, "It'd be a bit nippy on a mid-winter, East Coast day."
$180, scott-sports.com
---
These reviews were originally published in October 2020 in Issue #135. To read more of The Untracked Experience, pick up a copy here or subscribe now.