If you've spent any time on the streets of Boulder, Colorado, then you know the meaning of the word "Patagucci": the quintessential piece for trust-funders who like to put "outdoorsy" in their OkCupid profiles. But we know that a Patagonia fleece is far more. In terms of mid-layers, it is the elusive fifth element that completes any outfit—in the skintrack or otherwise.
As a recent college grad with a bank account oft in the single digits, I acquired my Patagonia R3 Hi-Loft as a hand-me-down. But the fact that it came pre-loved subtracted nothing from its warmth and overall usability, a reality that aligns with Patagonia's Common Threads Partnership (remember the company's "Don't Buy This Jacket" campaign?). Besides a lingering stench left from the previous owner, the R3 Hi Loft's 100 percent polyester Synchilla fleece face wicks when I'm sweating and warms when I'm not.
Female apparel in the outdoor industry accounts for a fraction of its male equivalent, and the women-specific garb that is out there is often just a watered-down male version (shrink it and pink it, they say). As a result, I often opt for men's styles, successfully dodging the problem. Without the tightness of the women's version, this layer offers the ability to move and add as many baselayers as I want. Not only can I rest easy knowing that my fleece will keep me skinning and not sweating, but I don't feel like a tightly wrapped, pink diva. Plus, I'll fit in if I ever have to stop by a frat house in Boulder.
+ Durable, even through multiple users.
– Per usual for fleece, the material clings to undesirable aromas.
= A classic fleece that crosses gender lines.
Alternatives
Men's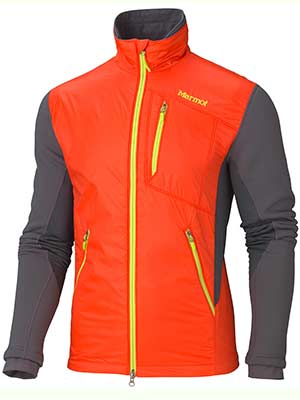 Marmot Alpha Pro Jacket
$225 | marmot.com
The Alpha Pro is a Frankenstein puffy/softshell combo ideal for climbing in the cold. Synthetic Polartec Alpha insulation puffs up the front and rear baffles of the jacket, while Polartec Power Stretch sleeves and Polartec High Efficiency (both softshell fabrics intended to wick sweat and maintain warmth) under the arms let the jacket move with you. Combined with oversized underarm gussets, the Alpha Pro won't ride uncomfortably under a pack hip belt.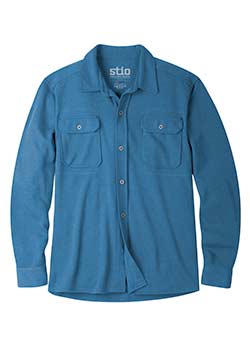 Stio Basis Shirt
$145 | stio.com
When compared to tech-intensive pieces like the Alpha Pro Jacket, the Basis might seem Spartan. But therein lies its beauty. This simple collared shirt has a classic flannel cut made from Polartec Power Dry, a soft and insulating wool and polyester blend. On sunny spring days, the Basis shirt offers more than adequate insulation for the downhill. And while you're at it, keep it on at the bar, too.
Women's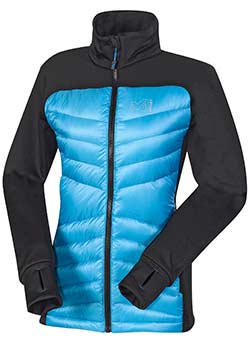 Millet Touring Hybrid Down Jacket
$150 | millet.fr
Unlike those of the synthetic-stuffed Marmot Alpha Pro, the Hybrid Down's front baffles are filled with a 700-fill mixture of duck down and feathers, while the rest of the piece is a proprietary Thermostretch fabric that feels like Polartec Power Stretch. And although the lack of rear baffles might cut down on overall warmth, it keeps your back from soaking in sweat with a pack on. Pertex Quantum Ultra Light over the baffles sheds moisture, too, so keep the Hybrid on through varying conditions.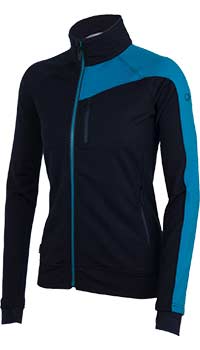 Icebreaker Carve Zip
$220 | icebreaker.com
The 99-percent merino wool Carve Zip is marketed by Icebreaker as a "heavyweight" which is pretty accurate. Listed as a 320-weight piece (your average baselayer runs around 200), the extra weight might be a bit much when a puffy can offer more warmth with less weight. The benefit, however? Get soaking wet, whether from snow or sweat, and the Carve can keep you toasty. Plus, a nifty opening in the stretchy cuff on the left sleeve lets you check your altimeter without pulling up a sleeve.
This story first appeared in the December 2013 issue of Backcountry Magazine.