I learned early that cheap, polyester-knit liner gloves don't cut it in the skintrack—they get soggy easily and don't stop the wind, and Velcro shreds the glove's fingertips like razorblades. So after spending my first several days of backcountry skiing with freezing fingers (and subsequent bouts of Screaming Barfies—that burning, rewarming feeling that makes you want to puke), I invested in some real touring gloves.
Black Diamond's Pilot Gloves have a full-leather palm, flexible, neoprene cuff and a gridded softshell back. Beyond that, there's little to them, which makes them ideal for high-output skinning. With no insulation, they breathe well enough to wear on the up at most wintertime temps, and I used to wear them exclusively on toasty spring days. The leather palm and softshell back are sufficiently water resistant for wearing through flurries or digging hasty pits, but when the leather does become soggy, the gloves zap any hand warmth.
Beyond the materials, the best attribute of the Pilots is their snug fit. Fingers are precurved for supreme pole grip, and the fit around my around my fingertips is so precise that I was able to type this paragraph while gloved up—that also means they're effective at opening zippers or adjusting boot buckles. And while these gloves predate the iPhone, the fingers are touch-screen compatible.
In their heyday, the Pilots were my everyday touring glove. But a few years ago, when the seams at the fingertips began to wear and split, I retired them from skintrack use. Now, they're reserved for yard work and can still take a beating like the best work gloves.
+ The best fitting gloves I've ever worn—they just about molded to my hands after a season of use.
– Once wet, the thin, leather palms are freezing.
= A super lightweight, highly dexterous skinning glove for sweaty activities.
Alternatives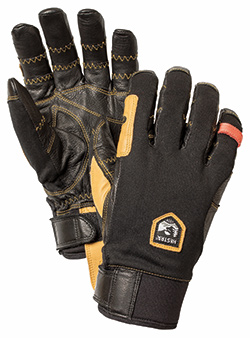 Hestra Ergo Grip OutDry Short
$175 | hestragloves.com
Hestra's proprietary Ergo Grip construction puts a seam on each knuckle for unmatched dexterity for fiddling with zippers, bindings or candy wrappers. Worth the price tag? Maybe, considering the superior fit these gloves offer over others in the skinning-weight category. The neoprene cuff is snug and secure, and an Outdry membrane keeps moisture out.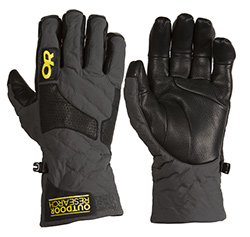 Outdoor Research Lodestar
$89 | outdoorresearch.com
Turned inside out, Outdoor Research's Lodestar gloves look like dog toy (at least one office dog agrees), with gridded, shaggy fleece—so called Polartec Powershield High Loft. The stuff is designed to be extra warm but plenty breathable, thanks to ample space between those fleecy fibers. The outside is trimmed with a full-leather palm and lightweight, proprietary, wind- and water-resistant softshell.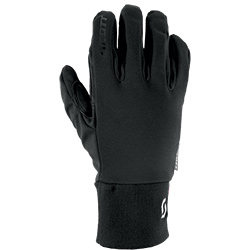 Scott Slope
$60 | scott-sports.com
Prefer a minimalist touring glove? The Slope is just that, with a Gore Windstopper lining that cuts wind chill with maximum breathability. Proprietary MakesDry fabric is meant to move moisture away from your hands, but offers only limited water resistance. To improve ski-pole grip, the Slope has a leather palm, and a knit wrist keep snow out.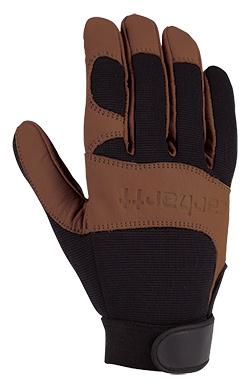 Carhartt The Dex
$26 | carhartt.com
Who says skinning gloves should cost $60? Certainly not your local hardware store, where two Jackson's will score you a pair of goat-leather Carhartts. The palm is reinforced, though fingers aren't, and the synthetic, neoprene-like backing is sufficiently stretchy. Like with many work gloves, the fit isn't precise, but compared to other ski-specific options, the price can't be beat.
This story first appeared in the December 2013 issue of Backcountry Magazine.