Have you ever really loved a pair of goggles? Like, when they got scratched, did you mope the same as when you blew an edge? Or were you once unable to sleep, antsy with anticipation to wear them the following day? Well me neither—I've never really loved a pair of goggles. I merely tolerate what I have, and when they get scratched, I buy a new pair. But somehow, the Smith I/O has been slung around my helmet for the last three seasons.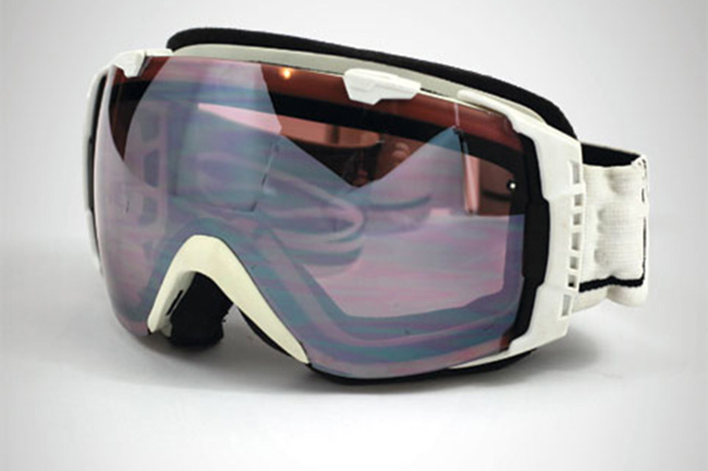 They're a little scratched, the foam is semi-compressed, the frame has yellowed and the band has stretched beyond its potential in places. Still, they do their job, and I'll wear them for at least another season.
Few things make any goggle stand out, but the Smith I/O meets those limited criteria. They've never fogged on me; they match seamlessly with my helmet; they fit close enough to my nose to keep the wind out; and the oversized lens doesn't obstruct my vision. Plus, they have a few bonus features, like a tacky strip that runs along the inside of the band, keeping them stuck to my helmet. Also, the lens is easily removable. Maybe once have I actually swapped the rose-colored lens for the yellow option that came with them. Still, it's nice knowing that I could buy and swap in a replacement lens ($25-$55) should these ever get scratched. So maybe I don't love them, but the Smith I/O sure does the job.
+ Equally comfortable with a helmet or a hat.
– Rose-colored lenses hardly excel at either light extreme.
= Expensive but worth it.
Compare To:
Head Stivot Race
$129
HEAD.COM
Best resembling the Smith I/O, the frameless Stivot Race come with two lenses—the mirrored gray pictured and a low-light, yellow option. Lenses are easy to interchange. Frames run large but are best suited to those with a narrow nose.
Julbo Orbiter
$180
JULBOUSA.COM
The Orbiter is now available with Julbo's Zebra Light photochromic lens, which truly excels in low, flat and waning light—this is your goggle for graybird powder days and evening tours. The Orbiter is well vented throughout to prevent foggy goggle syndrome.
K2 Photokinetic
$125
K2SKIS.COM
The new Photokinetic is K2's signature goggle, designed in part with renowned lens crafter Carl Zeiss. The strap has three bands of tacky helmet grip, and the fit is best suited to those with medium to large faces.
Scott Off-Grid
$120
SCOTT-SPORTS.COM
The Scott Off-Grid fixes the dilemma of the goggle that never fits quite right. Their patent-pending Fit System is a turnkey dial that adjusts frame shape around the nose and cheeks for a customized fit. Moving parts aside, the Off-Grid is a no-frills lens available in more than a dozen color combos.