Annecy, France-based skiing powerhouse Salomon has upped their do-it-all binding game with the December 8 launch of the newly minted S/LAB Shift MNC.
The Shift MNC arrives one year after the release of Salomon's X-Alp touring series, which includes two 2018 Editors' Choice winners, the S/LAB X-Alp boot and MTN tech binding. But unlike those products, Salomon geared this new binding toward freeride-focused tourers seeking a traditional binding's security and power with the uphill ease of a pin binding.
Salomon designed this binding in the vein of the freeride-focused Marker Kingpin, but a few notable differences could place the Shift MNC in a category unto itself. The first key feature is its TÜV alpine
and
touring-compatible rating. This means the binding sports a true alpine DIN-release rating, meaning it can be skied with both alpine and touring boots.
For the ascent, pins lock into compatible boots' tech toes, and a heel riser underfoot offers both two- and 10-degree ramp angles. The heelpiece, similar to those of Salomon's STH alpine line, includes a lever attached to the brake unit that, when flipped, locks the heel in a lifted, touring-compatible position.
When that lever is released, the binding's heel locks down a boot for skiing. And for the descent, the SHIFT MNC's toepiece is where the nuance in its design lies. A ski-mode lever rests between two toepiece wings and, when pushed downward, exposes the pins for touring. When that lever is lifted, the pins simultaneously rise, enabling a toepiece similar to that of Salomon's STH bindings for an alpine-style step-in.
MNC stands for Multi Norm Compatibility meaning any boot-sole type fits the Shift. Boots without alpine-norm toe and heel rands that don't fit traditional frame bindings, like the Dynafit TLT7 or those in Atomic's backland series, are also incompatible with the Shift MNC.
"At first, it was an evolution of the frame binding, but after a while we realized that wasn't going to work, so we developed a pin binding with more safety. But that wasn't a good way either," says Benoit Sublet, Salomon's alpine binding product manager. "Step by step we started the new prototype, and we solved the issues for safety, touring function and icing. We did a lot of lab tests and on-snow tests; to test this binding we had to do two different tests, so we had to create new lab tests [to satisfy both TÜV certifications.]"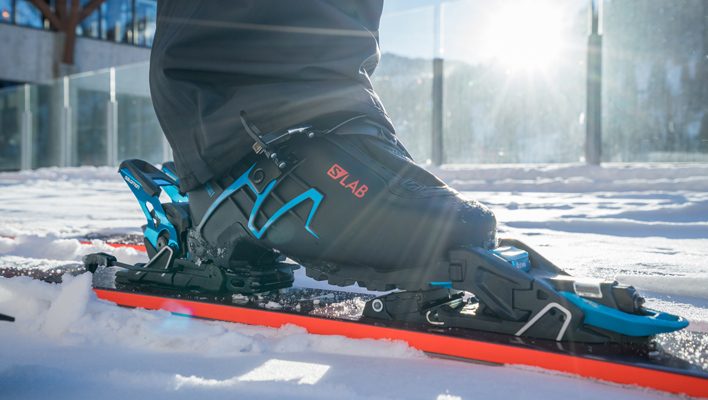 While the Shift can only be used for touring with tech-toe boots, it's also being pitched toward skiers who don't want a frame binding's heft in the backcountry yet still wish to charge the frontcountry on an alpine setup. One catch: switching between touring and ski modes is a multistep process that takes a few tries to master.
The Shift MNC is ski-crampon compatible and crafted from aluminum and carbon-infused Polyamide, weighing 1,730 grams per pair. Salomon expects to release this binding in September 2018 for $650. Find more information at shift-bindings.salomon.com/en.