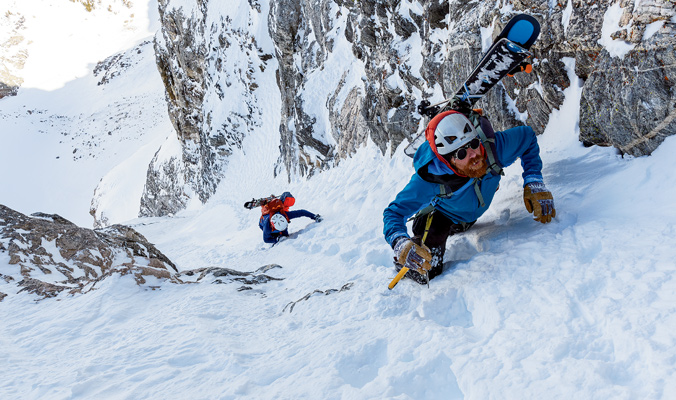 Been there, toured that. You're the old dog, the seasoned pro, the one who most often calls the shots and who others look to on tour. Maybe your gear is top-of-the-line; maybe it's ratty and worn from all those hundred-day seasons. Why are you reading this Skills Guide? Why not!?
Master This
No. 1 – Tailor Your Tests
There's a time and a place for everything, including snowpack tests. And a full 90 cm pit isn't the end-all and be-all of understanding snow stability. Sure, it's helpful to get to know the snowpack in a new setting or to go deep (literally and figuratively) on what's below the surface, but once you have a relatively detailed picture of stability, more and varied tests will serve you better than a single full-pit profile. Approach each day with an understanding of the avalanche problems and what tests will demonstrate their presence in which locations. Conduct tests with an understanding of how these observations fit into the broader context of the day's hazard. And use snowpack tests not to confirm stability but to understand instability.
No. 2 – Be The Leader
Leaders emerge in difficult situations—be ready for your partners to look to you for direction, guidance, suggestions or options. That doesn't mean you need all the answers, though. Instead, be the facilitator of the process, asking your partners about their observations, feelings and comfort level. Aggregate the group's sentiment and steer your crew in the direction that seems best. Ultimately, however, someone might just need to make a call, so don't feel badly about casting the decisive vote. In emergency situations, be ready to skip all the dialogue and just call the shots.
No. 3 – Step it Up
So you have the skills, gear, education and experience. What now? Same old objectives and time-tested zones? Maybe it's time to up the ante and push beyond the areas you're comfortable with. But first, take a deeper look inward—what's your personal level of acceptable risk? What are the potential consequences of stepping it up, how likely are they to occur and does that ratio of risk to consequence jive with your inner level of comfort? Consider the environments and scenarios where it might feel OK to push into steeper or more complex terrain—like while traveling with trusted partners, when the snowpack is bombproof or when the probability of high consequences are otherwise low—and make it happen.
No. 4 – Tone it down
Beware of the six common heuristic traps—also known as human factors—that even befall touring groups with greater experience. Certain factors like familiarity (being comfortable in certain terrain; maybe too comfortable) and social facilitation (groupthink often based on overconfidence) are found to be more common in accidents involving expert skiers and riders. Know these heuristic traps and be aware of how they can play on your individual psyche. Discuss them out loud with your partners—"Are we skiing this just because of a sense of scarcity?"—and tone it down accordingly. Sure, lapping 30-degree powder won't make you famous, but are you in it for the Instagram likes or the long haul?
Learn More: Three Resources to Know More
Snow and Avalanche Workshop
Every fall, avalanche centers across the U.S. host day- or weekend-long seminars dedicated to a deeper level of backcountry safety, with presentations, demonstrations and panel discussions from experts, forecasters, guides and researchers alike. Consider attending one as an early-season opportunity to get your brain in shape.
americanavalancheassociation.com
Wilderness First Responder
The Wilderness First Responder certification (WFR, also called "wuffer") is the standard emergency medical certification among backcountry professionals, covering the ins and outs of managing medical and trauma-related emergencies in remote settings. These courses typically run seven to 10 days long and involve a significant number of in-the-field hours.
soloschools.com, nols.edu or reach out to your nearby university
Be A Mentor
The best way to master a skill? Teach it to others. Introduce friends to touring and ski or ride alongside those with less experience, offering tips and suggestions along the way. By teaching others, you'll hone your own approach and, most likely, improve upon your own efficiency or communication styles.